The lawyer for adult film star Stormy Daniels said he "feels sorry" for Donald Trump's personal attorney, branding him the president's "scapegoat" after it was revealed that the FBI on Monday raided Michael Cohen's office and hotel room.
Investigators were seeking information about a payment that Cohen made to Daniels shortly before the 2016 election, sources told NBC News.
"I think when push comes to shove he's going to fold like a cheap deck of cards, I really do," Daniels' lawyer, Michael Avenatti, told MSNBC's "The Beat" on Monday night.
"I think this is the first significant domino to fall," he added.
Meanwhile, Trump tweeted twice early Tuesday, writing that "attorney–client privilege is dead" and "A TOTAL WITCH HUNT!!!"
The New York Times, which was the first to report the search of Cohen's New York City office, said it involved several other topics besides the Daniels payment. The FBI and federal prosecutors sought and executed the search warrants in coordination with special counsel Robert Mueller's team.
Several law enforcement officials told NBC News that the case involves a matter that the Mueller team came across, and concluded it does not fall under its mandate and passed it on to the U.S. Attorney's Office in Manhattan.
A person with knowledge of the matter told NBC News that Deputy Attorney General Rod Rosenstein directly approved the application for a search warrant for Cohen.
Daniels, whose real name is Stephanie Clifford, has said that Cohen paid her $130,000 in October 2016 — just days before the presidential election — not to talk about what she describes as a one-time sexual encounter with Trump in 2006.
Cohen has tried to put daylight between the president and the porn star, saying that the payment came from his personal funds and the agreement was simply between his company and Daniels. While he has acknowledged making the payment, he has repeatedly declined to tell NBC News what it was for.
Daniels filed a civil lawsuit last month in Los Angeles, alleging that her "hush agreement" is invalid because while both she and Cohen signed it, Trump never did.
In a new court filing Monday, she claimed that she always believed Trump was a party to her non-disclosure agreement and would not have accepted the payment from Cohen if she knew Trump wasn't going to sign off.
Trump, who has not publicly addressed the alleged relationship, told reporters last week that he was not aware that Cohen paid her and didn't know where the money came from.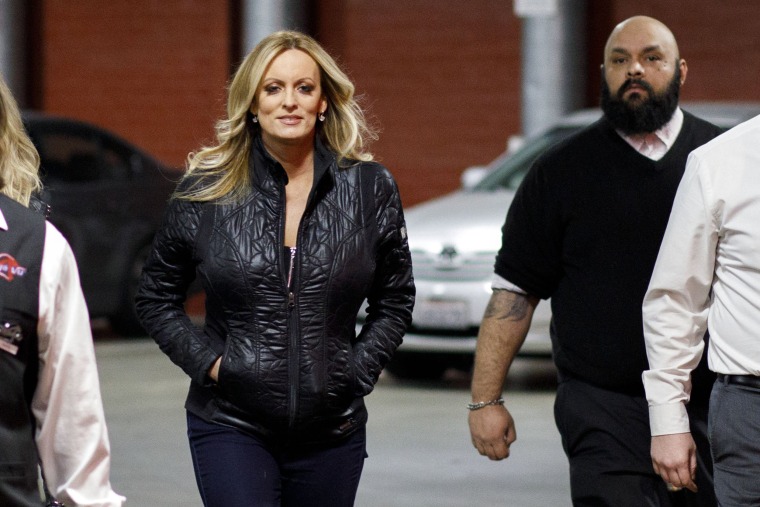 Cohen's own lawyer, Stephen Ryan, said in a statement Monday that the FBI's "investigation using search warrants is completely inappropriate and unnecessary."
Avenatti told "The Beat" that he believes Cohen will be made to take the fall.
"If Michael Cohen has put himself in this position, or the president has put him in this position, a part of me feels sorry for him, frankly," he said.