President Donald Trump's stunning dismissal of FBI Director James Comey has stirred up the specter of one of the most explosive moments in modern American politics: the "Saturday Night Massacre."
That dramatic event swirled around President Richard Nixon ordering the firing of Archibald Cox, who was the special prosecutor investigating the Watergate scandal engulfing the Nixon administration and ultimately leading to his resignation in 1974.
Some Democrats who questioned Comey's firing Tuesday afternoon were quick to draw a comparison between then and now.
"This is nothing less than Nixonian," Vermont Sen. Patrick Leahy, a longtime Judiciary Committee member, said in a statement.
New Mexico Sen. Martin Heinrich tweeted: "President Trump's dismissal of FBI Director Comey smacks of President Nixon's Saturday Night Massacre."
Well, not entirely — but some historians say there is a parallel.
So what was the Saturday Night Massacre?
In May 1973, Cox was appointed as special prosecutor by the Nixon administration to review the brewing scandal in which Republican party operatives were believed to have broken into the Democratic campaign headquarters at the Watergate Hotel.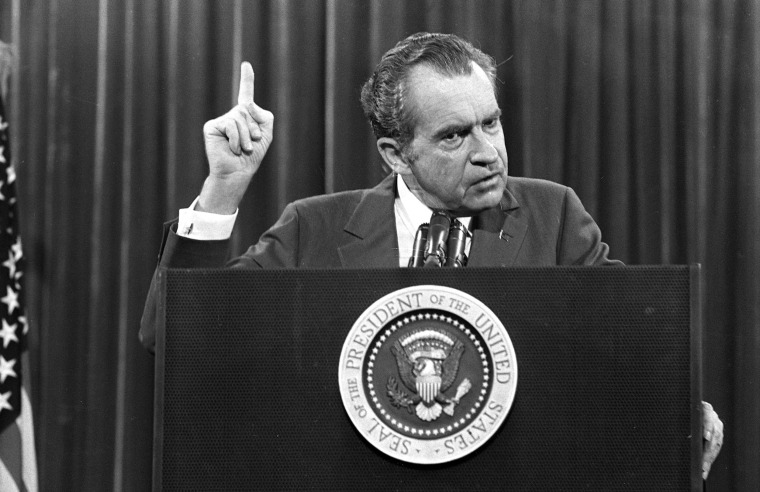 But five months later on Oct. 20 — a Saturday — Cox was canned after repeated attempts to get White House tape recordings seen as evidence in the cover-up of the Watergate break-in. Nixon had tried to get Cox to drop his pursuit.
The firing took on a "massacre" moniker after Attorney General Elliot Richardson and Deputy Attorney General William Ruckelshaus each declined to fire Cox on Nixon's behalf, with both of them deciding instead to resign. Solicitor General Robert Bork, the third-ranking official in the Justice Department, was then tasked with removing Cox.
Nixon then got rid of the special prosecutor's office.
Was the FBI director also fired as part of the Saturday Night Massacre?
No, as the Richard Nixon Library tweeted Tuesday night:
The only other time an American president has fired an FBI director was in 1993, when President Bill Clinton showed the door to William Sessions over ethical concerns related to him not paying taxes, the Justice Department said at the time.
Was Trump's firing of Comey really like the 'Saturday Night Massacre'?
Democrats have been calling Comey's termination "Nixonian" because Comey had been investigating the Trump campaign's alleged ties to the Russian government. Moscow has been accused by U.S. intelligence officials of interfering with the 2016 presidential election to help Trump by hacking emails from the Democratic National Committee and a top official Hillary Clinton campaign official.
The Trump administration has repeatedly denied any links and said Comey's firing was over his handling of the investigation into Clinton's use of a private email server while secretary of state. Trump also consistently refused to blame Russia for any hacking attack before eventually conceding in January that he believed Russia played a role. The Kremlin has denied any such allegations.
Related: What You Need to Know About Trump, Comey and the Russia Probe
Trump said he would "immediately" search for a replacement for Comey, but has stopped short of giving in to Democrats' demands for a special prosecutor to take over the Russia probe.
Michael Beschloss, NBC News' presidential historian, agreed Tuesday night that the two events are "parallel."
"Nixon's intention was to shut down the investigation totally and not have another special prosecutor with a big staff that was looking into the Watergate scandal along with these tapes," Beschloss told MSNBC's Rachel Maddow. "What happened was there was so much outrage from Congress, both Democrats and Republicans, and across the country there were demonstrations. People were very angry — it was the first time people said maybe Nixon should be impeached."
The tapes, Beschloss added, showed that Nixon had tried to obstruct the special investigation and paved the way for his political downfall.
"You've got a president who is obviously afraid of investigation that might find connections between him and his entourage and the Russians, and might endanger his presidency," Beschloss said of Trump, adding that "these widespread firings [including Acting Attorney General Sally Yates and national security adviser Mike Flynn] are intended to squelch that investigation and also scare others in the government who might investigate others things that are connected to that."
John Dean, who was Nixon's White House counsel, denied that Comey's dismissal was like the Saturday Night Massacre, but told Poynter that the way Trump handled it was, "totally botched, and done in a manner that looks guilty — not proceeding as an innocent president would."
Dean told Brian Williams Wednesday on MSNBC that what was Nixonian about the firing was, "the blunt, clumsy, hand-fisted style with which this was carried out. That was very Nixonian."
Trump on Wednesday morning, however, defended his firing of Comey and tweeted that the former FBI director had simply "lost the confidence of almost everyone in Washington, Republican and Democrat alike."
How else has a political 'massacre' been brought up during the Trump administration?
When Yates was fired just 10 days after Trump took office, the hashtag #MondayNightMassacre took off on social media.
Yates had refused to defend the president's controversial executive order to ban travelers into the United States from seven Muslim-majority nations.