This land is your land, this land is ... Greenland?
President Donald Trump has on multiple occasions discussed trying to buy the country of Greenland, a source familiar with the matter told NBC News on Friday.
The Wall Street Journal first reported the news on Thursday.
Trump has with "varying degrees of seriousness" expressed an interest in trying to purchase the icy 811,000-square-mile island in the North Atlantic, according to The Journal, citing unnamed sources familiar with the deliberations.
Greenland is an autonomous Danish territory with a population of more than 50,000 and has natural resources such as coal and uranium. Trump reportedly told advisers in one exchange last spring he'd heard that Denmark was having financial problems because of the subsidies it pays to Greenland, and wondered if he should buy it. "What do you guys think about?" Trump asked the room, a source told the Journal. "Do you think it would work?"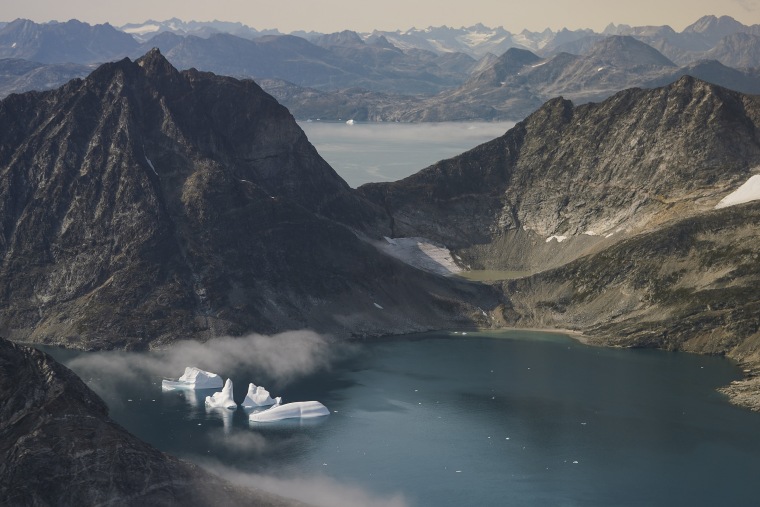 It's unclear what the price tag for the country would be, or whether Denmark would consider selling it.
Officials with Denmark's Royal House and the Danish embassy in Washington did not immediately respond to the Journal's request for comment on the talks.
Download the NBC News app for breaking news and politics
"We are open for business, but we're not for sale," Greenland's foreign minister Ane Lone Bagger told Reuters.
Lars Lokke Rasmussen, the former prime minister of Denmark, also balked at the idea in a tweet on Thursday.
"It must be an April Fool's Day joke!" he tweeted.
Trump is scheduled to visit Denmark in September.
The United States has previously tried to buy the strategically located country. President Harry S. Truman offered to purchase it for $100 million in 1946, but Denmark declined the offer, the Journal noted, adding the U.S. had also looked into acquiring the country back in 1867.
Technically a part of North America, Greenland is between the Atlantic and Arctic oceans, and between Canada and Europe. The U.S. has an airbase there, which is part of the country's state-of-the-art ballistic missile early warning system and satellite tracking system.