A personal lawyer for President Donald Trump told NBC News on Tuesday night that he paid $130,000 to pornographic film star Stormy Daniels, who has in the past said she had an affair with Trump.
In a statement late Tuesday, the lawyer, Michael Cohen, confirmed a report in The New York Times that he made the payment to Daniels, whose real name is Stephanie Clifford, a month before the 2016 presidential election.
"Neither the Trump Organization nor the Trump campaign was a party to the transaction with Ms. Clifford, and neither reimbursed me for the payment, either directly or indirectly," Cohen said.
Cohen said he told the Federal Election Commission the same thing after the nonprofit government accountability group Common Cause filed a complaint alleging that the payment was an illegal "in kind" political contribution.
"The payment to Ms. Clifford was lawful, and was not a campaign contribution or a campaign expenditure by anyone," he said.
He didn't say Tuesday night why he would have made such a large payment on his own initiative without reimbursement. And he also left it unclear what the payment was even for.
While Cohen has strongly denied that Trump and Daniels had an affair in 2006, he declined to answer Tuesday night when asked whether the payment was intended to silence Daniels in the weeks before the election, as The Wall Street Journal reported last month.
Daniels has previously been quoted as describing a sexual relationship she had with Trump after she met him at a celebrity golf tournament in July 2006, most extensively in a 2011 interview with InTouch magazine.
In the interview, Daniels is quoted as saying that she and Trump had sex and that she could "definitely" describe his anatomy if her account were ever challenged.
Since the Journal story was published, Daniels has by turns denied and played coy in interviews about the alleged affair — twice on one recent day.
On Jan. 30, Daniels' publicist provided a short statement attributed to Daniels that quoted the actress as saying, "I am denying this affair because it never happened."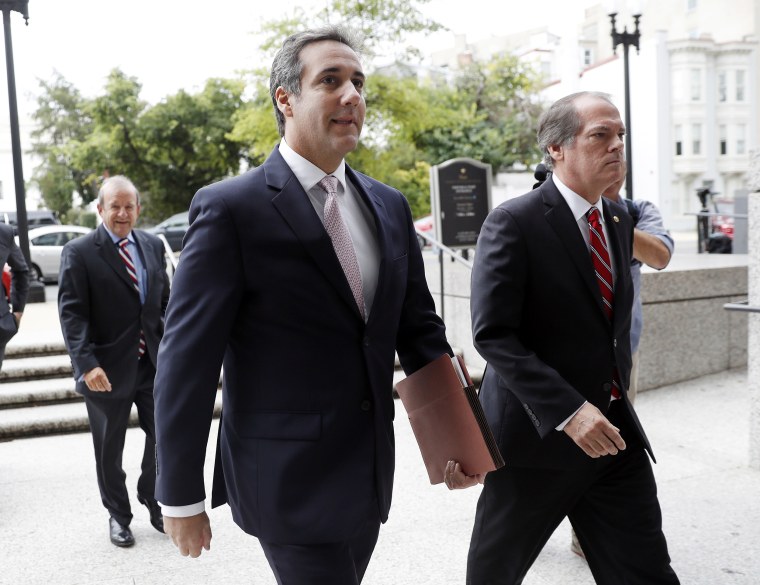 But later that day, she went on ABC's "Jimmy Kimmel Live" and said she had no idea where the statement came from, acknowledging that the signature on the document didn't look like her handwriting. She remained silent when she was asked whether she had signed a nondisclosure agreement.
The next day, a lawyer for Daniels contradicted her in a statement to NBC News, saying he personally witnessed her signing the statement.
In October, NBC News reported that Cohen was questioned by congressional investigators digging into alleged Russian meddling in the 2016 election. Adam Schiff of California, the top Democrat on the House Intelligence Committee, described Cohen as "fully cooperative with the investigation."