President Donald Trump will walk into meetings on Tuesdays with country sheriffs and young people training to serve in the U.S. Army Special Forces buoyed by strong support among people in uniform.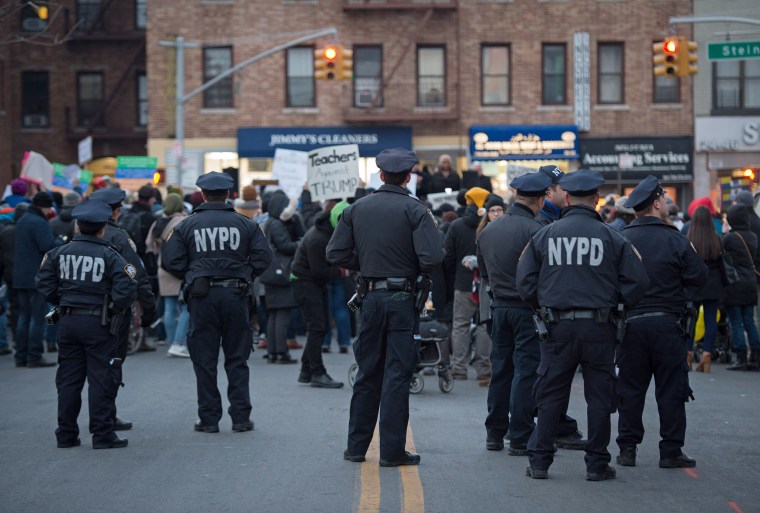 On the campaign trail, policies such as his stance on strengthening borders and cracking down on undocumented immigrants struck a chord with many in law enforcement. This support in part reflected Hillary Clinton's unpopularity among men overall and among white men in particular.
And Trump is already reaping the benefits of the backing of those in uniform, whose support is undeniable:
The Fraternal Order of Police, which says it represents more than 330,000 law enforcement officers, endorsed Trump in September. The FOP generally leans conservative, but it had declined to endorse either candidate in the 2012 election.
According to exit polls, about 60 percent of Americans who served in the military backed Trump in the November election, compared to just 34 percent who supported Clinton. (About 13 percent of voters said they had done some kind of military service.)
The National Border Patrol Council, a union for Border Patrol agents, broke from its practice of not making endorsements during presidential primaries to embrace Trump in March.
The International Association of Fire Fighters leans Democratic, and it endorsed John Kerry in 2004 and Barack Obama in 2008 and 2012. But it declined to back either candidate in 2016.
The National ICE Council, a union for employees at U.S. Immigration and Customs Enforcement, also endorsed Trump during the campaign.
Chris Crane, president of the National ICE Council, explained the group's endorsement in September.
"He has outlined core policies needed to restore immigration security — including support for increased interior enforcement and border security, an end to Sanctuary Cities, an end to catch-and-release, mandatory detainers, and the canceling of executive amnesty and non-enforcement directives," he said.
Support from those in uniform has already helped Trump push his agenda.
FOP President Chuck Canterbury has testified at a Senate hearing in support of Sen. Jeff Sessions' becoming attorney general and the National Sheriffs Association is also backing Sessions, R-Alabama.
In the first days after Trump issued his executive order limiting people from some majority Muslim countries from entering the U.S., attorneys representing those trying to enter the country complained that Border Patrol and customs agents were blocking lawyers from speaking to those affected by the order.
But in uniformed professions, there are already signs of a divide between the rank and file and the leadership, who appear to be less supportive of Trump. The Major Cities Chiefs Association, which represents police leaders in 63 of America's largest cities, issued a recent statement criticizing Trump's proposal to cut funding for so-called sanctuary cities.
In contrast, FOP praised the idea.