HOOPERS ISLAND, Md. — This community voted overwhelmingly for Donald Trump. But now his immigration changes are killing its livelihood — legendary crabs that are a mainstay of the local economy and a regional delicacy.
For decades, Hoopers Island, known for its crabbing industry, has relied on a federal seasonal work program — known as H-2B visas — to keep its businesses humming. This has allowed employers to hire foreigners, mostly Mexican women, to come temporarily to pick crab meat.
But this year, the cap on H-2B visas — and a shift from the first-come, first-served based model to a lottery system that has disadvantaged Hoopers Island seasonal workers — has left the island without 40 percent of the visas they have needed in the past.
"Right now, we're shut down," said Morgan Tolley, manager of A.E. Phillips and Sons Seafood. "We're in self-preservation mode."
Just two miles away, in what should be the start of the peak season, Harry Phillips, owner of Russell Hall Seafood, stands in an empty picking room once filled with the women he's had working for him for over 25 years.
"We can't operate the way we're going," Phillips told NBC News. "I've had to let truck drivers go. I don't need truck drivers if I don't have the product. It's going to affect us to the point where we may have to totally close."
"(President Trump's) vow was to create American jobs, but this is not creating American jobs," Phillips added.
In 2016, Trump won easily in Dorchester County, which includes all of Hoopers Island, largely based off of his pledge to help small businesses.
Capt. Larry "Boo" Powley, a fifth-generation fisherman who makes his living catching bait for crabs, pulls his boat into Russell Hall and says his small business is hurting. At a time when he would usually bring in roughly 300 boxes of crab bait, he's been limited to just 100 boxes a day.
"The more demand that there is for bait, the better I do," Powley said. "Right now, there's no demand because they can't handle the crabs because they have no pickers. And it's really hurting us right now."
"How would you like to be in business for 30 years and they tell you, 'Well, we're going to pick out of a hat if you're going to run your business or not?' How do people stay in business? Does Washington not get it? You've got to have workers," Powley said.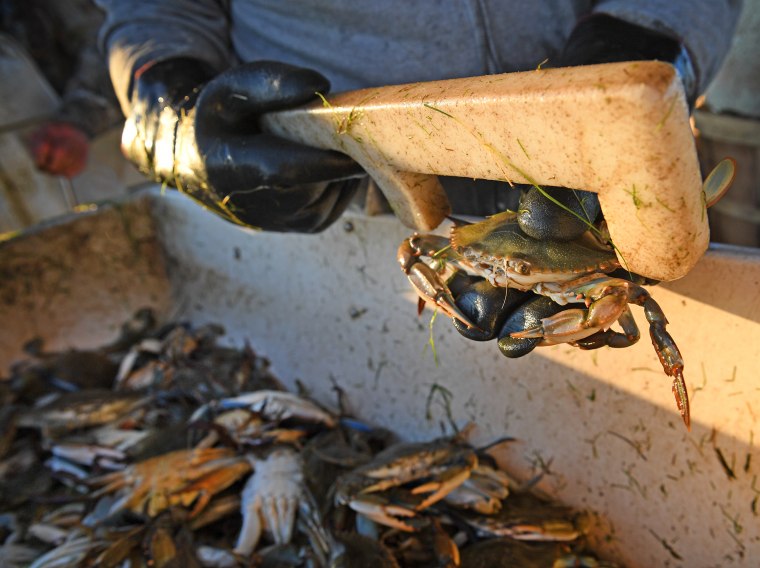 For years, Powley and other watermen have fished for crab bait to deliver to processors like Russell Hall Seafood and others. Those processors use the fish, particularly menhaden, to lure crabs, bring them back to their facilities and steam them. Once they're steamed, these seasonal workers, who stay from roughly April to November, pick the meat from the crabs, package it and send it off to stores and restaurants.
While the town usually receives 500 visas for crab pickers, only about 300 were approved this year.
Forty years ago, women who lived on Maryland's Eastern Shore would pick crab meat. But as their children grew older, more educated and left town, that workforce dried up and businesses turned to the H-2B visa program to bring in foreign workers.
"We've been doing this 25 years the right way, the way the government wanted," Phillips said. "They're not a threat to the community, they spend money in the community and they do their banking here. So to me that looks like a win-win situation."
"I do not have any Americans that want to do this job," said Brian Hall, the owner of G.W. Hall & Sons seafood, one of the few facilities on the island that was able to secure enough H-2B visas this year. "We support a lot of different businesses from a lot of different states and it's all because of these H-2B girls."
The Trump administration is expected to add about 15,000 H-2B visa this year because of high demand. But with crabbing season already underway, and because of the long trek from Mexico to Hoopers Island, many here worry that it may be too little, too late.
Of the eight crab processing facilities on Hoopers Island, only four received the visas they requested. Beyond those businesses, others are feeling the effects as well.
"Our business has very much suffered because of the loss of the people here," said Katie Doll, the owner of Hoopers Island General Store, the only general store within 30 miles. "The trucks aren't running, the boats aren't working, our hours are less."
Beyond Hoopers Island the visa changes are not only costing jobs, but will probably end up hurting consumers who enjoy the legendary Maryland Blue Crabs. "A typical crab cake might be four times the price," Doll said.
But given the chance, many Hoopers Island residents say they'd vote for Trump again. They believe that if he only knew about their plight, he would change his policy.
"I just don't think Donald Trump knows what's going on down here right now," Powley said. "Because if you're for business, well, you're putting businesses out of work here."
CORRECTION (May 15, 2018, 12:30 p.m, ET): A previous version of this article misstated the roles of two branches of government that affected immigrant workers in the crab industry. The Trump administration imposed a lottery system to award visas that disadvantaged the seasonal immigrant workers on Hoopers Island, and it determined the final number of visas that were awarded. But in doing so, it followed a requirement to limit the number of H-2B visas that was imposed by Congress, not by the Trump administration.