President Donald Trump said Monday that he would have charged into a Florida school during the shooting there earlier this month even if he were unarmed.
"I really believe I'd run in there even if I didn't have a weapon," Trump told governors meeting at the White House to discuss school safety.
Trump slammed as "frankly, disgusting" the armed school guard who remained outside the shooting at Marjory Stoneman Douglas High School in Parkland that left 17 students and teachers dead. The president also criticized several deputies who failed to immediately enter the school, telling the governors that the law enforcement officers "weren't exactly Medal of Honor winners."
"The way they performed was really a disgrace," he said.
Trump also said that armed sheriff's deputy Scot Peterson, who was on site during the mass shooting there but did not enter, had "choked." Peterson, who resigned last week after being suspended without pay, pushed back against a wave of criticism for his actions in a Monday statement from his attorney.
President Trump on Monday also defended his proposal that some teachers in schools be armed and trained in the use of firearms, saying he only wanted "highly trained people that have a natural talent [for shooting], like hitting a baseball, or hitting a golf ball, or putting" to handle weapons in schools. The president compared the skill involved in handling firearms to that required for the game of golf, where "some people always make the 4-footer, and some people under pressure can't even take their club back."
Washington Gov. Jay Inslee, a Democrat, was critical of the president's proposal, telling him Monday that "we need a little less Tweeting, a little more listening" on school shooting solutions, adding later on MSNBC that he wanted the president to "just tweet a little less and listen a little more here to the educators of America who want to educate and not carry firearms into their schools."
On Monday, Trump told assembled governors the only way to stop school shootings was "retribution," adding, "You're not going to stop it by being kind."
And he vowed again to take action to ban rapid-fire bump stock devices without Congress and called for state lawmakers to reopen institutions to house the mentally ill. He also said he had had lunch with NRA leaders Wayne LaPierre and Chris Cox over the weekend, claiming the gun advocates "want to do something."
In a break from his steadfast allegiance to the group in the past, Trump even told the governors that it was fine to "fight them every once in a while."
"Don't worry about the NRA, they're on our side," Trump said. "Half of you are so afraid of the NRA, there's nothing to be afraid of."
"And you know what, if they're not with you, we have to fight them every once in a while. That's OK," he added. "They're doing what they think is right. ... But sometimes we're going to have to be very tough and we're going to have to fight them."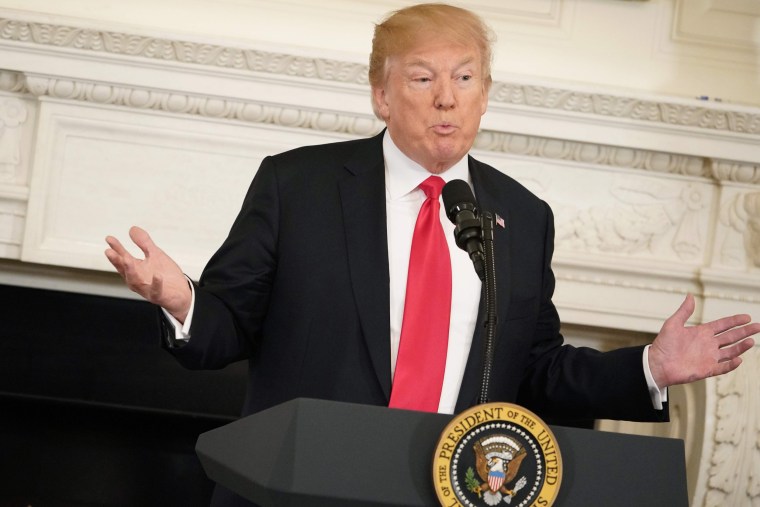 In the weeks since the horrific school shooting, Trump has proposed combating such incidents by training and arming some teachers with guns. Last week, he suggested that firearm-adept school staff be given "a little bit of a bonus" for carrying weapons, and promised federal funds to train them.
The White House has said Trump supports bipartisan legislation from Sens. John Cornyn, R-Texas, and Chris Murphy, D-Conn., that would make the current national background check system function more effectively, though it wouldn't expand the system's reach.
On Monday, the president reiterated that he wanted to ban bump stocks.
"By the way, bump stocks, we're writing that out. I'm writing that out myself, I don't care if Congress does it or not, I'm writing it out myself, OK? You put it into the machine-gun category, which is what it is, it becomes essentially a machine gun."
In addition, Trump on Monday called for greater institutionalization of mentally ill people who were believed to be capable of violence.
"We're going to have to start talking about mental institutions, because a lot of folks in this room closed their mental institutions also, so we have no halfway," he said. "We have nothing between a prison and leaving him at his house, which we can't do anymore. So I think you folks have to start thinking about that."
"You used to be able to bring them into a mental institution, and hopefully he gets help or whatever, but he's off the streets. You can't arrest him, I guess, because he hasn't done anything, but you know he's like a boiler ready to explode, right?" he added. "In the old days you'd put him into a mental institution, and we had them in New York and our government started closing them because of cost."
Trump has also directed Attorney General Jeff Sessions to propose regulations that would ban the use of bump stocks and similar devices "that turn legal weapons into machine guns."
Trump, meanwhile, also addressed trade issues during the meeting. "Canada is very smooth," he said, America's northern neighbor has the better end of trade deals that are "wonderful for them" and "not wonderful for" the United States.
Later Monday, the White House was asked whether Trump's comment that he would have run into the school during the shooting was intended to indicate that he could have saved the day, and whether the president had the training that would be required to use a firearm in that situation.
"I think he was just stating that as a leader he would have stepped in, and hopefully been able to help," White House Press Secretary Sarah Huckabee Sanders said at a press briefing, pointing to the fact that "a lot of the individuals that helped protect others that day weren't carrying firearms," and adding that in that sort of situation, the president would want to take "courageous action."
Sanders also said Trump "would support a legislative solution" to ban bump stocks "if we cannot find an administrative fix," and reiterated Trump's support of Cornyn's bill.