MIAMI — Former President Donald Trump said Monday that the FBI had "raided" his home at Mar-a-Lago in Florida and even cracked his safe, with a source familiar with the matter telling NBC News that the search was tied to classified information Trump allegedly took with him from the White House to his Palm Beach resort in January 2021.
Trump also claimed in a written statement that the search — unprecedented in American history — was politically motivated, although he did not provide specifics.
"These are dark times for our Nation, as my beautiful home, Mar-A-Lago in Palm Beach, Florida, is currently under siege, raided, and occupied by a large group of FBI agents," Trump said in a lengthy email statement issued by his Save America political committee.
"After working and cooperating with the relevant Government agencies, this unannounced raid on my home was not necessary or appropriate," Trump said before bemoaning: "They even broke into my safe!"
Trump lawyer Christina Bobb, who said she was present for Monday's search, told NBC News that Trump and his team have been "cooperative with FBI and DOJ officials every step of the way," while adding that the bureau "did conduct an unannounced raid and seized paper."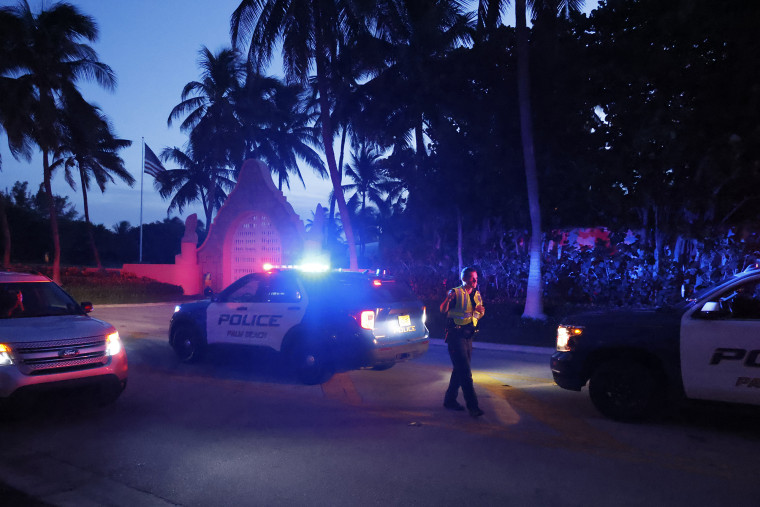 A senior government official told NBC News that the FBI was at Mar-a-Lago "for the majority of the day" and confirmed that the search warrant was connected to the National Archives.
Trump this year had to return 15 boxes of documents that were improperly taken from the White House, the National Archives and Records Administration, or NARA, said in February.
"In mid-January 2022, NARA arranged for the transport from the Trump Mar-a-Lago property in Florida to the National Archives of 15 boxes that contained Presidential records, following discussions with President Trump's representatives in 2021," the National Archives said in a statement Feb. 7.
The same month, the National Archives and Records Administration asked the Justice Department to examine whether Trump's handling of White House records violated federal law, a story first reported by The Washington Post and subsequently confirmed by NBC News sources.
The New York Times on Monday first reported the FBI focus on the National Archives materials.
Just hours before agents searched Trump's residence, the FBI notified the Secret Service about the bureau's plans to execute the warrant, according to a Secret Service official. The Secret Service facilitated access to the property, the official said, but did not participate in any aspect of the search.
At Justice Department headquarters, a spokesperson declined to comment. Officials at FBI field offices in Washington and Miami also declined to comment.
A senior law enforcement official in Florida confirmed that there was "law enforcement activity" at Mar-a-Largo on Monday.
The White House said it was not given a heads-up.
"We did not have notice of the reported action and would refer you to the Justice Department for any additional information," a White House official said.
Trump is not at Mar-a-Lago, his winter residence. He often spends his summers at Trump National Golf Club Bedminster in New Jersey.
The FBI search came days after Attorney General Merrick Garland told NBC News that the "most wide-ranging investigation" in Justice Department history was examining not only the rioters who invaded the Capitol and physically attacked officers, but also whether anyone was "criminally responsible for interfering with the peaceful transfer of power from one administration to another."
The search of Trump's Mar-a-Lago estate came just over six years after another FBI action surrounding classified material that set the stage for Trump's 2016 Electoral College victory: former FBI Director James Comey's July 5, 2016, news conference about Trump's Democratic rival, former Secretary of State Hillary Clinton.
Comey, who broke with Justice Department protocol, declared at the time that Clinton and her colleagues were "extremely careless in their handling of very sensitive, highly classified information," even though he said the facts did not support bringing criminal charges.
Trump was a persistent critic of Clinton's handling of classified material, claiming in 2016 that it was "the biggest political scandal since Watergate." It was Comey's handling of the Clinton matter that was used as justification for Trump's decision to fire Comey. Trump eventually replaced Comey with Christopher Wray. He remains in the position.
Dozens of vehicles, many adorned with "Trump 2020" and U.S. flags, were parked outside Mar-a-Lago on Monday night in an apparent show of support for the former president.
Meanwhile, Republicans rallied around their party's de facto leader, who is weighing another run for president.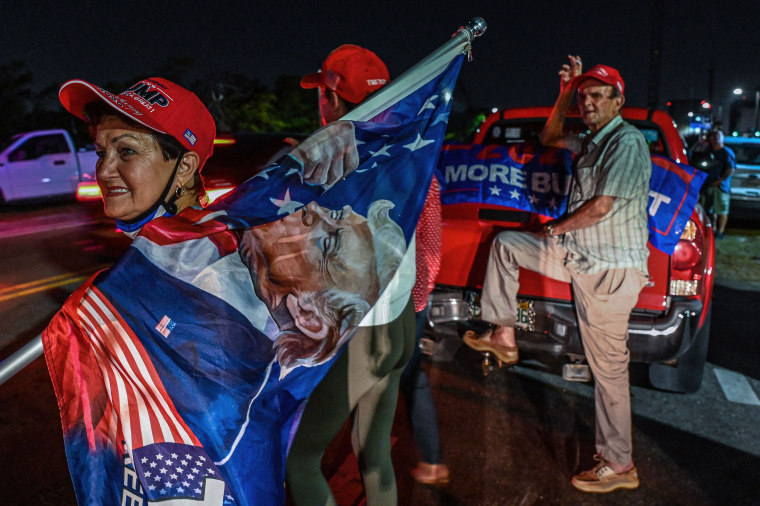 "The @FBI's raid of Mar-a-Lago is incredibly concerning, especially given the Biden admin's history of going after parents & other political opponents. This is 3rd World country stuff," Sen. Rick Scott of Florida, who leads the Senate GOP's campaign arm, said on Twitter.
"We need answers NOW," Scott added, summing up the mood of many Republicans. "The FBI must explain what they were doing today & why."
Scott's reaction is an early sign of the fierce political blowback the Justice Department is likely to face for investigating Trump, underscoring the numerous challenges that would come with potentially prosecuting a former president who is both a likely White House candidate and the most influential figure in the GOP.
Trump is the focus of multiple investigations, including a criminal inquiry in Georgia concerning allegations of election interference and a New York civil probe into whether he fraudulently represented his finances to the state. Trump was in the New York area Monday as he prepared to give a deposition in that case.
But the biggest federal investigation swirling around Trump concerns his involvement in the Jan. 6, 2021, riot, which resulted in his second impeachment and is the subject of a House committee examining the uprising.
Trump has not been charged in any of those investigations.
Of how Monday's law enforcement action might affect Trump's political aspirations, a person close to Trump said: "If he wasn't running before, he is now."
The source, who was not authorized to speak publicly, appeared to be suggesting that Trump might benefit from being an active candidate for the presidency if he faces legal jeopardy.
Marc Caputo reported from Miami; Ryan J. Reilly reported from Washington.