President Donald Trump, who is trying to revive a June 12 summit with North Korea that he canceled last week, said Thursday that a North Korean delegation in New York is coming to Washington to bring him a letter from leader Kim Jong Un.
"I look forward to seeing what's in the letter," Trump said on the tarmac before boarding Air Force One en route to Houston. "But it's very important to them. So they'll be probably coming down to Washington, D.C., on Friday for the delivery of a letter. I look forward to that."
Trump said he did not know what would be in the letter from Kim.
"I think it will be very positive, I think it'll be very positive, the meetings have been very positive. We'll see what happens. It's a process. It's all a process. We'll see and hopefully we'll have a meeting on the 12th," the president said. "I want it to be meaningful. It doesn't mean it gets all done at one meeting, maybe you have to have a second or a third, and maybe we'll have none."
The letter — and Trump's suggestion that a summit might occur on June 12, after all — is the latest development in ongoing talks between the two countries. NBC News has been told by U.S. officials that a recent CIA analysis concluded Kim would never give up the nuclear program his country has been developing for seven decades, a finding that conflicts with statements by Trump that Pyongyang intends to denuclearize in the future.
"We've made real progress in the last 72 hours," Secretary of State Mike Pompeo told reporters on Thursday afternoon of ongoing talks in New York, Singapore and the Korean Demilitarized Zone on a potential summit between Kim and Trump.
Pompeo, who dined with a senior North Korean official, Gen. Kim Yong Chol, on Wednesday night in New York City and met with him again on Thursday, said negotiations centered around creating "a place where we think there can be real progress made by the two of them meeting."
Trump said Thursday morning that "we're doing very well" in the ongoing summit talks even as the outcome remains uncertain.
Last week, North Korea called Vice President Mike Pence a "dummy." Trump pulled out of the planned June 12 talks and said the U.S military stood ready to respond to any potential North Korean provocations.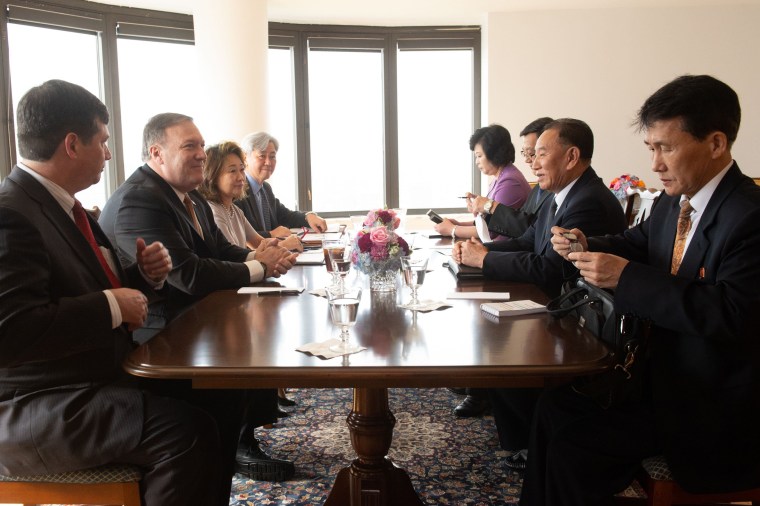 While talks have resumed, and Pompeo said Thursday that the U.S.'s aim was "complete, verifiable, and irreversible denuclearization of the Korean Peninsula," it's unclear if the administration will accept a phase-out of the regime's nuclear arms as Trump indicated last week.
Pompeo repeatedly stressed the "historic" nature of a potential agreement between the two countries, but he also expressed caution.
"Make no mistake about it, President Trump and this administration completely understands how hard this problem is," he said.