Former President Trump spoke on Thursday at a fundraiser on behalf of people charged in the Jan. 6, 2021 attack on the U.S. Capitol — even as he faces scrutiny from national and state prosecutors for his own actions surrounding the attempt to stop the certification of Joe Biden's 2020 election win. 
"I'm going to make a contribution," Trump told the gathering hosted at his own private golf club in Bedminster, New Jersey. The group, Patriot Freedom Project, included at least one actual defendant along with multiple family members of those charged in the attack. 
An attendee of the fundraiser verified a video posted online of Trump's remarks. The former president heralded the defendants.
"You have police officers, you have firemen, you have teachers, you have electricians, you have great people, and they've been made to pay a price — in many cases, not all cases," Trump said, before propagating false claims that "BLM and antifa" were behind the Capitol attack.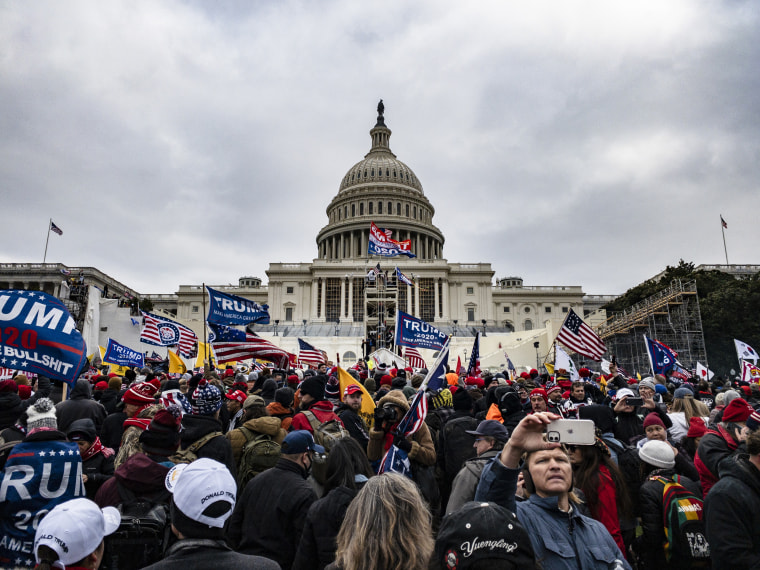 Jeffrey Clark, the former Justice Department official under Trump who sought to help overturn the 2020 election, also spoke at the event. The crowd included Cynthia Hughes, the founder of Patriot Freedom Project and aunt of Jan. 6 defendant Timothy Hale-Cusanelli — a Nazi-sympathizer sentenced to four years in prison — as well as Derrick Evans, a Jan. 6 defendant who is a former West Virginia lawmaker now running for the GOP nomination for a House seat. Geri Perna, the aunt of Jan. 6 defendant Mattthew Perna, who died by suicide, also attended.
Trump has worked with the Patriot Freedom Project in the past, sending a video of support for a fundraising event in December. Hughes and Perna also spoke at a Trump rally in Pennsylvania in September.
Trump has increasingly touted the Jan. 6 defendants' cause on the campaign trail. His rallies have featured the song "Justice for All," Trump's version of the national anthem with the "J6 choir" of inmates awaiting trial for their roles in the insurrection.  
In April, at a campaign stop in New Hampshire, he embraced a woman who served time in jail for her role in the Jan. 6 riot and has called for former Vice President Mike Pence to be executed. He has also said he would pardon "a large portion"  of the Jan. 6 rioters if he is re-elected to the White House. 
NBC News reached out to the Trump campaign and the Patriot Freedom Project for comment but did not hear back.