WASHINGTON — President Donald Trump's national security advisers spent months trying to convince him to sign off on a plan to supply new U.S. weapons to Ukraine to aid in the country's fight against Russian-backed separatists, according to multiple senior administration officials.
Yet when the president finally authorized the major policy shift, he told his aides not to publicly tout his decision, officials said. Doing so, Trump argued, might agitate Russian President Vladimir Putin, according to the officials.
"He doesn't want us to bring it up," one White House official said. "It is not something he wants to talk about."
The White House declined to comment.
Officials said the increasingly puzzling divide between Trump's policy decisions and public posture on Russia stems from his continued hope for warmer relations with Putin and stubborn refusal to be seen as appeasing the media or critics who question his silence or kind words for the Russian leader.
Critics have suggested that Trump's soft approach to Putin has nefarious roots that are somehow entwined with Russia's interference in the 2016 election and the federal investigation into whether the president's campaign colluded in that effort, something the president has repeatedly denied.
Behind the scenes, however, Trump has recently taken a sharper tone on Putin, administration officials said, but the shift seems more a reaction to the Russian leader challenging the president's strength than a new belief that he's an adversary. Putin's claim earlier this month that Russia has new nuclear-capable weapons that could hit the U.S., a threat he underscored with video simulating an attack, "really got under the president's skin," one official said.
So much so that after hearing Putin's speech, Trump called the leaders of France, Germany and the U.K. to say the Russian leader sounded dangerous, so the four of them needed to stick together, according to a White House official familiar with the calls.
Two officials said Trump told Putin during a phone call last week after Putin's re-election: "If you want to have an arms race we can do that, but I'll win." Trump added that he hoped that Putin's comments were just election rhetoric and bragged that he'd just secured a $700 billion defense budget, the largest the U.S. has ever had, he said, according to one of the officials.
Afterward the president gave no hint of tensions when he told reporters that the two leaders had "a very good call" and that he plans to meet with Putin soon to discuss curtailing an arms race.
Within days, the split between Trump's Russia policy and public rhetoric was again on display.
The White House announced Monday that the U.S. would expel 60 Russian diplomats — the largest number since the Cold War — in response to Moscow's alleged nerve-agent attack in the U.K. on a former spy. It was the brashest U.S. brushback of Russia since Trump took office, yet the president didn't comment on it. And he insisted the White House's message include the idea that he "still wants to work with Russia."
Trump was similarly silent Thursday after Russia announced it would expel U.S. diplomats and close the American consulate in St. Petersburg in response to U.S. moves earlier this week.
"If you want to have an arms race we can do that, but I'll win."
A now familiar back-and-forth also played out behind the scenes over Trump's decision two weeks ago to levy new sanctions against Russia in response to Moscow's 2016 election meddling and costly worldwide cyberattack last year.
One official involved in the discussions said Trump pushed back on the sanctions proposals by saying Russia's meddling didn't affect the election, but began to relent after Putin's boast about nuclear weapons.
Since approving the sanctions, officials said Trump has given White House officials conflicting messages on whether they should showcase the move publicly. In some instances Trump says he's fine with it, while at other times he's directed aides not to talk about it, they said.
The president's aides have begun to choose their battles or shape their advice to his approach. While the phrase "DO NOT CONGRATULATE" was written on Trump's briefing materials for his call with Putin last week — as first reported by The Washington Post — the president's senior advisers also chose not to orally brief him on the talking point because they didn't think it would make a difference, officials said.
"He'd say what he wants anyway," one official said.
Trump did congratulate Putin, to the dismay — though not surprise — of some of his top national security advisers. Aides said it's unclear if a meeting with Putin will happen because Trump suggests a meeting during nearly all of his calls with foreign leaders as a routine pleasantry.
An argument the president's national security advisers have found to be successful in trying to persuade Trump to adopt aggressive Russia policies is that Putin responds to strength and the way to achieve better relations is to be tougher on him, officials said.
One official described it as a way to "motivate" Trump on Russia.
"He digs in his heels," the official said. "He thinks a better relationship with Russia is good for the U.S., and he really believes he can deliver it."
Moreover, the official said, Trump wants a better U.S. relationship with Russia to prove he can accomplish it.
One official said Trump believes a stable U.S. relationship with Russia is important if the U.S. is going to find resolutions to other crisis, such as the conflict in Syria.
Rex Tillerson, Trump's outgoing secretary of state, led the effort to convince Trump to approve the new arms for Ukraine, officials said. The plan, which Russia opposed, included the sale of U.S.-made Javelin anti-tank missiles that Kiev has for years requested from Washington. President Barack Obama had repeatedly refused to approve Ukraine's request out of concern it would escalate U.S. tensions with Russia.
Tillerson scheduled a meeting with the president to discuss the plan shortly after the national security team approved it last summer, and he raised the issue with Trump in their regular meetings over the next few months, officials said.
As the policy sat on his desk awaiting his signature, the president expressed concern that it would escalate tensions with Russia and lead to a broader conflict, officials said. They said he also saw Ukraine as a problem for Europe and questioned why he should have to do something about it. And he insisted Ukraine purchase the arms from the U.S., not receive them for free, officials said, before signing off on the policy in December.
"Tillerson just wore him down," a White House official said.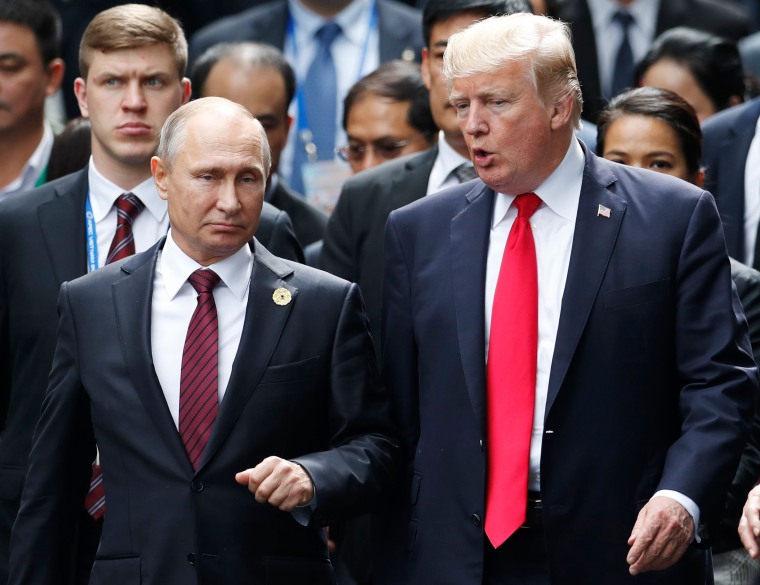 But Trump's ambivalence didn't end, officials said. In one instance afterward, Trump complained to his national security adviser, H.R. McMaster, that his decision could really escalate the situation in Ukraine to a war. McMaster, who was recently ousted, responded by telling the president there already is a war there, to which Trump shot back that the U.S. is not in it, an official said.
Last week, as the president's national security team finalized options for a response to the Russian nerve agent attack in the U.K., Trump voiced a now-familiar complaint. He said he wasn't going to take dramatic steps against Russia unless they were met with equal responses from America's European allies, aides said. His edict helped corral a response that included expulsions of more than 100 Russian diplomats in more than two dozen countries.
Trump was presented with three options last Friday during a meeting with his national security team, officials said. He chose the middle option, persuaded most by the idea that if Russia changed its behavior he wouldn't have needed the most strident measures and if it doesn't he has additional actions he can take, officials said.