President Donald Trump tweeted Wednesday that he will invite the U.S. women's national soccer team to the White House following this year's Women's World Cup — whether or not they win the mega sporting event.
But his attempt at extending a level of courtesy toward the women's team came with a rebuke for co-captain Megan Rapinoe, who said in a video clip shared Tuesday on social media that "I'm not going to the f---ing White House."
"I am a big fan of the American Team, and Women's Soccer, but Megan should WIN first before she TALKS! Finish the job!" Trump wrote in a series of tweets, at first tagging the wrong Twitter account for Rapinoe.
"We haven't yet invited Megan or the team, but I am now inviting the TEAM, win or lose," Trump added. "Megan should never disrespect our Country, the White House, or our Flag, especially since so much has been done for her & the team. Be proud of the Flag that you wear. The USA is doing GREAT!"
The president also said that sports teams "love" coming to the White House.
Rapinoe said in an interview this month in Eight by Eight magazine that "no f---in' way will we be invited to the White House." She surmised that Trump doesn't invite teams that he knows will decline or "like he did when the Warriors turned him down, he'll claim they hadn't been invited in the first place."
After the Golden State Warriors became the NBA champions in 2017, the team said it would not go to the White House, prompting Trump to tweet that "going to the White House is considered a great honor for a championship team. Stephen Curry is hesitating, therefore invitation is withdrawn!"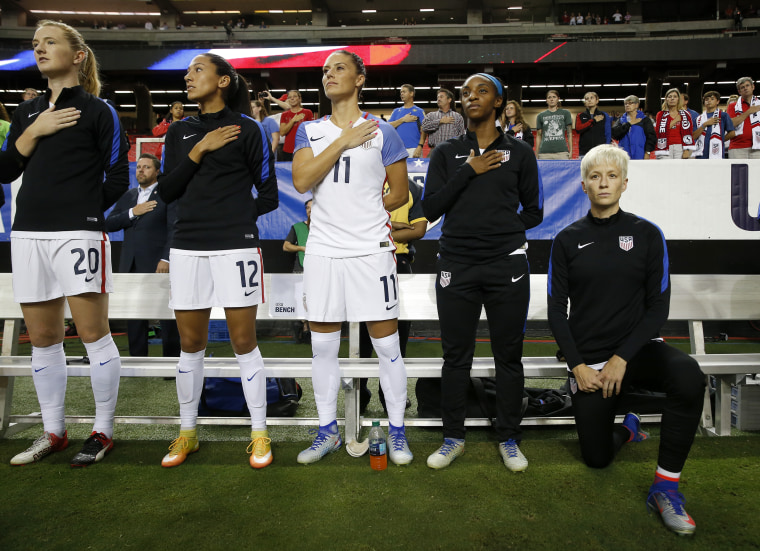 Rapinoe's teammate, Ali Krieger, came to her defense Wednesday and said Trump simply has a problem with women.
"In regards to the 'President's' tweet today, I know women who you cannot control or grope anger you, but I stand by @mPinoe & will sit this one out as well," tweeted Kreiger, 34, a defender from Dumfries, Virginia.
Rapinoe, 33, from Redding, California, has become one of the more prominent athletes outside of the NFL to speak out against police brutality and injustice across the country. She has notably kneeled during the national anthem.
During this year's World Cup in France, she has stood motionless when the anthem plays at pregame ceremonies.
"I haven't experienced over-policing, racial profiling, police brutality or the sight of a family member's body lying dead in the street," she wrote in 2016 about why she decided to protest. "But I cannot stand idly by while there are people in this country who have had to deal with that kind of heartache."
Trump told The Hill this week that her continued protest is inappropriate.
Meanwhile, he remains an overall fan of the sport. The U.S. women's team is favored to repeat as World Cup champions, and will take on France this Friday in a much-hyped quarterfinal match.
"I love watching women's soccer," Trump also told The Hill. "They're really talented."
When asked whether he thinks the U.S. women's soccer team should be paid on the same level as their male peers, Trump said he would need to study the issue further.
In March, more than two dozen members of the U.S. women's team filed a gender discrimination lawsuit against the U.S. Soccer Federation, saying "institutionalized gender discrimination" exists in their pay, medical treatment, travel arrangements and overall workload.
The federation has declined to comment on pending litigation, but said that any pay disparity is "based on differences in the aggregate revenue generated by the different teams and/or any other factor other than sex."