President Donald Trump on Saturday made his first public comments about his former National Security Adviser Michael Flynn after Flynn pleaded guilty to lying to the FBI about speaking with Russian officials, suggesting for the first time that Trump knew Flynn had lied to the bureau at the time Flynn was fired.
"I had to fire General Flynn because he lied to the Vice President and the FBI," Trump tweeted. "He has pled guilty to those lies. It is a shame because his actions during the transition were lawful. There was nothing to hide!"
When asked for comment Saturday, White House Counsel John Dowd told NBC News that Trump's tweet "simply paraphrases what Ty Cobb said yesterday."
That Friday statement said, in part, that Flynn "entered a guilty plea to a single count of making a false statement to the FBI. The false statements involved mirror the false statements to White House officials which resulted in his resignation in February of this year."
Trump fired Flynn on Feb. 13, and at the time said it was because Flynn had misled Vice President Mike Pence about his conversations with Russian officials about sanctions. It was three days later that The Washington Post reported that Flynn had lied to the FBI about those conversations.
Related: Michael Flynn pleads guilty to lying to FBI in Mueller probe
The tweet was a departure from Trump's earlier support for Flynn, on the campaign trail and afterwards. It suggested that he knew Flynn had lied to the FBI — a felony — when, on Feb. 14, Trump asked FBI Director James Comey to shut down the investigation into Flynn, as The New York Times reported. Comey confirmed before Congress in June that the president had pressured him to be lenient toward Flynn.
"The President then returned to the topic of Mike Flynn, saying, 'He is a good guy and has been through a lot,'" Comey's written testimony said. "He repeated that Flynn hadn't done anything wrong on his calls with the Russians, but had misled the Vice President. He then said, 'I hope you can see your way clear to letting this go, to letting Flynn go. He is a good guy. I hope you can let this go.'"
In a series of tweets early on Sunday morning, Trump denied asking Comey to drop his investigation into Flynn and hit out at the FBI.
When Trump was asked on Saturday morning if he still stood by Flynn, one of his earliest supporters, the president waffled.
"We'll see what happens," he said.
The president added that he wasn't concerned about the verdict and claimed that Flynn's guilty plea proved that his campaign did not collude with the Russian government during the election.
"No, I'm not," Trump said when asked whether he was worried about Flynn talking to the special counsel. "And what has been shown is no collusion, no collusion. There's been absolutely, there's been absolutely no collusion. So we're very happy."
Related: What Flynn's guilty plea means for Trump and the GOP
According to court documents, Flynn twice lied to the FBI about his interactions with Russian ambassador Sergey Kslyak. Flynn falsely said he had not asked Kislyak "to refrain from escalating the situation" in response to sanctions that the U.S. had imposed against Russia on Dec. 29, three weeks before the Trump administration came into office.
Court documents also said that Flynn had lied when he claimed that he had not asked Kislylak "to delay a vote on or defeat" a U.N. Security Council resolution on Dec. 22.
On both occasions, Flynn sought counsel with senior Trump transition officials before speaking to the Russian diplomat Kislyak. According to three people familiar with the matter, one of the people on the transition team Flynn spoke with is Trump's son-in-law and senior adviser Jared Kushner. Two people familiar with the matter said that another transition official referred to in the court documents is K.T. McFarland, who served as deputy national security adviser for five months and is now the nominee to become the next U.S. ambassador to Singapore.
According to the charges, Flynn lied to the FBI two days after he was sworn in as Trump's national security adviser.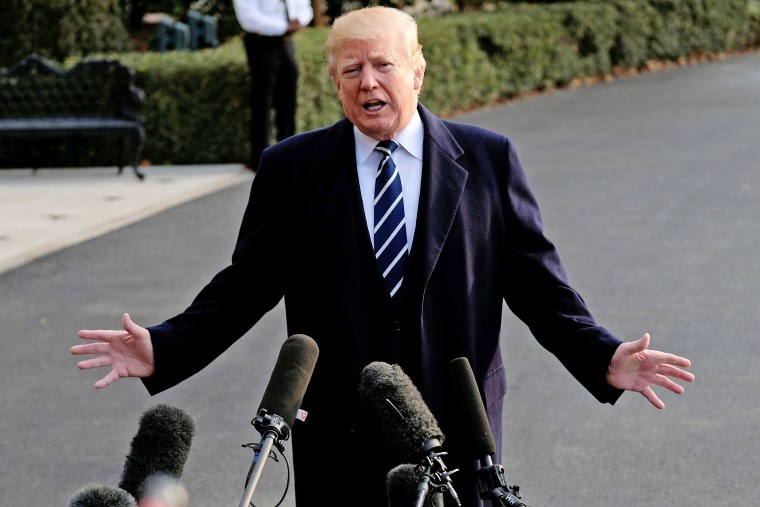 Since the Mueller probe began in May, Flynn is the first senior White House official to be charged in the investigation of Russian meddling in the 2016 presidential election. He is also the first official to agree to fully cooperate with the inquiry.
A source close to the Trump administration told NBC News that the White House was "blindsided" by Flynn's guilty plea.
Trump returned to the subject of Flynn's prosecution Saturday night and revived his complaint that Hillary Clinton was never prosecuted. In a tweet that appeared to attack his own Justice Department, Trump said "Many people in our Country are asking what the 'Justice' Department is going to do about the fact that totally Crooked Hillary, AFTER receiving a subpoena from the United States Congress, deleted and 'acid washed' 33,000 Emails? No justice!"