President Donald Trump sparked a backlash from some of the biggest names in professional sports over the weekend after he attacked football players who refuse to stand during the national anthem in protest and rescinded a White House invitation to the Golden State Warriors' Stephen Curry.
On Sunday, New England Patriots owner Robert Kraft, a supporter and donor who gave the president his Super Bowl ring, released a statement criticizing Trump's comments and backing players to use their platform in order to draw attention to political issues.
"I am deeply disappointed by the tone of the comments made by the president on Friday," Kraft said in a written statement. "There is no greater unifier in this country than sports, and unfortunately, nothing more divisive than politics."
"Our players are intelligent, thoughtful and care deeply about our community and I support their right to peacefully affect social change and raise awareness in a manner that they feel is most impactful."
Kraft's statement came shortly after Trump doubled down on his stance, tweeting early Sunday, that if "NFL fans refuse to go to games until players stop disrespecting our Flag & Country, you will see change take place fast. Fire or suspend!"
Trump on Friday criticized football players who refuse to stand during the national anthem in protest of police treatment of African-Americans. In a freewheeling speech in Alabama, the president told the crowd, "Wouldn't you love to see one of these NFL owners, when somebody disrespects our flag, to say, 'Get that son of a bitch off the field right now. Out! He's fired.'"
Trump continued on Saturday, tweeting that players who want "the privilege of making millions of dollars" in the NFL and other leagues then shouldn't be allowed "to disrespect our Great American Flag (or Country) and should stand for the National Anthem."
"If not, YOU'RE FIRED," he said. "Find something else to do!"
Meanwhile, the NBA champions Warriors team said they would not be going to the White House after Trump tweeted that "Going to the White House is considered a great honor for a championship team. Stephen Curry is hesitating, therefore invitation is withdrawn!"
The Warriors said "we accept that President Trump has made it clear that we are not invited."
"We believe there is nothing more American than our citizens having the right to express themselves freely on matters important to them," the NBA champions said in a statement. "We're disappointed that we did not have an opportunity during this process to share our views or have open dialogue on issues impacting our communities that we felt would be important to raise."
While it is customary for professional sports teams that have won titles to get an audience with the president, Curry, a two-time MVP, told reporters Friday that he would sit out on any potential trip.
Cleveland Cavaliers star LeBron James directed a tweet at the president on Saturday that began with "U bum." The four-time NBA MVP said in a video posted to sports website Uninterrupted that he was frustrated "because this guy that we've put in charge has tried to divide us once again."
Retired NBA star Kobe Bryant said on Twitter that a president "whose words inspire dissension and hatred can't possibly "Make America Great Again," referring to Trump's campaign slogan.
Curry told reporters Saturday that despite the president's tweet singling him out, his views had not changed. "It's just kind of beneath I think a leader of a country to go that route. It's not what leaders do," Curry said.
NFL Commissioner Roger Goodell in a statement called Trump's comments on the NFL "divisive," and said they showed "a failure to understand the overwhelming force for good our clubs and players represent in our communities."
The owners of the Atlanta Falcons, Los Angeles Chargers and the Miami Dolphins made similar statements, saying the country needs less divisiveness. New York Giants owners John Mara and Steve Tisch and Green Bay Packers President Mark Murphy called Trump's comments "offensive."
NFL players refusing to stand during the National Anthem has been criticized by some people and groups. Quarterback Colin Kaepernick started the trend last year when he played for the San Francisco 49ers, amid a year that was marked by protests over police shootings of African-Americans.
The Cleveland Police Patrolmen's Association had threatened to not participate in some Cleveland Browns opening day ceremonies after some players kneeled during the anthem during a preseason game, NBC affiliate WKYC reported. Players and police ended up running out of the tunnel together in a show of unity.
On Saturday, Oakland Athletics catcher Bruce Maxwell took a knee during the national anthem, marking the first time a Major League Baseball player has done so.
Music legend Stevie Wonder said he was "taking a knee for America" — actually, both knees — at the Global Citizen Festival in New York.
Warriors coach Steve Kerr told reporters on Saturday that his wife woke him up to tell him about the president's tweeted disinvitation and added that he wasn't surprised. "He was going to break up with us before we could break up with him," Kerr said.
Kerr said the values of the team, which he described as "inclusion and civil discourse and dignity" are hard to reconcile with some of the president's statements. Kerr called Trump's comments about NFL players "as bad as anything he has said to this point" and "awful."
"You're talking about young men who are peacefully protesting police brutality and racism. Racial inequality," Kerr said. "Peacefully protesting, hallmarks of our country. Come on."
Kerr said that the Warriors had planned to discuss a potential White House visit on Saturday until they saw the tweet. The team said that instead of going to the White House, it will make a trip to Washington, D.C., in February to "celebrate equality, diversity and inclusion — the values that we embrace as an organization."
NBA Commissioner Adam Silver said in a statement that he was in favor of Warriors visiting the White House and called it "a rare opportunity for these players to share their views directly with the president. I am disappointed that that will not happen."
But Silver added: "More importantly, I am proud of our players for taking an active role in their communities and continuing to speak out on critically important issues."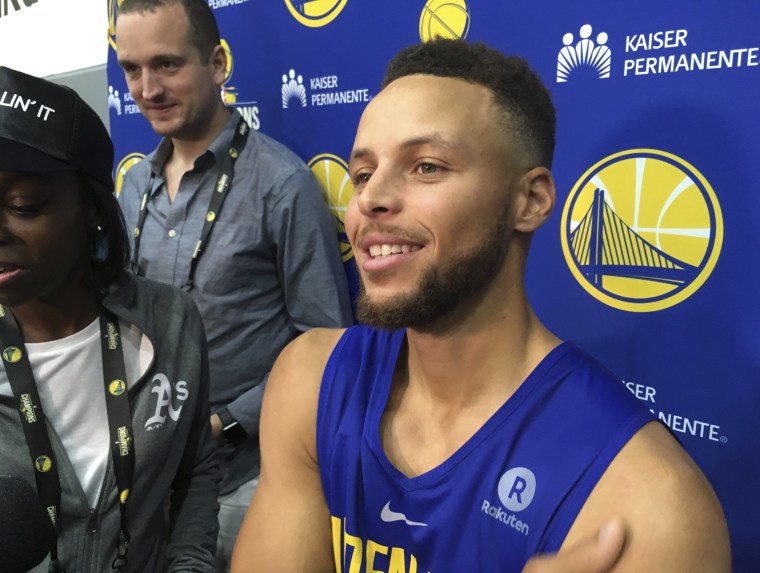 Athletes have previously declined invitations to the White House when their team is being honored, a tradition that dates back to the Reagan administration.
In January, most members of the Chicago Cubs visited President Barack Obama's White House — only five players missed the trip — to celebrate their World Series win. But many chose not to return to Washington again to meet Trump in June. None of the Cubs openly said politics was the reason for their absence.
In April, six members of the New England Patriots skipped a Rose Garden celebration for their Super Bowl victory, with four of them saying Trump as president influenced their decisions. The Warriors previously visited the White House in 2016 under Obama after winning the 2015 NBA Championship Finals.
Some critics of Trump's comments, including James, referenced the deadly violence that erupted around a white nationalist and alt-right rally that drew some neo-Nazi and other groups in Charlottesville, in which a car was rammed into a crowd of counter-protesters, killing a woman. Trump was criticized for his response in which he said there was blame on "both sides" for clashes.
Kerr, the Warriors coach, was asked if Trump's response to Charlottesville played a role in the team's thinking about any White House visit.
"No, because there were very fine people on both sides," Kerr joked. He added, "I'm sorry, that's a low blow."