Donald Trump was the headliner Tuesday at the Manhattan Criminal Courthouse, but around the corner from crowds of reporters and protesters, getting married was the main event for New Yorkers Peter Don and Monique Beckford Khalia.
They were at the front of the line to tie the knot at the New York City Marriage Bureau and were so smitten they didn't realize they were getting married on the day the former president was making history by being charged with arranging to pay off a porn star.
"I didn't realize it was happening right here," Don, 30, said. "It's funny, but it's not going to ruin our day."
"This is our day," Khalia, 25, quickly added.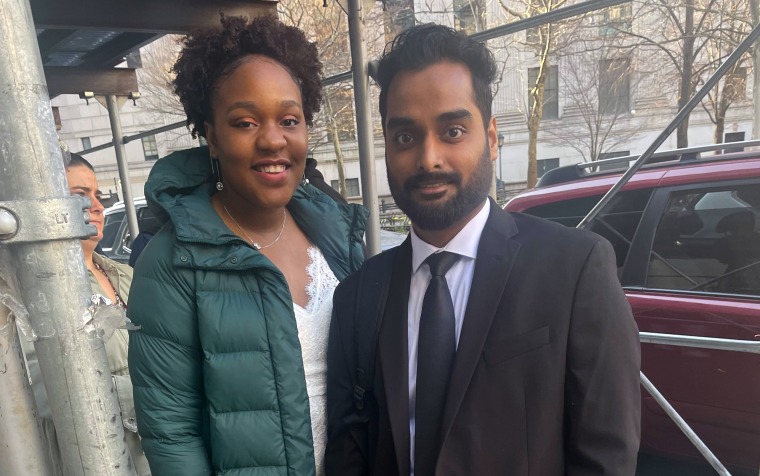 But just a block or so away, the decidedly anti-Trump crowd was showing Rep. Marjorie Taylor Greene, R-Ga., no love when she arrived at the courthouse to show her support for Trump — and made a hasty retreat back to the safety of her SUV as angry demonstrators gave her an earful.
Earlier, embattled Rep. George Santos, R-N.Y., made a brief appearance at a small pro-Trump protest outside the courthouse. He stayed about 30 minutes before he left, calling the unfolding drama "media chaos."
Mayor Eric Adams specifically warned Trump supporters Monday that police would not hesitate to arrest anyone who broke the law while protesting the arraignment.
"New York City is our home, not a playground for your misplaced anger," Adams said.
Adams backed up his warning by dispatching a small army of police officers to keep the peace outside the courthouse and to keep the pro-Trump and anti-Trump demonstrators apart as they yelled at one another.
Back in the marriage line, love reigned supreme, and Jason Macfarland and Dominic Lamarco were beaming.
They, too, had picked out Tuesday as their wedding day months ago and were a bit panicked at first when they realized their nuptials were coinciding with Trump's indictment.
The nervous grooms said they relaxed a bit once they realized they would be saying "I do" hours before Trump was scheduled to arrive at the courthouse in lower Manhattan.
"It's something we'll never forget, that's for sure," Macfarland, 38, said.
In fact, said Lamarco, 30, the fact that Trump was being formally arrested on the day they were getting married made their day "more joyful."
The sentiment was echoed by another set of grooms waiting in line to get hitched, Martin Sefranek, 43, and Jared Kronenberg, 42.
"It'll be a nice little anecdote to add to our story," Sefranek said.
Kronenberg said they had been bracing for the possibility that Trump's indictment would spoil their big day by making it impossible to get to the courthouse.
"We thought it was bad enough, we could blame him for messing up our wedding day," a smiling Kronenberg said. "So either way we had a story."
North of there in Midtown, life continued apace with lunchtime crowds out in the chilly spring sunshine and the subways filled with straphangers.
There was no sign of beefed-up security or increased police presence outside the Sixth Avenue headquarters of Fox News, which has been frequently targeted by groups protesting the network's pro-Trump programming.
New Yorkers like Chris McCalla, 28, said they were taking a hiatus from social media and from Trump.
"I don't care," McCalla said.
But Diletta Floritamanetti, 51, a tourist visiting from Florence, Italy, said she had been following the Trump story and found it "not funny."
"I really don't like him," she said.