WASHINGTON — Attorneys for Donald Trump met with officials at the Justice Department on Monday morning, the week the grand jury investigating the former president's handling of classified documents is expected to meet again.
NBC News has confirmed that part of Trump's legal team met with special counsel Jack Smith and others at Justice Department headquarters in Washington on Monday, according to a person familiar with the matter. Three of Trump's lawyers — James Trusty, John Rowley and Lindsey Halligan — were at the Justice Department and met with the group of Justice Department officials, which included at least one other career prosecutor; the meeting did not include Attorney General Merrick Garland or Deputy Attorney General Lisa Monaco. Trump's team was first spotted by CBS News and then was seen emerging from the building just before noon.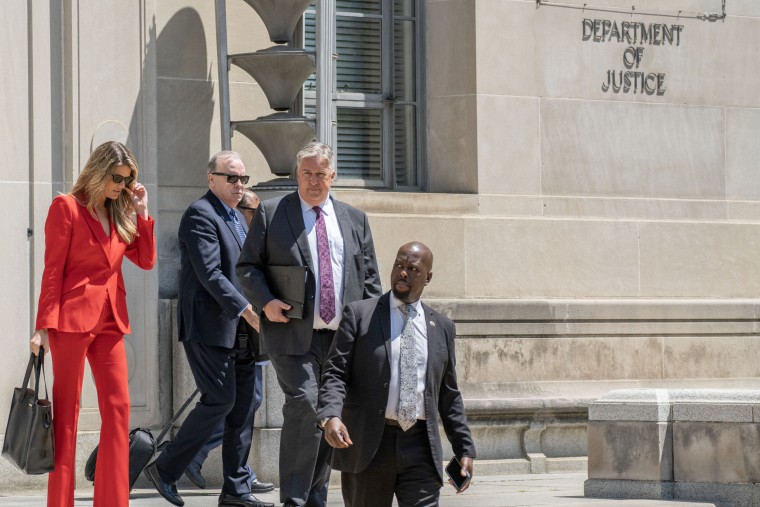 NBC News reported that the grand jury investigating Trump's handling of classified documents is expected to meet again this week. The FBI searched Trump's Florida estate at Mar-a-Lago in August, finding over 11,000 government documents, including over "one hundred unique documents with classification markings," according to a prior government filing.
In Florida, a grand jury is expected to hear witness testimony this week in the special counsel's classified documents case, two people familiar with the matter confirmed to NBC News after it was first reported by the Wall Street Journal on Monday.
An FBI affidavit said the FBI found 184 classified documents in the boxes that Trump returned to the National Archives ahead of the August search, which turned up the additional classified documents.
Shortly after his lawyers left the Justice Department on Monday, Trump posted to his Truth Social platform. "HOW CAN DOJ POSSIBLY CHARGE ME, WHO DID NOTHING WRONG, WHEN NO OTHER PRESIDENT'S WERE CHARGED, WHEN JOE BIDEN WON'T BE CHARGED FOR ANYTHING," he wrote. The Justice Department has not announced any charges.
Garland announced Smith's appointment as special counsel just after Trump formally launched his campaign for the 2024 Republican nomination. Smith is investigating both Trump's handling of classified documents — as well as potential obstruction of that investigation — and aspects of the Jan. 6 investigation and its effects to "interfere with the lawful transfer of power following the 2020 presidential election or the certification of the Electoral College vote held on or about January 6, 2021, as well as any matters that arose or might arise directly from this investigation."
CORRECTION (June 5, 2023, 12:09 p.m. ET): A previous version of this article misspelled the first name of one of Trump's attorneys. She is Lindsey Halligan, not Lyndsey.