NATIONAL HARBOR, Md. — Nikki Haley delivered her speech to a polite but only mildly interested audience, ventured out of a half-empty ballroom here Friday and into a small circle of friendly selfie-seekers.
For a moment, the Republican White House hopeful received the warm reception the crowd had denied her minutes earlier at the annual Conservative Political Action Conference, or CPAC, gathering, where she offered her familiar lines about aging officeholders and other subtle shots at former President Donald Trump. 
The pleasantries were soon disrupted.
"Trump 2024!" one woman hollered as she sidled up to the scrum. "Trump! Trump! Trump!"
Others joined in, their chants following Haley as her aides dashed her off to an elevator.
The scene — tense and hostile — offered early hints of how Trump's most fervent supporters will clash with the candidates who run against him for the GOP nomination in 2024. And it underscored how CPAC, once the premier event for celebrating conservatism, has shrunken into a forum to celebrate Trump while entertaining his fans with a carnival of MAGA delights. 
Trump will close the conference Saturday night with a keynote speech, following a presidential straw poll that, judging by the dynamics here, should widely favor him. His closest competitor in public opinion polls, Florida Gov. Ron DeSantis, is skipping the event and is the subject of only detached speculation here. 
Haley, Trump's former ambassador to the United Nations, was one of the few presidential prospects in attendance, a departure from what once functioned as a proving ground for contenders — including Trump during his transition from reality TV mogul to politician. Republican honchos like Speaker Kevin McCarthy and Senate Minority Leader Mitch McConnell are staying away, with the depressed turnout attributed to the narrow focus on Trump and a sexual misconduct allegation against CPAC Chairman Matt Schlapp. 
"CPAC has become a Trump gathering rather than a gathering for conservatives," David Williams, president of the Taxpayers Protection Alliance, told NBC News. 
Williams' group had previously rented a kiosk at the conference. But the dominance of Trumpism and the allegation against Schlapp kept Williams from returning this year. 
"It's become toxic," Williams said. 
Schlapp, whose lawyers have denied wrongdoing on Schlapp's part, opened the conference Thursday by defiantly responding to reports of CPAC's woes and insisting all was well as he introduced Rep. Jim Jordan, the pugnacious Ohio conservative. Outside the main ballroom, a feistier crowd was gathered around Trump adviser Steve Bannon, who was broadcasting his popular right-wing show live from media row.
Feels like MAGA country.
Donald Trump, Jr.
"The Conservative Populist Action Conference!" Bannon bellowed from his booth, offering a Trumpian revision to CPAC, which stands for Conservative Political Action Conference.
Not everyone here is pleased with CPAC's evolution. 
Michael Biundo, a GOP strategist and veteran of several presidential campaigns, including Trump's in 2016, complained on Twitter that this year's CPAC was, "without a shadow of a doubt the worst of the bunch."
Biundo later told NBC News that CPAC is losing its relevance, citing the emergence of right-wing groups such as Turning Point USA and the almost exclusive devotion to Trump.
"It's become the Donald Trump Political Action Conference, so if I am running a presidential campaign, why push my people to show for the straw poll?" Biundo, who is not affiliated with any candidates or prospective candidates, asked.
The point is not lost on Trump or his family.
"Feels like MAGA country," Donald Trump Jr. said as he began his speech Friday.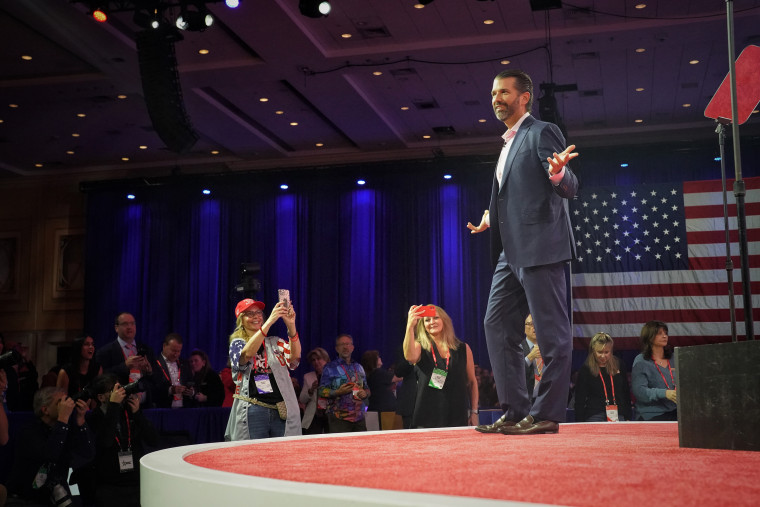 Other than Haley, the only declared Trump rivals to address CPAC were two little-known businessmen, Perry Johnson and Vivek Ramaswamy. Former Trump administration Secretary of State Mike Pompeo, who is considering a run, also spoke Friday and, like Haley, received a tepid response.
Only Johnson, who was disqualified from last year's GOP gubernatorial primary in Michigan after failing to collect enough valid signatures, put up much of a politicking effort. The self-described "quality guru" deployed a team of volunteers wearing red conversation-starting T-shirts — "Perry who?" they read — to roam the corridors of the conference site, the Gaylord National Resort and Convention Center.
Johnson's crew aside, the scene was a sea of pro-Trump shirts, slogans and costumes, rounded out by loyal veterans of Trump's administration, from Ben Carson to Sebastian Gorka. Inside CPAC Central, a market of merchandise and information tables, former Trump White House press secretary Sean Spicer kept watch over his recently published children's book and the pen he held ready to sign autographs. Another vendor displayed a giant thank-you note for Trump — "Not an endorsement," the paper clarified, "just a BIG thank you!"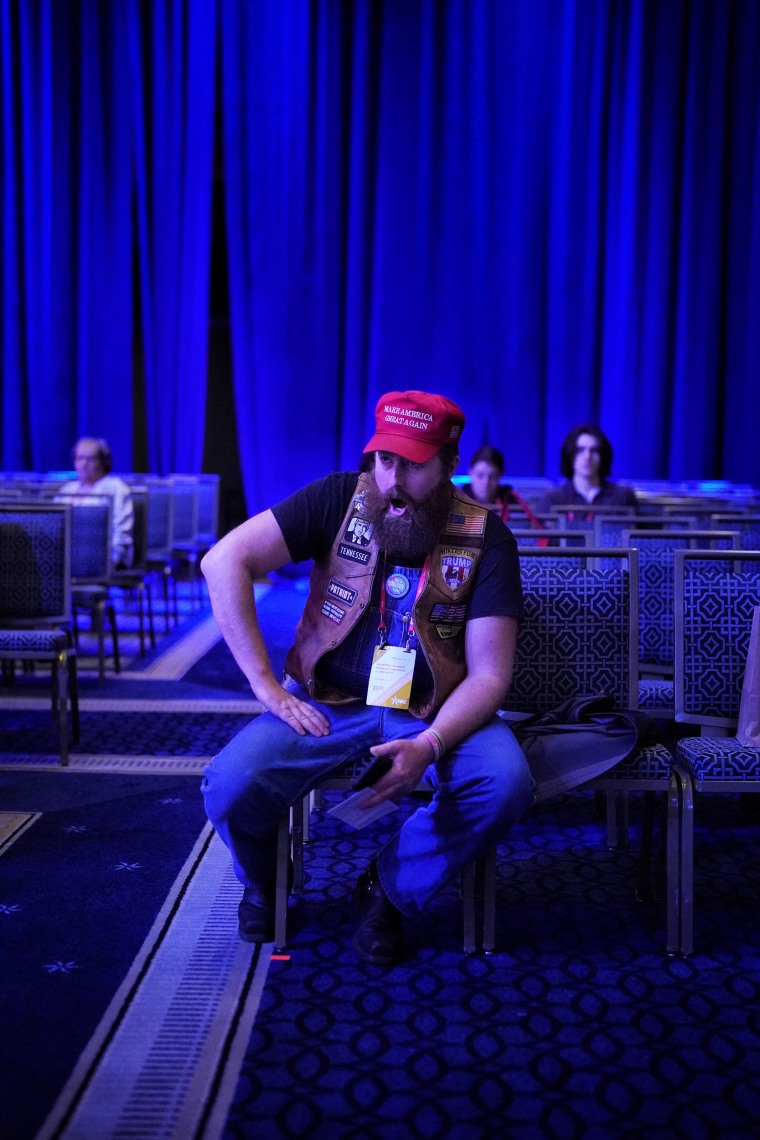 Many were far less bashful about backing Trump. Stephen Robinson, an attendee from Virginia, sported a homemade Trump-Lake button, signaling a preference for Kari Lake — a Trump-inspired election denier who refuses to acknowledge losing her bid for governor of Arizona last year — as vice president.
"I believe that would be a slam-dunk," Robinson said. Trump, he added, deserves the nomination in 2024. "It's not open for anybody else."
Others expressed a willingness to consider DeSantis and Haley or possible contenders such as Virginia Gov. Glenn Youngkin, while saying they preferred that those candidates wait until 2028.
"I'll listen to them," said Thomas Melvin, a retiree from Florida, "but I don't know why they would want to go against Trump."
And when it came to DeSantis, several of Trump's highest-profile endorsers parried questions about his likely candidacy by complimenting his work as governor. One by one, they offered the same piece of advice: Stay in Florida.
Rep. Matt Gaetz, a Florida Republican who's aligned with DeSantis in the past, said in an interview that he "would prefer that he stay our governor."
"I worked so hard to make him governor, and I want all eight years of Ron DeSantis as governor," Gaetz said.
Rep. Marjorie Taylor Greene of Georgia suggested an additional four years for DeSantis— something that's unconstitutional in Florida under the state's limit of two consecutive terms. 
"If I were Florida I'd give him a third term and beg him to stay as governor," she told reporters Friday.
Lake, who headlined the Friday night dinner at CPAC, worked from similar talking points.
"I think people just elected — re-elected — him for governor because he's been an effective governor," she said, while walking through the convention hall a few hours before the dinner. "I believe they want him to remain governor. It's Donald Trump's time."