A federal judge in New York on Monday denied former President Donald Trump's bid for a mistrial in writer E. Jean Carroll's lawsuit alleging that Trump raped her in a Manhattan department store in the 1990s.
In an 18-page filing hours ahead of his second day of cross-examining Carroll, Trump lawyer Joe Tacopina accused U.S. District Judge Lewis Kaplan, who is overseeing the case, of making "pervasive unfair and prejudicial rulings" against his client.
Barring a mistrial ruling, Tacopina requested that Kaplan "correct the record for each and every instance in which the Court has mischaracterized the facts of this case to the jury" and allow Trump's counsel to "have greater latitude" to cross-examine Carroll.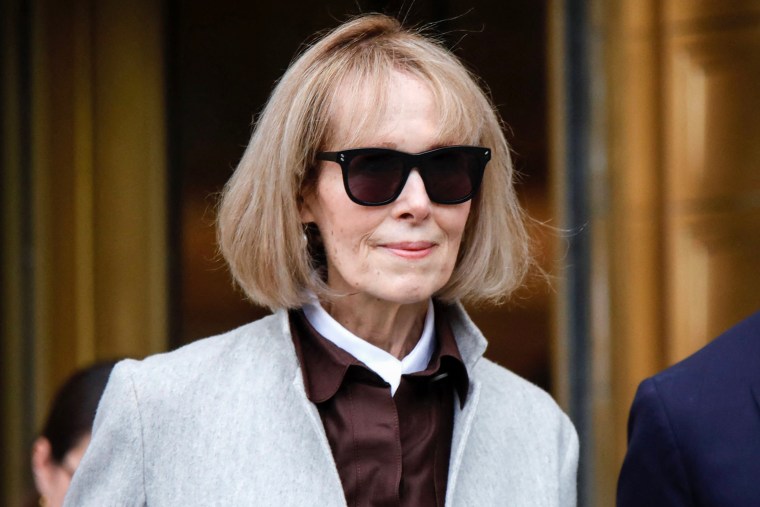 Tacopina wrote that Kaplan's "one-sided rulings" demonstrate "a deeper leaning towards one party over another," including comments that express "favoritism."
"Here, despite the fact trial testimony has been underway for only two days, the proceedings are already replete with numerous examples of Defendant's unfair treatment by the Court, most of which have been witnessed by the Jury," the letter said.
Kaplan denied the motion Monday morning shortly before the jury was brought in to hear Carroll's testimony, a court official confirmed.
Lawyers for Carroll did not immediately respond to NBC News' request for comment. 
Carroll took the witness stand for her lawsuit against Trump last week, telling jurors, "I'm here because Trump raped me." Carroll alleges Trump assaulted her in 1995 or 1996 at a Bergdorf Goodman department store on Fifth Avenue in New York City, when the "playful banter" she'd been engaged in with Trump, then a businessman, took a "dark turn." She alleges in her lawsuit that Trump "seized" her, "forced her up against a dressing room wall, pinned her in place with his shoulder, and raped her."
In her testimony at the civil trial in federal court in lower Manhattan last week, Carroll said Trump "lied and shattered my reputation, and I'm trying to get my life back" after she came forward with her allegations in 2019.
Trump has repeatedly denied Carroll's allegations, including in recent posts on his social media platform, Truth Social, during the trial.
In his request for a mistrial, Tacopina took issue with Kaplan's ruling that restricted him from asking Carroll about why she did not seek security camera footage from Bergdorf Goodman.
"[P]roof that Plaintiff never attempted to determine if such footage of the parties existed constitutes circumstantial evidence that her accusation is false," Tacopina wrote.
Tacopina's request for a mistrial comes after Carroll sparred with him during cross-examination last week. Tacopina asked why she didn't "scream for help" during the alleged attack.
"I'm not a screamer. I was in a panic, fighting," Carroll replied, becoming visibly emotional. "You can't beat up on me for not screaming."
Carroll's lawsuit against Trump is among several legal battles the former president faces. Trump was arraigned last month on 34 counts of falsifying business records by Manhattan District Attorney Alvin Bragg related to his role in hush money payments shortly before the 2016 presidential election. Trump has pleaded not guilty to the charges.