A small army of lawyers and civil rights activists geared up for potential chaos and instances of denied entry into the United States onThursday night, when much of President Donald Trump's travel ban began taking effect.
The New York Immigration Coalition, Amnesty International and Muslim Advocates are among the dozens of groups that are sending observers and attorneys to airports across the U.S. in anticipation of problems stemming from the ban.
But officials from the State Department said the widespread disturbances that followed the disorderly rollout of Trump's initial travel ban in late January were far less likely this time around, explaining that anyone — even from any of the six countries affected by the ban — with a valid visa would be allowed entry.
"We expect business as usual at the ports of entry starting at 8:00 p.m. ET tonight," a senior State Department official said, referring to the time when the ban kicks in.
"We expect things to run smoothly, and our people are well-prepared for this and they will handle the entry of people with visas professionally, respectfully, and responsibly, as they have always done, with an eye toward ensuring that the country is protected from persons looking to travel here to do harm," the official said.
But if problems were to arise, lawyers will be on hand at most major U.S. airports.
The New York Immigration Coalition said it would send about a dozen lawyers to Terminal 4 at John F. Kennedy International Airport and would have hundreds more on call, while Make the Road and the International Refugee Assistance Projects, both nonprofits focusing on immigrant services, said they would send employees and volunteers to monitor other East Coast airports for potential issues.
"We have a number of civil rights and advocacy groups that are having attorneys essentially stationed at the airport between now and this evening," Ameena Qazi, executive director of the Los Angeles branch of the National Lawyer's Guild, told NBC News while en route to Los Angeles International Airport.
Qazi said her group was planning to have teams of attorneys and organizers at various U.S. airports over the next week as they assessed the impact of the reinstated order.
Activists' worries were sparked earlier in the day when the State Department issued new guidance clarifying what qualifies — and what does not — as a "bona fide relationship with a person or entity in the United States" — critical but vague language that was part of the Supreme Court's ruling on Monday on the ban.
Under those guidelines, visa applicants from the six predominantly Muslim nations affected by the ban — Iran, Sudan, Syria, Libya, Somalia and Yemen — must prove a relationship with parent, spouse, child, adult son or daughter, son-in-law, daughter-in-law or sibling already in the U.S. to enter the country.
Step-siblings and half-siblings already in the U.S. are also on the list of acceptable relationships that visa applicants from the six nations can prove, officials said.
But all other relationships that the Trump administration considers less significant, including the grandparents, aunts, uncles and cousins of people already in the U.S., will remain banned from the U.S., the State Department said in an updated travel alert Thursday. The same guidance applies to refugees from all nations still waiting on an official approval for entry into the U.S.
(The message initially included fiancés among those not allowed in, but sometime Thursday, they were added to the approved list.)
"What I'm worried could happen is what the Department of State intends to happen — is a grandfather and grandmother gets denied a visa, people who we believe would still fit with that the Supreme Court intended," said Camille Mackler, the director of legal initiatives at the New York Immigration Coalition and member of the American Immigration Lawyers Association.
"I don't think anyone would say that the Department of State guidance that was issued is a common sense interpretation of what the Supreme Court intended," she said, adding, "They're taking the Supreme Court decision and twisting it for their own political purposes."
Government officials have nevertheless said that anyone who arrives at a U.S. port of entry after 8:00 p.m. ET with any kind of valid visa will be allowed in, explaining that the new guidelines only affect visa applications submitted at U.S. consulates or embassies in the affected countries after 8 p.m. ET.
Related: Who Will Be Affected by the Supreme Court's Travel Ban Ruling?
No visas that have already been issued will be revoked because of the guidance, State Department officials confirmed.
"Upon arrival to port of entry, travelers are still subject to inspection and must satisfy all requirements under federal law and regulation," a department official said. "Individuals will not be denied entry based on being a national from one of these countries."
Officials also pointed out there was significant interagency coordination this time around and that guidance was shared with overseas partners as well as Customs and Border Protection officers at U.S. ports of entry — both actions were expected to contribute to a smooth evening.
Given the tumult that followed past ban rollouts under Trump, however, critics and civil rights advocates promptly pounced on the latest guidelines, with many calling the exceptions for certain family members, but not others, "arbitrary."
"It remains clear that President Trump's purpose is to disparage and condemn Muslims. The reported guidance does not comport with the Supreme Court's order, is arbitrary, and is not tied to any legitimate government purpose," Omar Jadwat, director of the ACLU's Immigrants' Rights Project, said in a statement.
Others were quick to predict that the new rules would spur a new round of legal challenges — and advocates sending lawyers to ports of entry — even if the latest implementation didn't result in widespread chaos.
"The State Department instructions interpret the Supreme Court order too narrowly," Stephen Yale-Loehr, a professor at Cornell Law School and the author of a 21-volume immigration law treatise, said.
"Why can a stepsister visit the United States but not a grandmother? The State Department should vet visa applicants on a case-by-case basis for terrorism concerns, not impose overly broad categories that prevent innocent people from coming to this country," he added.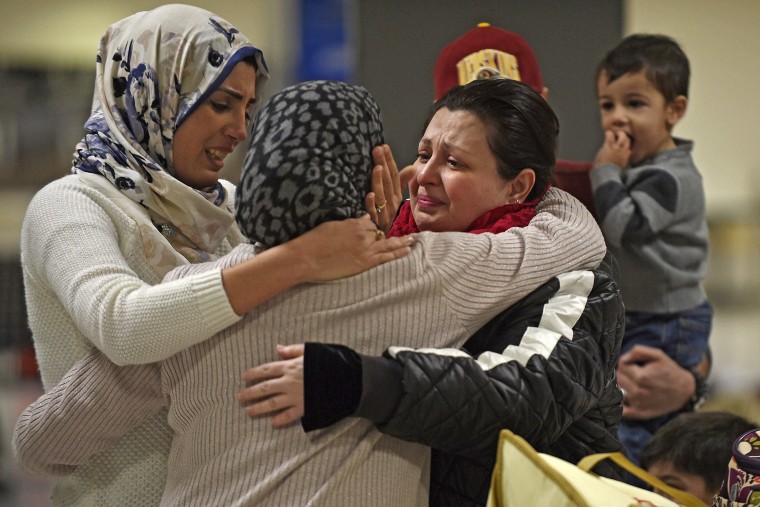 "I predict more litigation as people challenge visa denials under these new instructions," Yale-Loehr said.
The State Department said Thursday its determination was "based on the definition of family in" the Immigration and Naturalization Act" of 1965 — which created and refined various visa categories for specific family members — but maintained it would take seriously the possibility of chaos and confusion over the weekend, with officials telling journalists to be vigilant about passing on reports of denied entry to the agency.
"If you get a call from a source, or see a tweet someone from one of these countries was denied entry because they were from one of these six countries even though they have a valid visa, take a minute, call DHS, call CBP public affairs," a department official said.
The Thursday night implementation of the Trump ban comes three days after the Supreme Court ruled that the ban could partly take effect until makes a final ruling later this year.
This latest ruling overturned a series of lower court rulings to green-light enforcement of much of Trump's executive order from March — an important legal victory for the White House after a string of defeats over the issue that will impose tough restrictions on travel from the six countries and the entry of all refugees until the court hears the case in October.