MIAMI — A stone-faced former President Donald Trump entered a not guilty plea Tuesday to charges he lied and schemed to hold on to sensitive national security material that he was supposed to have surrendered when he left the White House.
Trump, 76, was indicted last week on 37 federal felony counts, including willful retention of national defense information, making false statements and representations, and conspiracy to obstruct justice.
In court, Trump, wearing a blue suit and a red tie, sat silently with his hands crossed and had a not guilty plea entered by his attorney during the brief proceeding before Magistrate Judge Jonathan Goodman.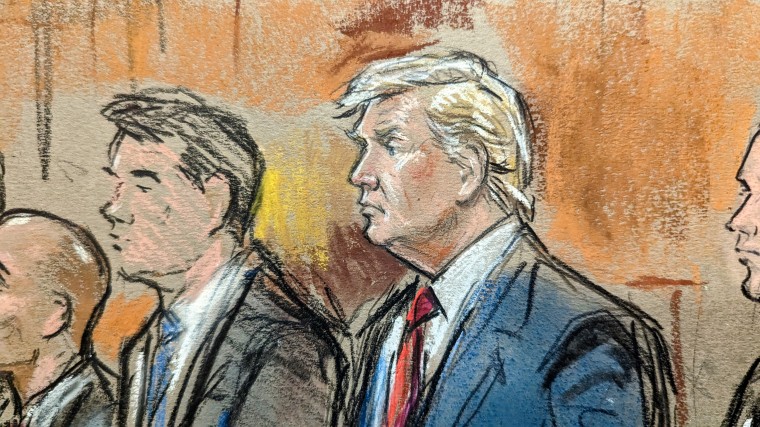 "We most certainly enter a plea of not guilty," Trump lawyer Todd Blanche told the judge.
Special counsel Jack Smith, whose office brought the case, was in court, seated in the front row.
Goodman did not put any travel restrictions on Trump, who is campaigning for president, or ask him to surrender his passport. Prosecutors had not asked for either restriction. Goodman did on his own bar Trump from discussing the case with any witnesses identified on a list to be compiled by government lawyers.
Trump was seated at the same table as his co-defendant in the case, aide Walt Nauta. Nauta, 40, did not enter a plea because he does not yet have a local attorney, and he was given a June 27 return date.
The bombshell case is the first time in U.S. history that a former president has been charged with federal crimes — a test of the criminal justice system he once presided over in a politically fraught prosecution.
Trump traveled to New Jersey after his arraignment and delivered a speech at his Bedminster golf club before a crowd of supporters. He blamed the prosecution on his political standing.
"When you're allowed to arrest your leading political opponent, we no longer have a democracy," Trump said.
Trump was arraigned once before, in the New York case involving his hush money payments to porn star Stormy Daniels. But unlike the judge in Manhattan, the federal magistrate in Miami prohibited cameras inside the building — leaving the public to watch only the small gathering of supporters outside.
Follow along for live coverage
Trump left the courthouse just before 4 p.m. ET,and stopped at the popular Cuban restaurant Versailles, where the crowd sang "Happy Birthday" to him. Trump turns 77 on Wednesday.
"Thank you Miami. Such a warm welcome on such a SAD DAY for our Country!" Trump posted on Truth Social as he was headed toward the airport.
Trump, who had struggled to find a local attorney after two members of his legal team resigned Friday, was represented in his initial appearance by Blanche and Chris Kise, Florida's former solicitor general and an ally of Gov. Ron DeSantis, Trump's main 2024 GOP rival, according to a source with direct knowledge of the situation.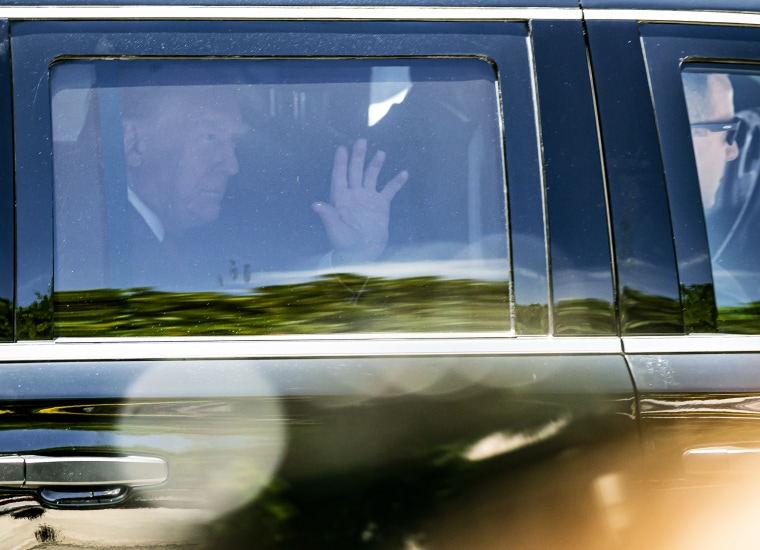 Both traveled with Trump to the courthouse in his motorcade, a source close to Trump said.
Trump has denied any wrongdoing and maintains he was entitled to the documents. He has said the prosecution was politically motivated and vowed to retaliate against President Joe Biden if he is re-elected.
"Now that the 'seal' is broken," Trump wrote in all capital letters on Truth Social earlier in the day, " ... I will appoint a real special 'prosecutor' to go after the most corrupt president in the history of the USA, Joe Biden."
Alina Habba, a Trump attorney who is involved with his other cases, spoke to reporters outside the courthouse and repeated his claims that politics was driving the prosecution, saying Trump is the Republican front-runner and it's "less than a year and half before the election."
"People in charge of this country do not love America. They hate Donald Trump," Habba said.
Trump made no public comments at the courthouse, and delivered remarks at his estate in Bedminster, New Jersey, on Tuesday night. The event had originally been planned as a private fundraiser for his 77th birthday.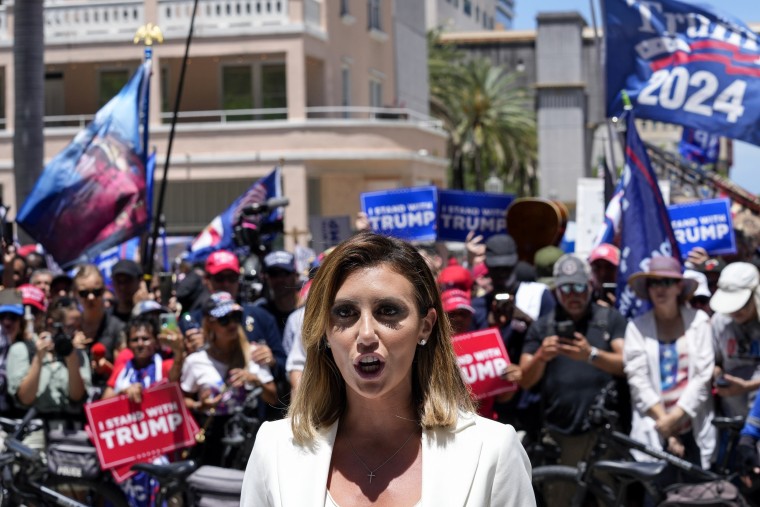 There was no mug shot of Trump during the booking process, a law enforcement source said; an existing photo was uploaded to the government's secure booking database, which is not publicly accessible. He was also to be electronically fingerprinted.
Trump also had to provide personal data, such as his telephone number, address and Social Security number.
Miami Police Chief Manny Morales said Monday that the city was bracing for the possibility of thousands of protesters at the courthouse and has been coordinating with federal, state and local partners "to ensure that we maintain not only peace and order" but also the ability for demonstrators "to express themselves and their First Amendment rights."
Hundreds of spectators, journalists and activists gathered outside the courthouse earlier in the day, but by the time Trump arrived, the crowd was much smaller than had been anticipated.
The indictment says that Trump's claim to the documents expired the moment he left office but that he intentionally held on to top secret and other classified documents, in some instances for over a year and a half after he left office. It alleges that he kept a trove of classified documents even after he was hit with a subpoena for their return and that he misled his attorneys into believing they had all been returned.
The documents "included information regarding defense and weapons capabilities of both the U.S. and foreign countries; United States nuclear programs; potential vulnerabilities of the United States and its allies to military attack; and plans for a possible retaliation in response to a foreign attack," the indictment says.
He also treated that information cavalierly — at times keeping it on the stage in the ballroom at his Florida resort and in a bathroom next to a toilet, the filing alleges.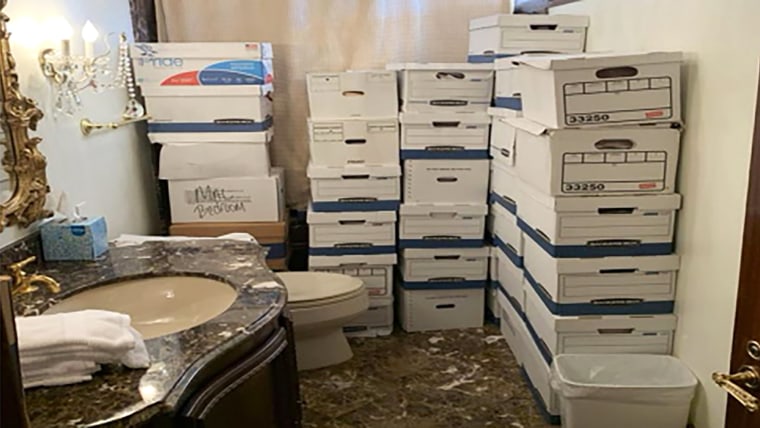 During the period Trump kept the documents around his Mar-a-Lago estate in Palm Beach, the club "hosted more than 150 social events, including weddings, movie premieres and fundraisers that together drew tens of thousands of guests," the indictment says.
It also disputes Trump's claim that the documents were secured by his Secret Service detail, alleging agents had no idea the documents were there. "Trump did not inform the Secret Service that he was storing boxes containing classified documents at the Mar-a-Lago Club," prosecutors said.
The court filing does not elaborate on how prosecutors knew that. Sources familiar with the matter said last week that investigators had questioned about two dozen Secret Service agents.
Regardless, the filing notes, the agency is "not responsible for protecting Trump's boxes or their contents."
The indictment said disclosure of some of the documents' contents "could put at risk the national security of the United States, foreign relations, the safety of the United States military and human sources, and the continued viability of sensitive intelligence collection methods."
Nauta is charged with helping Trump hide documents and with lying to investigators about his involvement with and knowledge of the boxes and their contents.
Nauta's lawyer, Stan Woodward, has declined to comment on the charges against his client, who was a military valet in the Trump White House.
Goodman, the magistrate judge who presided over Tuesday's proceeding, will not oversee the case in a trial. Court officials said the case has been assigned to U.S. District Judge Aileen Cannon, who last year temporarily halted the FBI's review of the documents that had been recovered at Mar-a-Lago.
Her ruling was overturned by a panel of appeals court judges who suggested Cannon had tried to "carve out an unprecedented exception in our law for former presidents."
Jonathan Allen reported from Miami, Dareh Gregorian from New York and Alex Seitz-Wald from Maine.