An escalating White House war between two top advisers to President Donald Trump entered a new stage Thursday after Communications Director Anthony Scaramucci lobbed a grenade of leak accusations that were seen as an attack against Chief of Staff Reince Priebus.
The fracas began Wednesday night after Politico published Scaramucci's financial disclosure forms from his employment at the Export-Import Bank, where the former financier had a post before being tapped last week as Trump's new communications director.
Scaramucci took to Twitter and made a reference to Priebus as he railed against the public disclosure of the forms, which showed Scaramucci is enormously wealthy.
"In light of the leak of my financial disclosure info which is a felony. I will be contacting @FBI and the @TheJusticeDept #swamp @Reince45," Scaramucci tweeted late Wednesday, tagging Priebus in the post.
Scaramucci later deleted the tweet. After reports on the tweet were published — many of which interpreted Scaramucci as fingering Priebus as the leaker — the communications director, shortly before 1 a.m., posted a new tweet.
"Wrong! Tweet was public notice to leakers that all Sr Adm officials are helping to end illegal leaks. @Reince45," Scaramucci posted.
The financial disclosure forms were not leaked but were publicly accessible upon request, Politico noted.
"This was actually a pretty routine story, in most respects," Lorraine Woellert, the reporter who wrote the story, said on MSNBC. "Whenever someone joins any administration, they have to file a financial disclosure. Everybody, every reporter in town, goes in and gets copies of those financial disclosures. They become public about 30 days after they're filed. So Mr. Scaramucci joined the (Export-Import Bank) about a month ago, and so I filed to get his disclosure. It was as simple as that."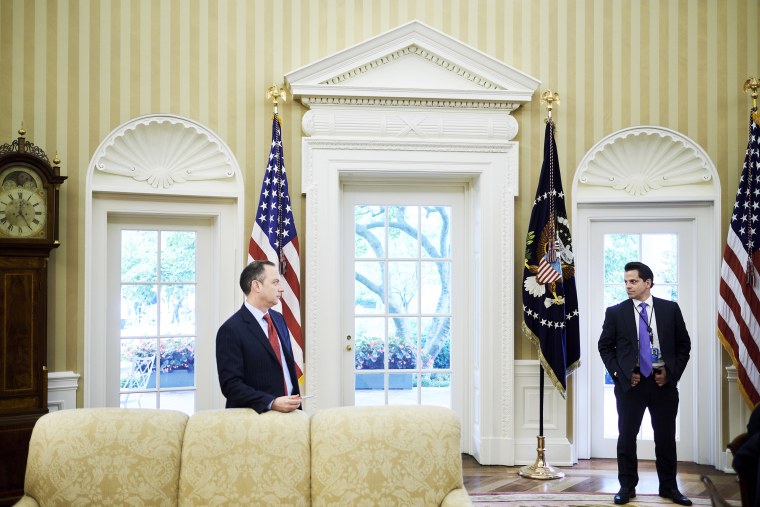 Scaramucci and Priebus have been known to butt heads in the past, and Priebus, NBC News previously reported, did not want Scaramucci hired inside the White House. Two sources told NBC News last week that Priebus even took his objections about Scaramucci to Vice President Mike Pence but found no support.
Priebus has not made any public statements on the matter.
"When I put out a tweet and I put Reince's name in a tweet, they're all making the assumption that it's him because journalists know who the leakers are," Scaramucci said Thursday on CNN's "New Day."
"So if Reince wants to explain he's not a leaker, let him do that," said Scaramucci, who earlier in the interview admitted that he had "odds" and "differences" with Priebus.
"When I said we were brothers from the podium [last week], that's because we're rough on each other. Some brothers are like Cain and Abel," he said. In the biblical story, Cain kills Abel.
Meanwhile, a Justice Department spokeswoman released a statement Thursday describing "an astonishing increase" in leaks.
"We have seen an astonishing increase in the number of leaks of classified national security information in recent months. We agree with Anthony [Scaramucci] that these staggering number of leaks are undermining the ability of our government to function and to protect this country," Justice Department spokeswoman Sarah Isgur Flores said.
"Like the attorney general has said, 'whenever a case can be made we will seek to put some people in jail,' and we will aggressively pursue leak cases wherever they may lead," she added.
On Thursday morning, during his interview on CNN, Scaramucci said he "talked to Attorney General [Jeff] Sessions" about leaking, adding, "I've got buddies of mine in the FBI that I'll be calling."
In addition, he said he understood that his financial disclosures that Politico requested were publicly available.
"I understand the law. I know that there was a public disclosure mechanism in my financial forms," he said. "What I'm upset about is the process and the junk pool, the dirty pool ... in terms of the way this stuff is being done, and the leaking won't stop."
New Yorker journalist Ryan Lizza, who received a phone call from Scaramucci on Wednesday night, wrote in a piece published Thursday that their chat left little doubt that Scaramucci was out for blood when it came to Priebus.
"Reince is a f------ paranoid schizophrenic, a paranoiac," Scaramucci told Lizza in an expletive-filled conversation.
Lizza wrote that Scaramucci said he thought Priebus would resign soon and that the new White House communications director would move forward with his plan to stop leaking from the executive branch.
"What I want to do is I want to f------ kill all the leakers," he said.
Lizza wrote that their chat ended when Scaramucci said he had to go "because I've gotta start tweeting some s--- to make this guy crazy."
Scaramucci's initial, since-deleted tweet that referenced Priebus appeared on Twitter "minutes later," Lizza wrote.
Scaramucci responded later to Lizza's article with a tweet, in which he didn't deny any of his comments.
"I sometimes use colorful language. I will refrain in this arena but not give up the passionate fight for @realDonaldTrump's agenda. #MAGA," he tweeted.
Meanwhile, White House Counselor Kellyanne Conway said Thursday that Scaramucci's tweet made it clear that "somebody" didn't want him working in the White House.
"I think the most important part of Anthony's tweet was when he talked about the FBI and the DOJ. He's making clear that even though these documents are eventually procurable publicly, that somebody doesn't want him here," she told Fox News Channel.
"And somebody is trying to get in his way and scare him off from working here, which is a huge mistake," she added.
House Speaker Paul Ryan, R-Wis., who is close friends with Priebus, told reporters Thursday that he is doing a "fantastic job at the White House, and I believe he has the president's confidence."
"If those two gentlemen have differences, my advice would be to sit down and settle your differences," Ryan said.