WASHINGTON — Four foreign governments, 16 special interest groups and 35 Republican congressional campaign committees spent money at Trump properties in 2017, according to data compiled by the government watchdog group Public Citizen.
A lawyer for President-elect Donald Trump outlined a plan during the presidential transition that was meant to resolve concerns about conflicts of interest between his presidency and his businesses. But in a report called "Presidency for Sale," Public Citizen found that Trump properties in Washington, Florida and elsewhere seem to have benefited from Trump's election as groups with something to gain from U.S. policy have paid to stay or dine there more than 60 times.
"There is no way to escape the conclusion that these events are being held at the Trump properties as a way to curry favor with the president," said Robert Weissman, president of Public Citizen. "It's just extraordinarily unlikely that these groups have an affinity for the Trump brand [that's] so great [that's] unrelated to the fact that the president happens to be named Trump."
The biggest spender was a key Middle East ally, Saudi Arabia. A public relations firm spent $270,000 on behalf of the Saudi government at the Trump International Hotel in D.C. on an undisclosed date, the report said, citing public documents and a USA Today article.
Weissman said he believed that the Saudi effort to curry favor with the Trump administration "stands out above all."
Said Weissman, "The Saudis … have been undertaking a full-fledged effort to seduce Trump and those close to him. In that light, the event at the Trump property looks even worse, and more corrupting."
Representatives of the government of Malaysia, the American Turkish Council and the Kuwait Embassy also spent money at Trump properties. Trump critics say that the Emoluments Clause of the Constitution prohibits the president from earning money from foreign governments.
Republican campaigns spent more than $305,000 at Trump properties last year. Milwaukee Sheriff David Clarke's campaign for Senate spent more than $3,000 on lodging and food for its volunteers in the Trump International Hotel in D.C. in February, March and April, according to the report. Clarke ended up dropping out of the Wisconsin Senate race in July, but he has been rumored as a favorite for a future position in the Trump administration.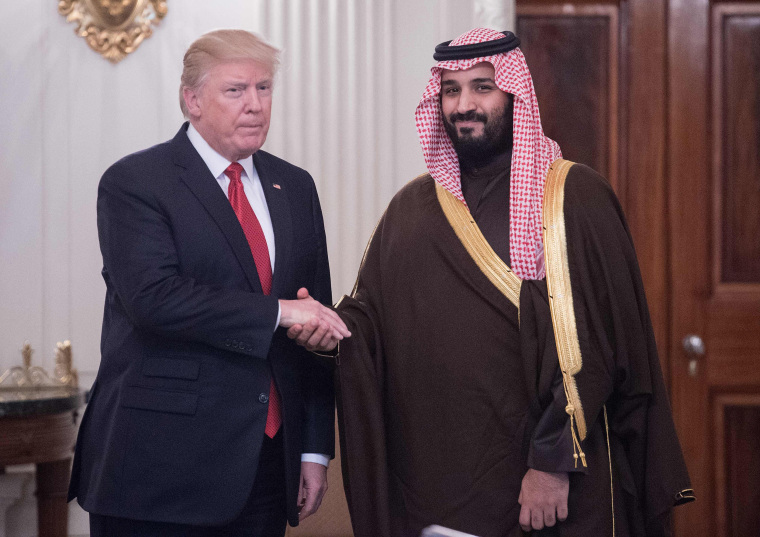 Other well-known Republican politicians' campaigns spending money at Trump properties included those of Sen. Bob Corker of Tennessee, who has feuded with Trump and House Majority Leader Kevin McCarthy and Rep. Dana Rohrabacher, both of California. NBC News previously reported that Rohrabacher has known ties to Russia and that his meeting with Trump's former National Security Adviser Michael Flynn is of interest to special counsel Robert Mueller's investigators.
Other non-political organizations detailed in the report included GEO Group, a for-profit prison company that has benefited from Trump administration policies, and the Billy Graham Evangelistic Association.
The day before his inauguration, President-elect Trump resigned from his namesake company and more than 400 affiliated companies, according to a Trump Organization spokesperson. Following a previously announced plan, he transferred control of the companies to his sons Donald Jr. and Eric and a financial officer. Sean Spicer, who was then the White House spokesman, said after the inauguration that Trump had "gone above and beyond in what he has done to make sure there are no conflicts." Trump's defenders have also said that all measures he has taken are voluntary, since conflicts of interest laws do not apply to the president.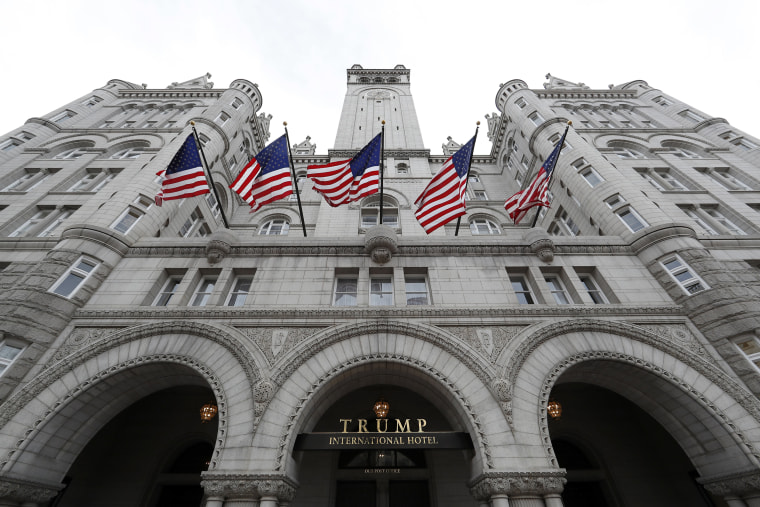 In Public Citizen's report, the group's research director, Alan Zibel, said Trump had not gone far enough to distance himself from his business interests by putting his sons in charge of his company's operations, reshuffling his businesses into a holding company held by a trust he controls himself and opening the Trump International Hotel just blocks from the White House before the 2016 election.
The hotel's opening resulted in the "highly unusual situation of a president deriving financial benefit from a private business used by entities with business before the U.S. government," Zibel said.
At least a half-dozen parties have filed lawsuits against the Trump International Hotel and other Trump entities, alleging conflicts of interest and patterns of discrimination.
In one case, filed in late December, Citizens for Responsibility and Ethics in Washington alleged that Trump's "business interests are creating countless conflicts of interest, as well as unprecedented influence by foreign governments." The case was dismissed in the Southern District of New York in December because of a lack of standing.