President Donald Trump has been using "Rocket Man" for a long, long time.
Or at least since he launched his campaign for president in 2015.
But his reference Tuesday to the famous 1972 Elton John song, during his first address to the United Nations, was by far the largest stage on which he's ever used the phrase.
"Rocket man is on a suicide mission," Trump said Tuesday at the world body in a nationally televised address, using his nickname for North Korea's leader, Kim Jong Un, referring to his recent missile tests.
The president's uttering of the two words immediately sparked curiosity about Trump's affinity for the phrase, which he also used in a Sunday morning tweet about Kim.
A senior Trump aide told NBC News Tuesday that Trump's use of the phrase was "all him."
"He doesn't need help in the branding department," the aide said. Another senior administration official said Trump "thought about it a few times" before making the decision Tuesday morning to add the "Rocket Man" line to his speech at the United Nations.
In fact, the term had appeared many years ago in conjunction with a North Korean leader, in July 2006, when The Economist ran a cover story about Kim Jong Il — Kim Jong Un's father, who died in 2011 — about the then-dictator's own missile launches.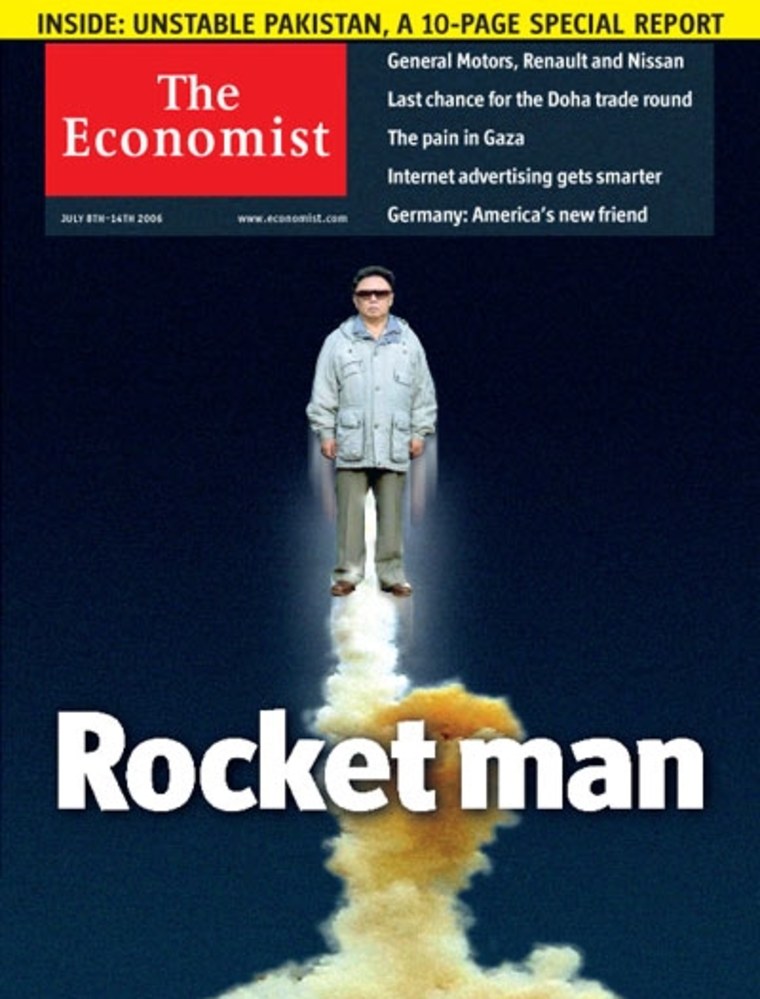 The image on that issue's cover showed an ascendant Kim Jong Il with smoke trailing under him, with the words: "Rocket Man."
But regardless of who first connected the reclusive regime to the melodic anthem Rolling Stone magazine pegged as the 245th best song of all time, Trump has made one thing certain: He's a huge Elton John fan.
The song, which John co-wrote with lyricist Bernie Taupin and released less than three years after the first U.S. moon landing, tells the story of a "rocket man" astronaut who must leave his family to explore space. Sung in first-person, the melancholy protagonist explains that "it's gonna be a long, long time" until he returns and that he might come back, not as "the man they think I am at home," but as "a rocket man, burning out his fuse up here alone."
"Rocket Man" itself was a staple at Trump rallies early in his presidential campaign, being frequently featured on a short list of songs that rotated on loop before most events.
During the presidential campaign, at a town hall meeting in South Carolina in February 2016, Trump even raved how John was one of his favorite musical artists.
"I think Elton John is great," he said when asked for his favorite musical artists. "I think the Stones are great. The Beatles, I love. Michael Jackson was actually a very good friend of mine."
During a Nov. 9, 2015, rally in Springfield, Ill., Trump also referred to John as "my friend," and claimed the singer once told the candidate he got "the biggest crowds for someone without (a) guitar."
A month later, at a Dec. 2, 2015, rally in Manassas, Va., Trump again referred to John, quoting the star as someone who understood the importance of a "big bang encore."
Publicists for John did not immediately respond to questions Tuesday from NBC News about Trump's use of the song name.