WASHINGTON — A decade ago, as a Wall Street Journal investigative reporter, Glenn Simpson co-authored a story about how well-connected Republicans, including future Trump campaign manager Paul Manafort, were earning big fees by representing controversial clients from the former Soviet Union.
These days, Simpson runs a private investigation firm called Fusion GPS, and he, too, is earning big fees representing controversial clients.
His work has brought him public attention in the past, but his recent activities involving Russia and Russians — and their intersection with the president of the United States — have put him under a hotter-than-usual media and congressional spotlight.
Related: The Legal Battle Behind the Trump Tower Meeting
Simpson helped write the Trump-Russia dossier, the one compiled by a former British intelligence officer that includes unproven, salacious allegations about President Donald Trump and Russian prostitutes. The dossier's claims of collusion between the Trump campaign and Russia helped spark the FBI investigation now supervised by Special Counsel Robert Mueller.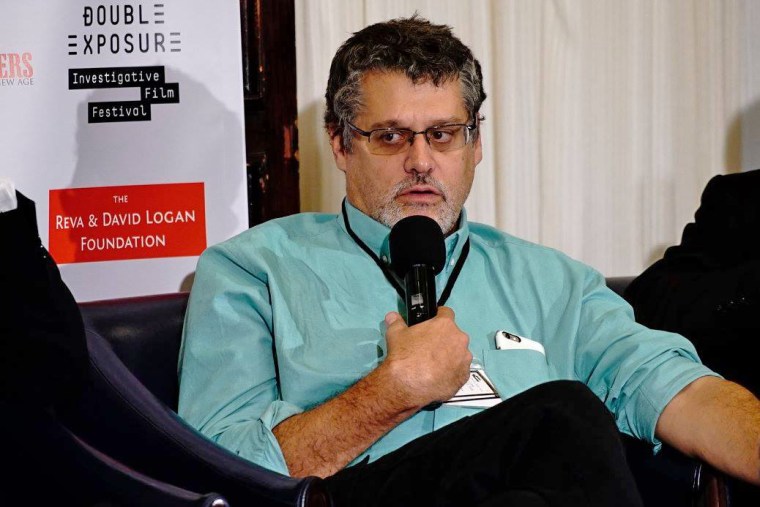 And, in a less well known role, Simpson has worked for several years on a cause dear to the heart of Vladimir Putin — investigating the case of Sergei Magnitsky, a tax accountant whose death in prison helped prompt Congress to pass a set of sanctions in his name. Simpson believes he uncovered information contradicting the account of the Magnitsky case generally accepted by the U.S. government.
Related: Ex-Spy Who Compiled Trump Dossier Is a Real-Life James Bond
That case put Simpson on the same side as the two Russians who met with Manafort, Donald Trump Jr. and Jared Kushner at Trump Tower in June 2016, a meeting that came after an email promised help to the Trump campaign from the Russian government. Trump Jr. said they talked about adoptions, a possible reference to the ban on American adoptions of Russian children that came in response to the Magnitsky sanctions.
Simpson's activities have captured the interest of Republicans on the Senate Judiciary Committee, who subpoenaed Simpson to appear at a Wednesday hearing. In a last minute deal, the committee agreed to withdraw the subpoena in exchange for Simpson consenting to a private committee interview.
Sen. Charles Grassley, R-Iowa, the chairman of the committee, has said that he wants to talk to Simpson in connection with an inquiry about whether he participated in an unregistered foreign lobbying campaign involving the case for Russian sanctions. Grassley also wants to know who commissioned the dossier.
Simpson has denied he did any lobbying, and he plans to refuse to answer questions about the dossier, say people who know him well.
Some Democrats have said privately they see Grassley's campaign as an attempt to use Simpson to discredit the dossier on Trump's behalf.
Simpson, who declined to comment for this story, has a long history of investigating corruption and influence in and around Russia.
For example, the 2007 front page story that mentioned Manafort was headlined, "How Lobbyists Help Ex-Soviets Woo Washington." It pointed out that Manafort, a prominent Republican political adviser, had begun to work for the Russian-backed Ukrainian Prime Minister Viktor Yanukovych. Manafort is now under federal investigation in the Russia probe.
When he left journalism for private investigations work, Simpson began a relationship with the law firm of BakerHostetler, which includes John Moscow, a longtime white-collar prosecutor for the Manhattan district attorney's office.
Related: FBI Made Deal With Ex-Spy for Trump Dossier
In one of his more celebrated cases, Simpson worked on behalf of two British lawyers, Faith Zaman and Thomas Derbyshire, who successfully sued Prince Jefri Bolkiah, the brother of the Sultan of Brunei. One piece of evidence in the case included photos of statues depicting the prince having sex with various women.
Simpson also worked for Planned Parenthood, which came under fire in 2015 after videos appeared to show staffers say the group profits from selling tissue from aborted fetuses to researchers.
Simpson conducted an analysis by forensic experts that found the videos had been edited to the point where they were not a reliable representation of what happened. Conservative groups who opposed the finding noted Simpson's work on behalf of pro-Planned Parenthood Democrats.
In the Magnitsky case, Simpson worked on behalf of a wealthy Russian who was being sued by the Manhattan U.S. attorney over allegations his firm profited from money laundering. BakerHostetler represented the Russian. The proceeds were said to have come from a theft uncovered by a tax accountant, Magnitsky, who was working for a wealthy investor named William Browder. John Moscow was removed from the case for what a judge termed a conflict of interest because he had previously represented Browder.
Browder, in prepared testimony expected to be delivered Thursday before the Senate Judiciary Committee, repeated his account that Magnitsky uncovered a theft by corrupt Russian officials and was killed in prison.
Simpson's work on the case fueled claims by BakerHostetler in court records that Browder's account is false, and that Browder told it to cover up his own tax evasion. Browder denies this, and says Simpson participated in what amounted to a Putin-funded smear campaign. Simpson rejects that charge.
The New York case was settled for $6 million with no admission of wrongdoing by the Russian and his firm. A vast court record, including Browder's sworn deposition, remains.
Simpson has told friends that he was troubled that his work on the case might help Putin. But, he has said, he stands by his investigative findings.