At the entrance of Andrew Jackson's historical home in Nashville, Tennessee, a quote from the seventh president of the United States essentially tells visitors to buckle up: "I was born for a storm, and a calm doesn't suit me."
Some might argue that the words could also be applied to President Donald Trump. He's expected to tour The Hermitage, a 1,000-acre estate, Wednesday afternoon on the 250th anniversary of Jackson's birth and lay a wreath at his grave.
Jackson's complicated legacy is finding a resurgence in this White House.
After the Obama administration thumbed its nose at Jackson by agreeing last year to replace him on the $20 bill with abolitionist Harriet Tubman, Trump and his advisers have been giving direct nods to the early-19th century president who championed a rousing sense of populism and groomed himself as a man of the people.
Following Trump's election win last November, his chief strategist, Steve Bannon, told The Hollywood Reporter that "like [Andrew] Jackson's populism, we're going to build an entirely new political movement."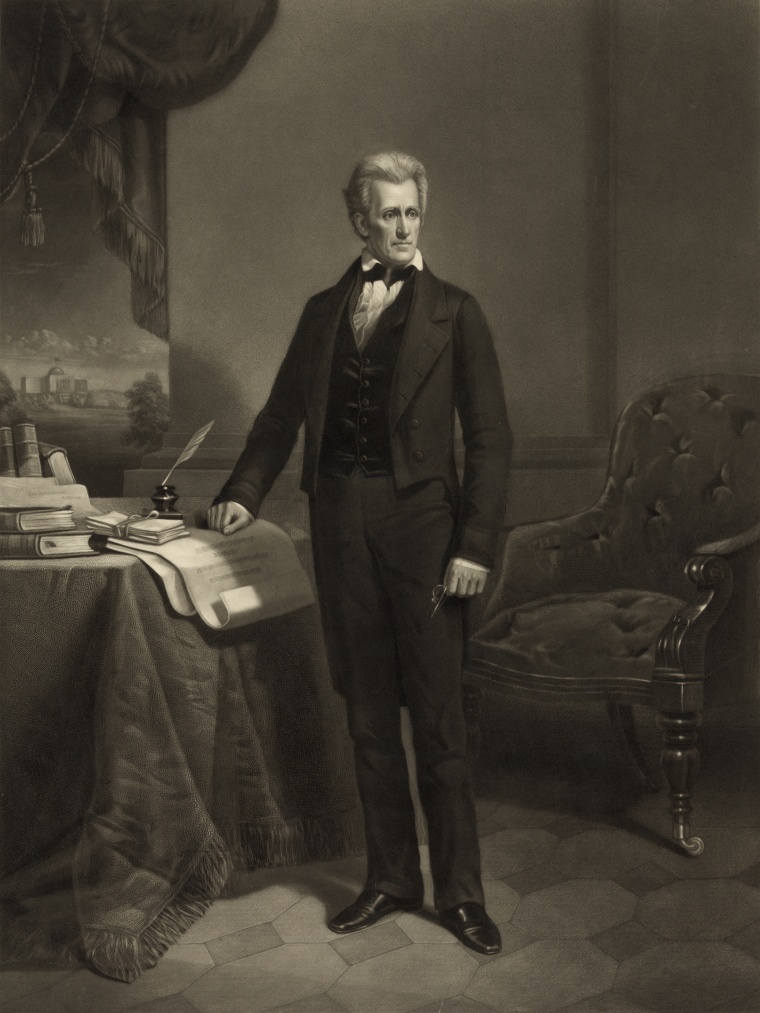 Trump's inauguration address in January prompted Bannon to tell The Washington Post that the speech was "very Jacksonian. It's got a deep, deep root of patriotism there."
Then, five days after moving into the Oval Office, Trump had a portrait of a white-haired Jackson hung on a wall by his desk.
On Wednesday, during a rally in Michigan about auto jobs, Trump suggested his election win was similar to Jackson's.
The 45th president of the United States hammered home an "America first" agenda during his inauguration, evoking a nationalist brand of populism that pledges to round-up undocumented immigrants and do away with trade deals such as NAFTA and impose tariffs on China. That, in turn, would help boost the economy and revive manufacturing jobs in America, he has said.
"The forgotten men and women of our country will be forgotten no longer," Trump promised in his speech.
But Dan Feller, a history professor at the University of Tennessee in Knoxville, said if Trump sees himself in Jackson and wants to pattern his presidency on him, the billionaire businessman still falls short.
"Jackson had the reputation of being impetuous, a shoot-from-the hip, very volatile guy. He earned that reputation," said Feller, the director of the university's Papers of Andrew Jackson project. "But by the time he was president, he was 62. He occasionally staged temper tantrums, but that was nothing compared to Trump's 5 a.m. tweets."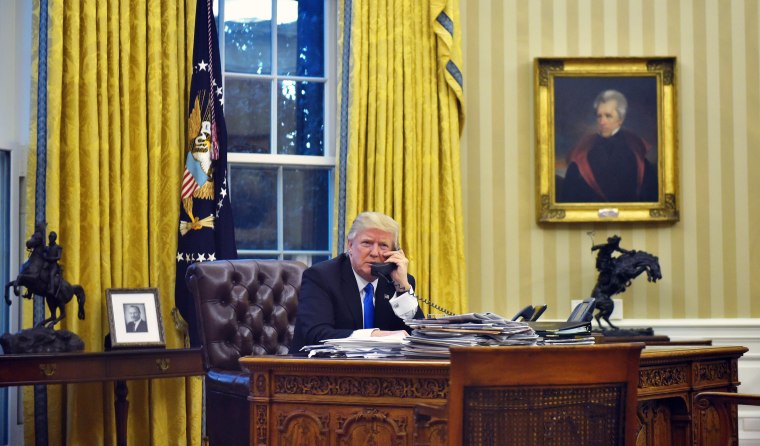 Jackson also bickered with the president of the national bank, and in 1832 wrote that he was opposed to the "prostitution of our Government to the advancement of the few at the expense of the many" — a stinging rebuke of the period's 1 percent.
But while Jackson, the son of Irish immigrants from a modest farming family, might have drummed up a populist, working-man persona, he was hardly a political outsider by the time he was president.
Related: Andrew Jackson Got No Love From Broadway or the Feds
He had been a member of the House, the Senate, was a district attorney and served on the Tennessee Supreme Court. The only thing he hadn't done that was expected of leaders at the time was travel internationally and serve as a diplomat.
And Jackson, when he was president, took actions that were "made with consideration and well-planned. He did a lot of writing, which Trump doesn't do," Feller said.
Jackson also had a distinguished career leading the Tennessee militia and commanded U.S. troops against the British in the War of 1812, and was given the nickname Old Hickory on the battlefield. His triumphs eventually paved the way for a shift into American politics and his founding of the Democratic Party.
Where Jackson was once known for his "rootin', tootin' shoot-'em-up" reputation — in 1806 he killed another man during a duel — that portrayal had "overridden the facts," Feller said.
"Jackson was famously conciliatory, especially toward European powers, and especially toward Britain," he added.
Through history, Jackson's legacy has become increasingly vilified.
Critics point out that he made his wealth from slave labor and was behind the forced displacement of Native Americans in the South to lands westward — part of the infamous "Trail of Tears."
In recent years, Democrats have been abandoning Jackson, going as far as renaming fundraising dinners that have long been associated with him and Thomas Jefferson. For instance, the New Hampshire Democratic Party announced last fall that its fundraiser would instead honor John F. Kennedy and Bill Clinton.
Embracing Jackson could ultimately prove tricky for Trump and any politician because of the way he "reflects the contradictions and evolution of American society," said Mark Cheathem, a history professor at Cumberland University and the author of "Andrew Jackson, Southerner."
"We as a people have changed, but Jackson is dead, static, unable to change with the times," Cheathem said. "And, unlike with presidents such as George Washington or Thomas Jefferson, Americans seem unwilling to accept Jackson as the flawed human being that he was."