Michigan Attorney General Dana Nessel caught wind of a surprising development. Gov. Gretchen Whitmer's office had about 75 new executive orders the state's top law enforcement official would soon need to review.
"Do you mean seven? Do you mean five? Is that an accident?" Nessel said she responded.
There was no mistake. In a state that is among the hardest hit by the coronavirus pandemic, particularly Detroit, where the death toll is higher than anywhere in the country outside New York state, Nessel said the swift and, at times, overwhelming actions her governor is taking are needed.
"People in our state are dying in droves right now," she said. "So, it's what you got to do."
For Nessel, there's no one she would rather enter into battle with than Whitmer, the first-term governor who finds herself not only at the forefront of state leaders handling the outbreak, but mentioned as a possible Joe Biden running mate and, up until recently, under fire from President Donald Trump.
Whitmer's ascension on the national stage has been swift, though she served for more than a decade in the Michigan House and Senate, culminating in a four-year-run as state Senate minority leader from 2011 through 2015. She won her gubernatorial race in 2018 by 10 points, running on a health care and infrastructure platform, and delivered the Democratic response to Trump's State of the Union this year.
She declared a state of emergency on March 10, the same day the state held primary elections, telling NBC News that was when it became clear "what we were in for." Within days, the governor closed schools, barred large gatherings, expanded the state's unemployment benefits and put a moratorium on evictions.
Full coverage of the coronavirus outbreak
"We've been on the front edge of each of the policy steps we've made, and I think they've all been right," Whitmer said. "Now, if I can go back and advise myself at the beginning of March and what would I have done, I would have started buying every N95 mask I can get my hands on. I had no idea. I don't think anyone knew what we would be confronting."
As a result, Whitmer, 48, like some of her colleagues, have taken to the air and pleaded for the federal government to provide their states with more personal protective equipment for health care workers, expanded testing capacity and ventilators from the strategic national stockpile.
She drew Trump's ire after interviews in which she suggested the federal government may be blocking Michigan's requests, leading some Republicans to push back. She later said the federal government was creating the conditions under which states were bidding against one another for the same equipment and driving up the costs.
"It's a source of frustration that there's not more of a national strategy on procurement of these critical pieces of equipment that everyone across our country is going to need," Whitmer told NBC News. "And when we're bidding against one another and the price keeps going up, then we can't count on the national stockpile to meet our needs, it creates a very dangerous situation."
Such commentary led Trump to single her out, saying late last month he has a "big problem" with the "young, a woman governor" in Michigan, adding he cautioned Vice President Mike Pence not to call "the woman in Michigan." Trump blasted her as "Gretchen 'Half' Whitmer" in a March 27 tweet in which he said she was "way in over her" head and "doesn't have a clue."
In response, Whitmer tweeted she "asked repeatedly and respectfully for help" and that if Trump says he stands with Michigan, he should "prove it."
The tension has eased in recent days. Trump said Sunday his administration is "working very well, I think, with" Whitmer as she publicly thanked the federal government for providing her state several hundred ventilators. Recent shipments from FEMA also brought in more than 1 million surgical masks and 2 million gloves, among other needed supplies.
Whitmer said her administration is "working really well with" FEMA, the Army Corps of Engineers and Pence, whom she says she's "relatively frequently" on the phone with and is "kind and responsive." Trump gave her a call last week, too, she said.
"I've tried to make sure that everyone understands, I'm not spoiling for a fight with anyone. I just need help," she said. "And we're not one another's enemies."
Both Democratic and Republican leaders in the state have praised Whitmer for her ability to make snap decisions amid the crisis, even if they don't agree with each one.
Michigan House Speaker Lee Chatfield, a Republican, told NBC News that "while I haven't agreed with every order the governor's made over the past several weeks, I think she's been decisive."
Pointing to Whitmer's back-and-forth with Trump, Nessel said the governor "has a wicked sense of humor" and "privately swears like a sailor."
"I can't imagine how hard it must be for her to restrain herself when Trump makes some of these asinine statements and not to just retort back with the most smart-ass comment you can imagine," Nessel said.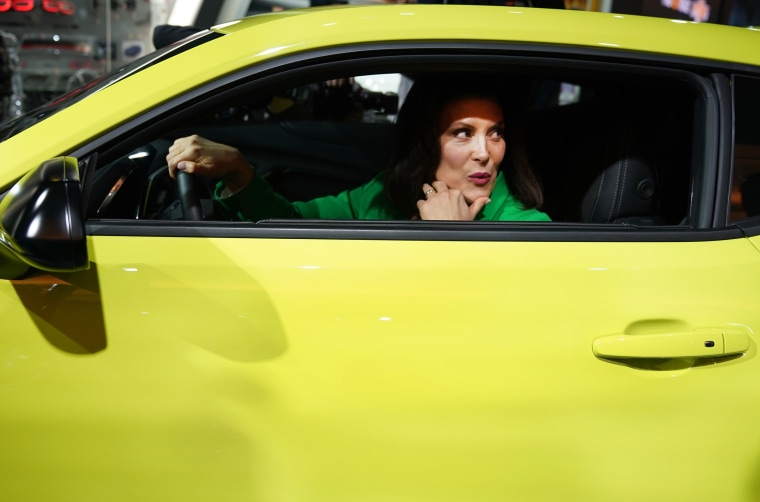 Whitmer herself seemed to embrace some of the back-and-forth with the president, donning a shirt emblazoned with "That Woman From Michigan" during a recent interview with "The Daily Show." She said she thought wearing the shirt would "make a little light of it" and "show I don't take any of this personally."
Buzz about Whitmer as a possible running mate grew when she made an appearance Monday on Biden's new podcast "Here's the Deal." Biden commended her for how "impressive and important" she's been "in the absence of presidential leadership."
She's sought to tamp down on the VP talk, but her Michigan allies think she'd be a great choice.
"I think in any other times it'd be incredibly flattering," Whitmer told NBC News. And I'm not (saying) that it's not, but I am so consumed by trying to fight COVID-19 and build all the alliances that I can, that I have not devoted a whole lot of energy on that realm."
Download the NBC News app for full coverage of the coronavirus outbreak
Christine Grieg, the Michigan House Democratic leader, said Whitmer has proven she's up for the job and that Americans want to see someone on the ticket this fall who's "competently" dealt with the crisis.
"In my eyes, that's in contrast to what we've seen coming, frankly, from the president," Grieg said. "I think that comparison will be made at the national stage, too, when we get further into the election year."
Nessel said that Whitmer would be an "amazing" vice president and that she's been effective at getting Trump to pay attention to what her state needs.
"I think she's at least calculating enough to know and to understand that Trump needs to win Michigan if he is going to be successful in his re-election bid," Nessel said.
Michigan was one of the three Rust Belt states that helped put his 2016 candidacy over the top — a place Trump won by fewer than 11,000 votes. Meanwhile, in her 2018 gubernatorial bid, Whitmer won just 13,000 fewer votes than Trump — a strong showing for an off-year election.
Late last month, a Marketing Resource Group poll of Michigan found that Trump's approval was split at 45 percent approving and 45 percent disapproving. Meanwhile, Whitmer's job approval has surged more than 15 points, to 60 percent, with just 22 percent disapproving.
"I hope Trump understands how important it is that he provide Michigan with everything we need to combat the virus in our state," Nessel said. "And I know that's her sole mission and goal."