Writer E. Jean Carroll, who alleges in a lawsuit that Donald Trump raped her in the 1990s in a New York department store, was questioned Thursday by a lawyer for the former president who repeatedly suggested her claim was made up.
"You were supposedly raped?" Trump lawyer Joe Tacopina asked Carroll early in his cross-examination.
"I was raped," Carroll responded.
Carroll, 79, maintains the attack happened while she was shopping with Trump, 76, in a Manhattan department store in 1995 or 1996. She went public with her claim in 2019, which Trump derided as a "hoax" she made up to promote sales of the book in which she made the allegation.
Tacopina pressed her on details about the alleged attack in the afternoon, asking skeptically about her contention that she didn't remember seeing any other people on the sixth floor in the lingerie department of a Bergdorf Goodman, where she said she was raped in a dressing room.
"I saw no one on the floor," she said, telling Tacopina her attention was trained on her conversation with Trump, which she thought was "funny" until he assaulted her.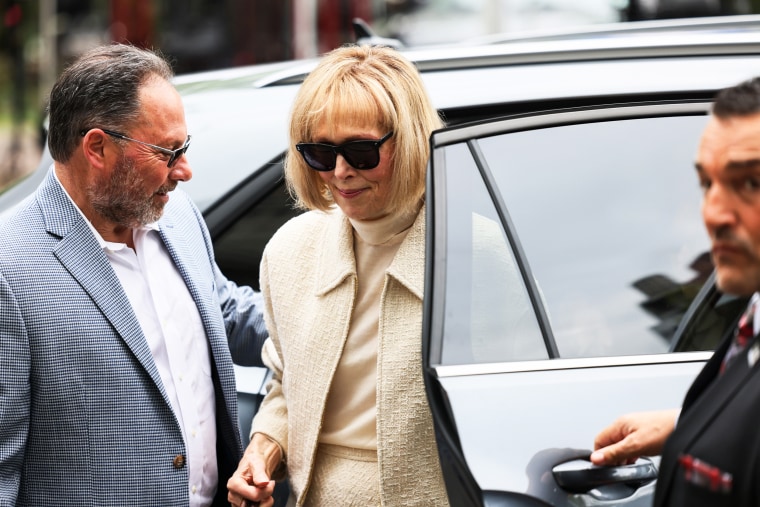 Tacopina asked why she didn't "scream for help."
"I'm not a screamer. I was in a panic, fighting," she said, becoming visibly emotional. "You can't beat up on me for not screaming."
Tacopina said he wasn't.
"People always ask, 'Why didn't you scream?' Some women scream; some do not," Carroll said.
"He raped me, whether I screamed or not," she said, sobbing on the stand while also speaking loudly. "If I was trying to make a lie I would say I was screaming my head off, but I did not scream. I did not scream."
After she fled the store, Carroll said, she called a friend, writer Lisa Birnbach, to tell her what had happened, and she said she was laughing during the call.
Tacopina quoted from Carroll's book, in which she wrote that Birnbach told her it wasn't funny, "but I could not stop laughing."
"You say that was the strangest thing of all?" Tacopina asked. "Yes, absolutely," Carroll answered, attributing her reaction to being "full of adrenaline."
She said Birnbach told her she'd been raped and she should call the police. "I said no way," Carroll said.
"I did not want to tell my story," she testified. "I was afraid of Donald Trump."
Asked whether she would agree that not reporting the attack to the police "is an odd fact," Carroll said: "No. Many women do not go to the police, and I understand why."
"It's the usual fact," she added.
Earlier in the day, Carroll acknowledged to Tacopina that she is a longtime Democrat and that when she first heard Trump was running for president, "I was in disbelief. I felt really bad."
He asked her about a passage about the attack in an earlier draft of her book, when she wrote she was going public because she didn't like his policies as president.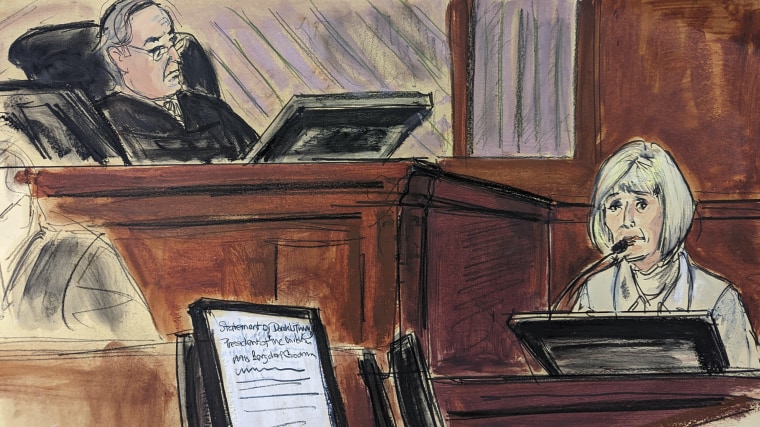 Tacopina said the passage read, "Now after watching him for two years he wants to kill me and he's polluting my air, poisoning my water, cooking my planet, and as he stacks the courts against my body, state by state, I'm afraid my free speech will be next, so now I will tell you what happened."
Carroll said that was "a draft," adding, "I said to take that out before it's printed." 
Carroll, a former advice columnist, acknowledged that she thought disclosing the attack in her book, "What Do We Need Men For? A Modest Proposal," would help sales. "I was wrong," she said.
In her lawsuit and on the witness stand, Carroll said she'd been inspired to come forward by a New York Times story on sexual misconduct allegations against movie producer Harvey Weinstein.
She told Tacopina that was, indeed, the inspiration and that she believed coming forward when she did could help combat "the culture of sexual violence" in the country.
"It caused me to realize staying silent does not work," she said.
Tacopina is scheduled to continue questioning Carroll when the trial resumes Monday.
During direct examination earlier in the day, Carroll described the torrent of abuse she has received online echoing Trump's insults about her, including posts on his Truth Social account Wednesday accusing her of a "scam."
"This morning, for instance, I thought I would just take a peek at my Twitter" and found an "onslaught" of "vile" messages, including ones calling her "slut," "ugly" and "old," Carroll said. Nevertheless, she added, "I couldn't be more proud to be here."