WASHINGTON — Over the past three years, Rosemary Swierk, the president of Direct Steel and Construction, has navigated Covid shutdowns, rising inflation, a spike in interest rates and worker shortages. Now, she's facing a government default that she fears could have "potentially catastrophic" effects on her business. 
"It could be the straw that breaks the camel's back," said Swierk, whose company builds restaurants and office space to multimillion-dollar government buildings. "This level of uncertainty is very, very difficult to navigate and manage."
In the event Congress doesn't raise the nation's borrowing limit before the Treasury is projected to run out of money, as early as June 1, Swierk expects her company's government-funded projects to screech to a halt. Direct Steel's private-sector work would also be in jeopardy, as businesses would struggle to get loans and face surging interest rates for any money they would be able to borrow. At the same time, economists expect a default would tip the U.S. into a recession, causing consumers to pull back on their spending.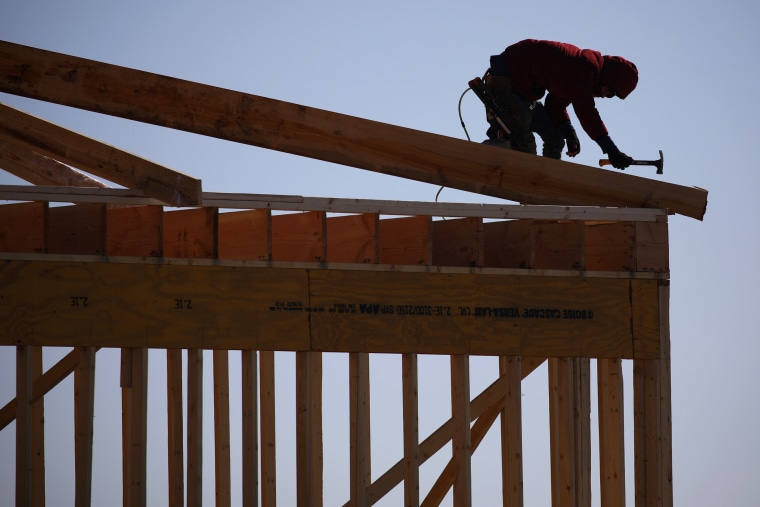 But while small businesses fret, lawmakers in Washington are showing few signs of making progress toward a deal to raise the nation's debt ceiling with less than a month until the Treasury Department says it will be at risk of running out of money to pay all its bills. President Joe Biden and congressional leaders met Tuesday in the Oval Office to discuss how to head off an impending default crisis.
Democrats and Republicans have been at a stalemate over raising the debt limit. Republicans say they are unwilling to raise it without significant spending cuts, which Democrats say shouldn't be linked to the U.S.'s ability to meet its financial obligations. 
The most direct consequence of a default for small businesses would most likely be a significant pullback in bank lending in the chaos expected in financial markets. Banks would be less willing to give businesses loans, and any loans they would issue would be at significantly higher interest rates, economists predict. 
That lack of lending would prevent some companies from covering short-term costs, like payroll, as well as force them to put longer-term expansion plans on hold, said Todd McCracken, the president of the National Small Business Association. Those whose revenues drop because of a government default would be less likely to be able to borrow money to stay afloat.  
Businesses have already been struggling to borrow money after banks pulled back on lending following the collapse of Silicon Valley Bank and several other regional banks. A small-business survey released last week by Goldman Sachs found 65% of small businesses believe they would be negatively affected by a default, and 77% said they were already concerned about being able to get loans. 
"There's already a pretty significant credit crunch," said Joe Wall, the national director of Goldman Sachs 10,000 Small Businesses Voices. "We've had interest rates rise, we've had a crisis spread throughout at least a handful of regional banks that has impacted lending to some extent, and the cumulative impact of that is obviously having a significant impact on the small-business community. In addition to that, they're also still dealing with inflation that continues to increase, and they're dealing with workforce challenges."
McCracken said he's advising business to hang on to their cash to weather a default and to consider taking out loans now while they still can in case they need the money and credit markets seize up in the coming weeks. 
"What businesses should do is make sure they hang on to as much of their cash as possible and diversify where that cash is," he said. 
Some companies have also been considering whether to put off significant business decisions amid the uncertainty, which could have a ripple effect throughout the economy if companies pull back on hiring or expansion plans, he said. 
Swierk, whose construction company is based outside Chicago, has tried to put some contingency plans in place over the past three months, like moving up the timeline to submit invoices to the federal government for existing projects. She hopes to be able to access the company's line of credit to keep solvent, although that would come with interest payments that could hurt the company in the longer term. 
If the government fails to pay its bills for even a week, 500,000 people could lose their jobs, according to projections released last week by the Congressional Budget Office and the Treasury Department. A default lasting longer than three months would trigger a scenario similar to the Great Recession, with as many as 8 million people losing their jobs and the stock market dropping by 45%, the White House said last week.
Small businesses would most likely be hit the hardest by a default, and they would be likely to feel the effects even before it occurred because of tightened lending from banks, said an official with the Small Business Administration. In 2011 when the U.S. last came close to a default, small businesses' banks pulled back on their lending amid even the threat of a default and consumer confidence fell, the official said.
"A default for small businesses would be catastrophic," the official said. "They'd be among the first to feel the impacts, they would feel the pain before big businesses, and they would potentially feel a severe impact even from a near-default. That's the lesson that we have from 2011, that even getting very, very close to going over the cliff can cause ripples throughout the economy that aren't easy to bounce back from quickly."
The official said small businesses, which are more likely to rely on their incoming revenue to pay their employees every week, could face a perfect storm of events from a default in which their sales would drop at the same time banks would be less willing to lend money to help them cover the losses.
But despite the catastrophic consequences, the larger business community has been relatively quiet when it comes to urging Congress to reach a deal. Few major CEOs have spoken out publicly about the issue, and corporate America has funded no major ad campaigns to stoke concern among the public. 
For small businesses, putting pressure on Congress has largely fallen by the wayside amid more pressing day-to-day struggles, said Swierk, who has gotten involved in small-business advocacy issues through the Goldman Sachs 10,000 Small Businesses Voices program. She said she recently spoke to the office of Sen. Dick Durbin, D-Ill., about her concerns.
"We are, like, herding cats. The challenge with independent businesses lobbying for ourselves is that we're so busy working in the business we don't have time, literally," she said. "Then some business owners feel like they've got no voice on Capitol Hill."
McCracken said that at the same time, there is also a level of "crisis fatigue" among businesses after three volatile years and repeated threats by lawmakers of looming shutdowns and defaults over the decades. 
"There's the whole 'boy who cried wolf' phenomenon," he said. "But sometimes there's really a wolf."