Four years after his breakthrough campaign, Jesse Jackson tries again, this time with the aim of winning not just black voters but also whites — and the Democratic nomination.
Jesse Jackson was back for round two, and this time wide support from black leaders and voters was assumed from the start.
This version of the candidate placed a new premium on outreach to white voters, who had stayed away almost entirely from his 1984 effort. Jackson was now seeking to build a "rainbow coalition" that could actually compete for the nomination.
"My message is transcending ancient barriers," he said. "Whites all over the country have opened their hearts to me. They know there has been this separation, and now they have been willing today to say, 'Let's call it even.'" ("Jackson's Winning Ways Transform Candidate, Voters," Paul Taylor, The Washington Post, March 15, 1988.)
The '88 campaign featured a significant calendar twist: a regional primary in early March, with a dozen Southern and border states banding together to hold contests on the same day. It was the brainchild of the newly launched Democratic Leadership Council, which hoped Super Tuesday would propel a moderate to the nomination. Ironically, though, this also presented an opportunity for Jackson, an unabashed liberal often at odds with the DLC (which, he liked to claim, actually stood for "Democrats for the Leisure Class").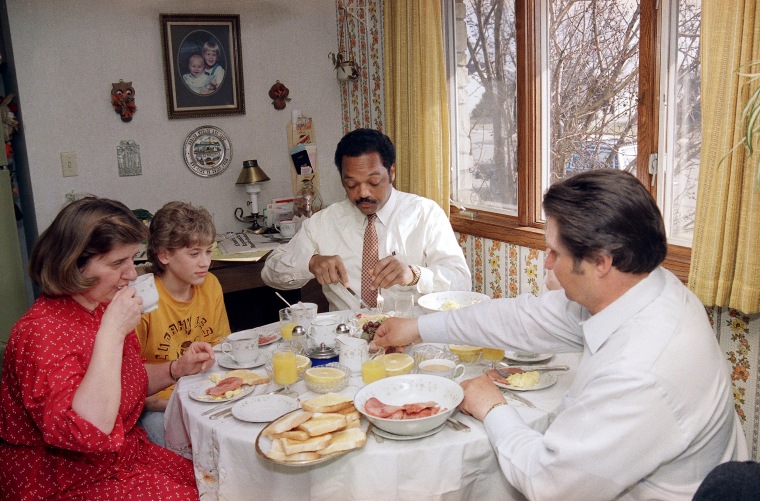 After Iowa and New Hampshire, where Jackson doubled his support from four years earlier, the race moved to the South for what would be the largest single day of primaries ever. As the DLC planners hoped, it did give life to Tennessee Sen. Al Gore, who was running as the most conservative candidate in the field. Bolstered by strong support from white voters, many of whom reported having voted for Ronald Reagan in 1984, Gore carried five states.
But the day was even more of a success for Jackson, whose astronomical levels of black support (96 percent in Alabama and 94 percent in Georgia, for instance, according to NBC News' black voter data analysis) were amplified by the growing size of the black electorate, itself a product of Jackson-fueled registration drives.
He also won the backing of an estimated 10 percent of white voters, not as much as he'd been hoping for but still a jump from his '84 level. It added up to primary wins in five states and enough delegates to move Jackson into second place nationally, right on the heels of the front-runner, Gov. Michael Dukakis of Massachusetts. The outcome, The Washington Post wrote, "marked the end of Jackson's long march toward full respect and status in the Democratic Party." ("Jackson Vows a Positive Campaign," David Maraniss, The Washington Post, March 9, 1988.)
Shortly after Super Tuesday, Jackson scored a landslide victory in Michigan's caucuses, overtaking Dukakis for the national lead and prompting Democratic leaders to confront the previously unimaginable possibility that Jackson might secure the nomination.
New York's April 19 primary now loomed large, and the campaign there quickly turned ugly, with old racial and ethnic tensions flaring up. In '84, Jackson had referred to New York City as "Hymietown" and hesitated to denounce the Rev. Louis Farrakhan, leader of the Nation of Islam. Before the '88 primary, New York Mayor Ed Koch threw his support behind Gore and declared that Jews "would be crazy" to vote for Jackson. ("Koch, After Cuomo Statement on Draft, to Endorse Gore or Dukakis This Week," Warren Weaver Jr., The New York Times, April 12, 1988.) For days, Koch, already unpopular with black voters in his city, engaged in vitriolic sniping with Jackson's top supporters.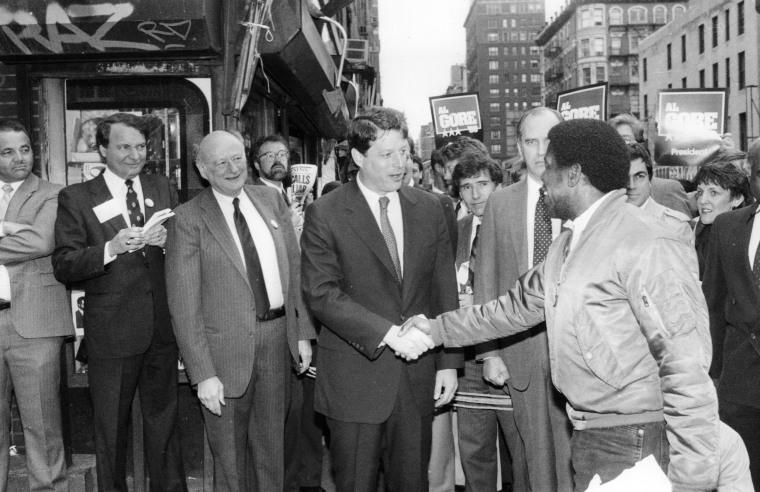 New York's primary results were driven by race. Dukakis gobbled up more than two-thirds of the white vote (with Gore behind him) and Jackson grabbing 93 percent of the black vote, according to NBC News' analysis of black voter data. Overall, Dukakis won the state by 14 points, restoring his position as the Democratic front-runner.
Jackson, lamenting that "people were driven into hysteria" by Koch's antics, pressed ahead but was trounced by Dukakis in the rest of the primaries. ("Dukakis Celebrates," Donald M. Rothberg, The Associated Press, April 20, 1988)
(Jackson's New York supporters took their revenge the next year, though, uniting behind David Dinkins, who defeated Koch in the Democratic primary and went on to win the general election to become the city's first black mayor.)
All told, Jackson received nearly 7 million votes in the primaries and caucuses. His public campaign for the No. 2 spot on the Dukakis ticket went nowhere, but he emerged from the race as a pre-eminent force in Democratic politics. In the run-up to the July convention, Jackson flexed his muscle, pointedly withholding his endorsement of Dukakis while the two sides engaged in high-profile diplomacy over a role for Jackson in the fall campaign.
"They ask what we want," Jackson said as he arrived at the convention in Atlanta. "It's so basic. We want to share." ("Democrats Strive to Ward Off Clash at the Convention," Michael Oreskes, The New York Times, July 17, 1988.)