The Clinton era ends with two white Democrats vying to succeed him — and with black voters siding with the president's choice.
The end of the Bill Clinton impeachment saga in early 1999 coincided with the start of the 2000 presidential campaign cycle. The president's political health, even after his admission of having had an affair with Monica Lewinsky, a White House intern, was quite strong — a high approval rating aided by a sizzling economy.
The Democratic nomination was up for grabs, but Clinton's popularity gave an immediate leg up to his preferred successor, Vice President Al Gore. A number of Democrats did explore running, including Jesse Jackson, who'd become a sometime spiritual adviser to the Clintons during their White House years. But Jackson, whose oldest son, Jesse Jr., had been elected to Congress in 1996, said he wasn't motivated to mount a third national effort and stayed out.
Only one candidate ended up challenging Gore: Bill Bradley, a former senator from New Jersey and NBA Hall of Famer who accused the Democratic administration of a failure of policy ambition and made eliminating childhood poverty his centerpiece issue. Bradley also emphasized racial inequality, promising to use the presidential bully pulpit to confront "white skin privilege." ("Bradley Calls for Fight Against Racism," Owen Moritz, New York Daily News, April 21, 1999.) Thanks to his basketball roots, Bradley also attracted high-profile endorsements from several black sports legends, including Michael Jordan, Bill Russell and Julius Erving, and there was early speculation that his candidacy would resonate with black voters.
It never did, though. Consistently, polls put Gore far ahead of Bradley with black voters, 63 to 20 percent in a Gallup survey taken a few weeks before the first contest — a much wider margin than Gore's overall advantage among Democrats.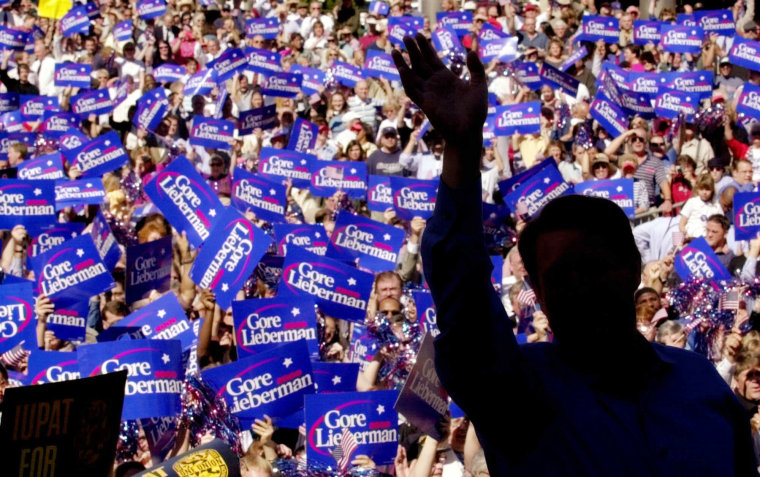 The vice president's key strength, it seemed, was his close connection to Clinton, who'd enjoyed deep black support throughout his presidency, even at the height of the impeachment scandal. Clinton had appointed a record number of African Americans to his administration and showcased close relationships with prominent black figures (including well-known golf outings with Vernon Jordan, a business executive and civil rights activist). At the NAACP's annual convention after his impeachment acquittal, Clinton was greeted with a hero's welcome and told the audience, "Thank you for being my friend." ("President thanks NAACP for support, says more needs to be done"; The Associated Press; April 30, 2000.)
The 2000 Democratic race ended up being brief and tidy. Gore trounced Bradley in Iowa's caucuses, then held him off in New Hampshire, where Bradley had been banking on a breakout victory. Bradley tried to press on, staking his candidacy on the March 7 mega-primary, which featured contests in 15 states, including some with diverse electorates, like New York and California. A debate was held at the Apollo Theater in Harlem, and Bradley sought to put Gore on the defensive, daring him to "walk down the hall" in the White House and tell his boss, the president, to sign an executive order banning racial profiling.
"I don't think President Bill Clinton needs a lecture from Bill Bradley about how to stand up and fight for African Americans," Gore shot back.
Gore crushed Bradley on March 7, winning every state by double-digits and rolling up enormous margins among black voters. Bradley quit the race and Gore became the first — and still only — Democrat in the modern era to face serious primary season opposition and not lose a single contest.