Republicans retained control of the Senate on Election Day, trouncing at least three Democratic incumbents and building upon their 51-49 majority in Congress' upper chamber.
Unlike the House, where Democrats flipped nearly 30 seats from the GOP to regain control, Republicans fended off Democratic efforts to cut into the slim conservative advantage in the Senate.
Democratic fortunes quickly went south as NBC News projected that Republican challengers Mike Braun, Kevin Cramer and Josh Hawley defeated incumbent Democratic Sens. Joe Donnelly, Heidi Heitkamp and Claire McCaskill in Indiana, North Dakota and Missouri, respectively. While Cramer built a substantial polling lead on Heitkamp in recent weeks, Donnelly and McCaskill were thought to be in much tighter races than the vote total would end up revealing.
Democrats were also unable to make gains in Texas and Tennessee — two states where Democratic challengers Beto O'Rourke and Phil Bredesen looked as if they could mount upset victories over Republicans. O'Rourke narrowly lost to Republican Sen. Ted Cruz while Bredesen did not come close to defeating Republican Rep. Martha Blackburn.
Meanwhile, Democrats were dealing with a possibility of having a fourth incumbent knocked off in Florida, where Democratic Sen. Bill Nelson trailed Republican Gov. Rick Scott by less than 1 percent with 99 percent of precincts reporting. The race was too close for NBC News to call.
Nelson's campaign said Wednesday there would be a recount, but the results are still unofficial and there was no official order for a recount. Overseas military ballots and provisional ballots must still be counted, which Florida election officials have 10 days to do.
Florida law requires a machine recount if the difference between the candidates is less than 0.5 percent. Currently, the gap is .42 percent.
Still, the night was not a total loss for Democrats, even as Republicans knocked off a series of Democratic incumbents without taking much damage.
As was the story for much of the 2018 cycle, the Senate map presented Democrats with narrow opportunities to regain the majority. Ten Democrats — including Donnelly, Heitkamp, McCaskill and Nelson — were up for re-election in states Trump won, whereas just one Republican was up for re-election in a state that 2016 Democratic presidential nominee Hillary Clinton won.
That Republican incumbent, Sen. Dean Heller of Nevada, was knocked off early Wednesday by Democratic challenger Jacky Rosen. NBC News projected a Rosen win shortly after Heller called her to concede the race.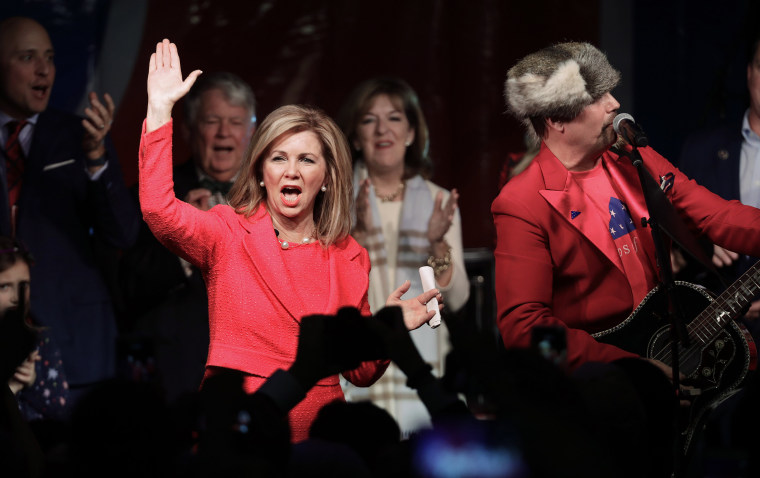 One race remained contested into Wednesday. In Arizona, Democratic challenger Kyrsten Sinema narrowly trailed Republican Rep. Martha McSally in a battle for Republican Sen. Jeff Flake's seat. The race was deemed too close by NBC News as of Wednesday afternoon as hundreds of thousands of votes remained as of yet uncounted.
A Sinema victory would provide Democrats with a morale boost on the Senate side and improve the outlook from the election.
Meanwhile, in Montana, NBC News called Democratic Sen. Jon Tester the apparent winner Wednesday afternoon, defeating Republican challenger Matt Rosendale.
Earlier on Tuesday evening, NBC News projected that Democratic Sens. Bob Casey of Pennsylvania, Sherrod Brown of Ohio, Tammy Baldwin of Wisconsin, Debbie Stabenow of Michigan, and Joe Manchin of West Virginia were re-elected. Based on polling of the races, none of those senators' re-election efforts were ever in much doubt. But Trump did win each of those states in 2016, and Democratic losses there would've given Republicans a shot at a 60-vote supermajority.
Republicans could now begin the new year with anywhere from 52 to 54 Senate seats, gaining between one and three seats, depending on how Arizona and Florida turn out. There is also a runoff election in Mississippi set to take place later this month, with that battle looking likely to end with a GOP victory.
While House Democrats, set to regain control of Congress' lower body, prepare for an onslaught of investigatory measures aimed at Trump and his administration, Republican reinforcements in the Senate will provide them with assistance on a few fronts.
Most prominently, more Republican senators will help the party and the president continue to push through conservative judges onto the federal bench. Should another Supreme Court vacancy arise before the 2020 elections, Republicans will have more votes to help them get a nominee through a grueling confirmation battle.
Republican Sen. Lindsey Graham of South Carolina said as much in a tweet after the GOP was projected to retain control of the Senate.
And with speculation strong that Attorney General Jeff Sessions will be replaced following the election, more Republicans in the Senate means that a potential replacement may have a slightly easier time being confirmed.