The battle lines are drawn in what could be the hardest-fought election of 2023: Kentucky Democratic Gov. Andy Beshear will run for a second term against Republican state Attorney General Daniel Cameron. 
Cameron started the GOP primary as the front-runner, but before he won the nomination Tuesday, he had to fend off a challenge from opponents including Kelly Craft, the former ambassador to the United Nations, who sank millions of her own dollars into an unsuccessful bid. Now Republicans turn to the general election, where they face a new fight: dethroning the popular Beshear, no easy task even with the state's rightward lean.
A January poll found Beshear with a 61% approval rating, and April polling from Morning Consult found his approval rating at 63%, higher than for all but four governors in the firm's cross-country surveys.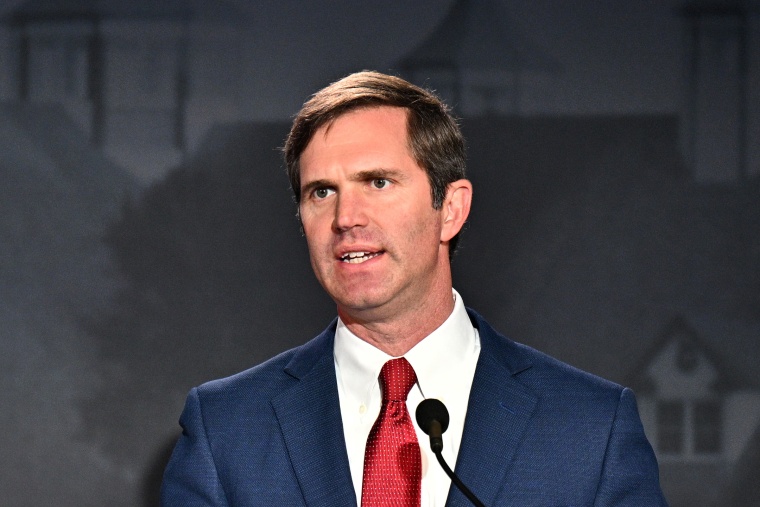 Jesse Hunt, the former communications director at the Republican Governors Association, praised Cameron as "a perfect contrast for a political scion like Andy Beshear," arguing Cameron's statewide platform gives him credibility with voters. But Hunt added that Beshear's positive image makes it imperative that Republicans leave no stone unturned in trying to dent his image among voters. 
"To have any success against him, you need to start eroding several years of goodwill he's built up among his constituency," Hunt said. "That's a task that should begin as soon as humanly possible." 
At just 37 years old, Cameron has been seen as a rising star in the Kentucky GOP for years, going from a federal judicial clerkship to a role as Senate Republican leader Mitch McConnell's legal counsel before becoming the state's first Black attorney general in 2019. He won more votes than Beshear that year, as Beshear won his first term as governor by a razor-thin margin.
But even though Cameron's political career has been tied to McConnell, whom he praised as a "mentor" when he won in 2019, McConnell has taken more of a public back seat in Cameron's bid for governor. Instead, Cameron — who would be Kentucky's first Black governor if he wins this fall — has touted support from former President Donald Trump, using his backing to counter arguments from Craft that he wasn't sufficiently conservative.
"He's got the best of both worlds: the McConnell skill set and the Trump endorsement," said Al Cross, a longtime political journalist and columnist in the state who is also a journalism professor at the University of Kentucky. 
"Cameron is certain of every word he speaks, just like McConnell. He isn't afraid to let a question go unanswered or let something go uncommented on," Cross added. "It's served him well."
Republicans also have an improved political environment from 2019, when then-Gov. Matt Bevin lost to Beshear. Bevin sported a dismal approval rating, having worn out his welcome with many on both sides of the aisle. Democrats' 6-percentage-point voter registration advantage in 2019 has evaporated, and Republicans had a 1.5-percentage-point edge as of April. And Trump won Kentucky in 2020 by 26 percentage points. 
Still, toppling Beshear won't be easy, because he starts from a position of strength.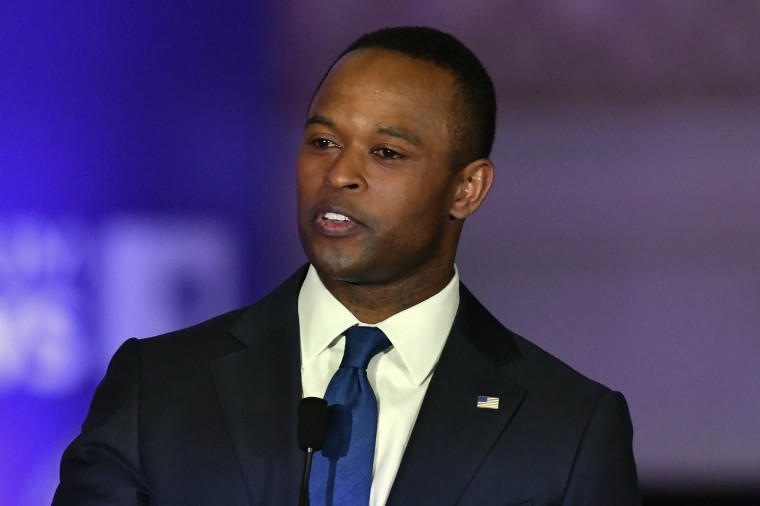 While many in Kentucky have long been familiar with his father, former Gov. Steve Beshear, Andy Beshear, 45, heads into his own re-election bid popular in his own right. 
Beshear has framed himself as a governor focused on kitchen table issues, from trumpeting new infrastructure funding to repair a crucial bridge between Kentucky and Ohio to touting the state's lowest-ever unemployment figures.
Re-election, Cross said, would be a welcome example for Democrats of how their party "can still win in states with large rural populations and a Republican voting history."
Beshear has also been forced into the role of consoler-in-chief, after a massive tornado hit Kentucky in 2021 — devastating parts of the state, including his father's hometown — and after horrible flooding killed at least 25 people in eastern Kentucky last year. 
Early fault lines in the general election have already emerged, including differences over Covid and social issues like transgender rights and abortion. 
Cameron's and Beshear's offices clashed repeatedly over executive authority during the pandemic, with Cameron suing the administration on multiple occasions. The cases included one about a temporary halt to in-person learning (which Cameron lost), as well as his successful defense of the General Assembly's attempts to limit Beshear's executive authority.
But while Republicans see an opening to accuse Beshear of overreaching, the pandemic presents a strength for him, too. His high approval rating developed, in part, as he took center stage in Kentucky's response to the fight against Covid-19, including in countless emergency news conferences televised across the state. 
Then there are the culture war issues. 
Republicans have attacked Beshear for vetoing a bill that included a host of restrictions on transgender youths, which Cameron said he would have signed. Cameron added that his "administration will protect our youth from dangerous ideologies and defend Kentucky's values," while Beshear wrote in a veto message that "my faith teaches me that all children are children of God and Senate Bill 150 will endanger the children of Kentucky." (The Republican Legislature overrode Beshear's veto.)
And Democrats point to the issue of abortion rights in a red state where voters nevertheless rejected an anti-abortion ballot measure last year, one year after a similar playbook — attacking a Democratic governor on abortion and transgender issues — failed in Kansas. 
Sam Newton, the communications director for the Democratic Governors Association, said the Democrats welcome a contrast, even in a state Trump won by double digits just a few years ago.
"They're going to try to paint him as some kind of boogeyman, but Kentuckians are going to say: No, that's not who Andy Beshear is, because he's been in my community. He shows up and fights for me," Newton said. "I may not agree with him on every single issue, but I know he shows up, does his job and is always trying to do the right thing."