MONTGOMERY, Ala.— Voters go to the polls in Alabama on Tuesday to decide who will be their next senator and, with polls all over the map, no one's quite sure whether it will be Republican Roy Moore or Democrat Doug Jones.
In a typical election here, the Republican in a U.S. Senate race would be a heavy favorite. But Moore has served up a powerful cocktail of reasons for fellow Republicans to second-guess whether party ID is the most important factor in an election: He was twice removed from the state Supreme Court for defying federal orders; his rhetoric on racial and religious minorities is abrasive to many; and, most recently, he's been the subject of multiple allegations of sexual misconduct with teenage girls, which he denies.
Still, it would be an epic upset if Jones won in a state that currently has no Democrats in statewide elected office and hasn't voted for a Democrat for the Senate since Sen. Richard Shelby, who is now a Republican, in 1986.
The polls in Alabama closed at 8:00 p.m., ET.
Here are 5 things to watch for:
1. THE BELLWETHER
There's no better place to watch a race in Alabama than Talladega County, home of the legendary Talladega stock car speedway. That's as true for political junkies as it is for NASCAR fans.
In the 2016 presidential election, Donald Trump won 62 percent statewide and 61.7 percent in Talladega. Similarly, when Moore won the primary runoff against Sen. Luther Strange in September, he took 52.7 percent of the county's Republican votes, compared to the 54.6 percent he won across Alabama.
It's not one of Alabama's biggest counties — it ranks 19th out of 67 in population — but its racial demographics are fairly representative of the state as a whole, as about two-thirds of the county's residents are white.
If Moore wins here, even by a small yet comfortable margin, that would suggest that Republicans across the state haven't abandoned him enough to cost him the election. On the other hand, if Jones is running even with Moore or ahead of him in Talladaga, that would likely indicate a good night for the Democrats.
2. MOORE COUNTRY
Moore held his last rally of the campaign Monday night in the evangelical-laden Wiregrass area in the southernmost part of the state.
When he last won the post of chief justice of Alabama's Supreme Court in 2012, his 2-to-1 margins in some of the counties there were crucial to securing his 3-point statewide victory.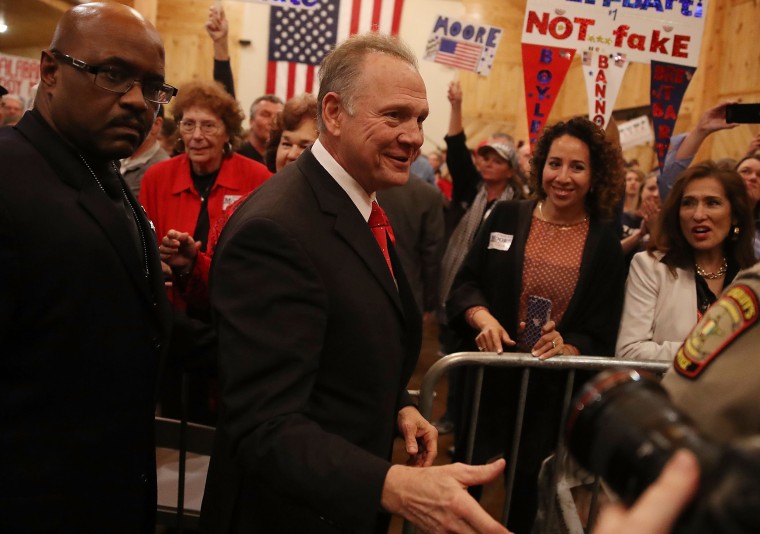 More broadly, Moore's best counties are often in the state's most rural, white and least populous areas. In Blount and Cullman counties, which lie between Birmingham and Huntsville, Moore won more than three-quarters of the vote in 2012.
Moore probably won't win as many counties as Trump did — 54 — but most of the state map should be Republican red by the end of the night. The question is whether Moore can turn out his rural supporters and hold onto enough suburban moderates to take full advantage of the state's heavy GOP tilt.
3. JONES COUNTRY
Jones' camp is counting on big African-American turnout in Jefferson County, which accounted for about 15 percent of the 2 million votes cast statewide in the 2016 election. Birmingham, the county seat, is the most-populous city in the state and the most vote-rich turf for Democrats.
But its suburbs are typically a key source of votes for Republicans. In the September Republican runoff, 55,000 Republicans voted in Jefferson County — nearly 15,000 more than in any other county in the state.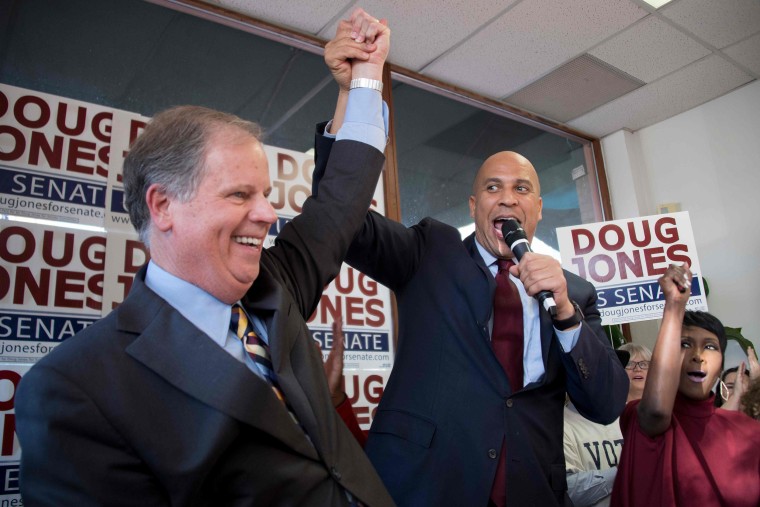 If there's a big move of Republicans to either cross party lines to vote for Jones or simply stay home, it should be evident here. Moore's not very popular in this part of the state. He got pummeled in Jefferson County, 63 percent to 37 percent, by Democrat Bob Vance in the 2012 chief justice race. And he took just 41 percent of county Republicans' votes against Strange in the September primary run-off.
If Jones pulls off an upset, it will be in large part because Republicans in the suburbs of the state's major cities — Birmingham, Montgomery, Hunstville and Mobile — turned against Moore.
4. TRUMP DROPOFF
Trump remains popular in Alabama, and his campaign event last week in nearby Pensacola, Fla., was clearly aimed at giving Moore a boost with his base. The president has also tweeted in support of Moore and recorded a robocall for him.
But there are many hard-core Trump areas of the state where Moore just isn't as well-liked.
In Shelby County, a relatively populous area southeast of Birmingham, Trump won 72 percent of the vote — by far his largest margin in any county where more than 100,000 people voted. Strange handily beat Moore there in the GOP primary, 55 percent to 45 percent.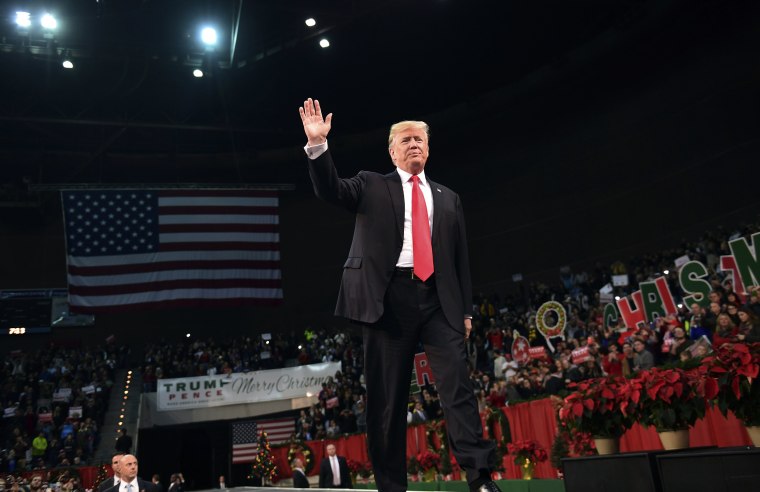 Even though Trump endorsed Strange in the runoff, Moore refrained from attacking the president. Now, he's hoping to draft off Trump's endorsement and residual approval in Alabama. Some of Moore's agenda sounds very Trumpian, as well.
The president's numbers here have ticked down a bit but most Alabamians still approve of the job he's doing in the White House.
5. THE POLLING
In the last few days, surveys by two different pollsters showed very different results: One had Moore up by 9 points, while the other had Jones up by 10 points.
More than anything, the wide range indicates the challenges of polling both in a special Senate election, where there's no easy point of comparison for modeling turnout, and in an era in which many voters aren't keen on sharing their views.
Overall, the Real Clear Politics average of polls heading into Election Day showed Moore with a 2-point lead. That's bolstered the narrative that this is a close and volatile race, but Democrats say they're confident that Jones has a chance.