CHARLOTTESVILLE, Va. — If you live in a swing district and it's October of an even numbered year, you're bound to get strangers knocking on your door asking for your vote.
But if you're in the right place at the right time, that stranger is actress Olivia Wilde, who has appeared in everything from "BoJack Horseman" to "Tron." And if you ask nicely, she'll send over her partner, "Saturday Night Live" alumn Jason Sudeikis, who is across the street with woke pro football player Chris Long, the son of NFL legend and Charlottesville resident Howie Long.
That's who greeted Nancy Braier when she opened her door Sunday, along with the congressional candidate herself, Democrat Leslie Cockburn, who also happens to be Wilde's mother.
"Is this really happening?!" Braier said, clutching her face in joy and disbelief.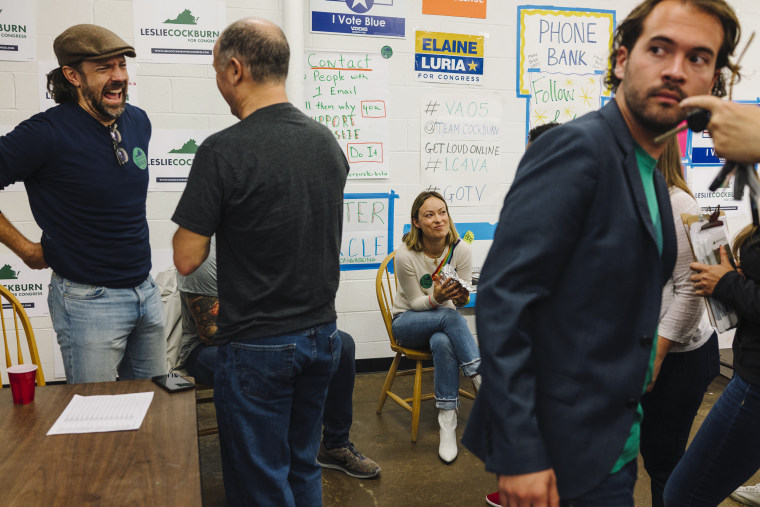 Republican admakers have long tarred Democrats for associations with "Hollywood liberals," and especially now in the cultural wars of Donald Trump's America, never mind that he's a former reality TV star who hosted Kanye West last week.
But would the attacks be any different if the celebrity were an immediate family members? The answer, as it turns out, is no.
"The fact that Washington, D.C., resident Leslie Cockburn thinks that bringing in a couple of Hollywood liberals to Southside Virginia is a good idea shows just how out of touch she is," said John March, a spokesperson for the Virginia Republican Party.
If anything, for Republicans, the familial ties just further underscore the elitist image they're trying to paint of Cockburn. On Saturday, the state GOP even went so far as to say she "hates veterans" and "hates America."
The Cockburns, both political journalists, raised their children in a Washington where visits were common from people like the late essayist Christopher Hitchens, diplomat Richard Holbrooke and rock star Mick Jagger, whom Wilde once ordered out of her chair. Wilde (stage name) went on to marry the son of an Italian prince before getting together with Sudeikis, with whom she has two children.
But Wilde brushed aside the elitism charges while sitting with Sudeikis for an interview with NBC News as hundreds lined up for a rally for her mother.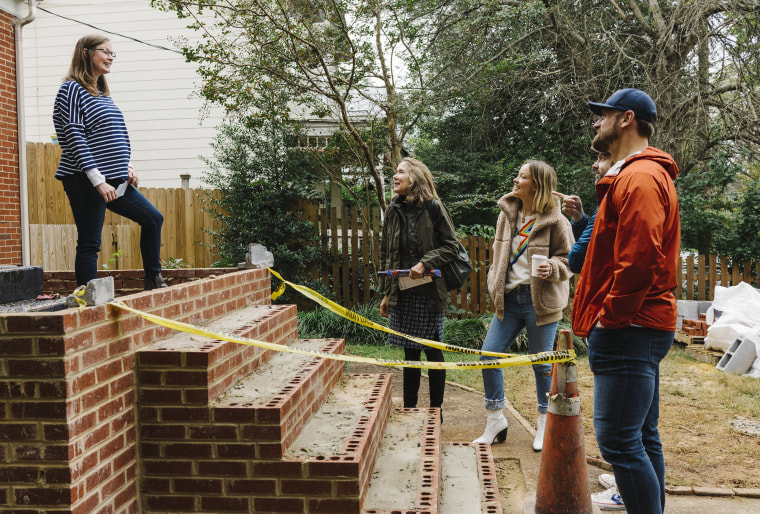 "I see that as a desperate attempt to explain why there is an incredible groundswell of support around this campaign," she said. "I'm sure they're panicked. Because Trump won this district by 11 points and now this race is neck-and-neck."
She added that her mother's background in journalism trained her to be a good listener, which is often lacking in politics, and that she admired her mom for taking a risk after a long career, instead of retiring in comfort and resting on her laurels.
"She's fearless and tireless and determined and that is what it takes to succeed," Wilde said.
Her partner, Sudeikis, sporting American flag socks and a flat cap, agreed. "Anybody that would stand outside and have a perception of us, they don't understand where we're coming from, because it's not Hollywood," he said, noting that he's from Kansas and that they live in Brooklyn.
Kurt Bardella, a former Republican operative who switched teams under Trump, has been critical of Democrats' Hollywood-inspired messaging, which he says doesn't appeal to middle-class voters. But he said he thought Republicans look "ridiculous" for going after Wilde, "given their own constant rhetoric about family values."
A tiny fraction Hollywood executives and entertainers donated money to Republicans this year, according to the Hollywood Reporter, though Trump insists they love him.
"I have many friends out there, many Hollywood friends," he told Fox News Thursday, promising many will secretly vote for him.