Alabama Republicans on Friday defied a U.S. Supreme Court order by passing a new congressional map that includes only one majority-Black district.
The GOP-controlled Legislature had called a special session to redraw an earlier map after the Supreme Court reaffirmed a federal court order to include two districts where Black voters make up voting-age majorities, "or something quite close to it." But on Friday, state Republicans approved a new map with just one majority-Black seat and a second district that is approximately 40% Black.
The bill passed the House in a 75-28 vote after the Senate voted 24 to 6 in favor of the revised map.
The map was completed Friday afternoon — hours before the court-ordered deadline for the Legislature to draw up new boundaries — as a compromise between the House and Senate versions.
Republican Gov. Kay Ivey signed the redistricting map into law Friday night. A federal court will hold a hearing on the map Aug. 14.
"Following the U.S. Supreme Court order, I called the Alabama Legislature into a special session to readdress our congressional map," Ivey said in a statement after signing the measure. "The Legislature knows our state, our people and our districts better than the federal courts or activist groups, and I am pleased that they answered the call, remained focused and produced new districts ahead of the court deadline."
Democrats slammed the map and its drafters, arguing that legislators ignored a court order and that the map continued the racist history of voter suppression.
"There was never any intent in this building to comply with their court order," said state Rep. Chris England, a Democrat from Tuscaloosa. "There was never any intent in this building to comply with the Voting Rights Act."
England and other Democrats argued the map was designed to bring another challenge to the Voting Rights Act.
"I'm ashamed of what we did here this week," said state Rep. Juandalynn Givan, a Democrat from Birmingham. "We've chosen to outright, blatantly disobey the law and to further attempt and vote to bury the Voting Rights Act."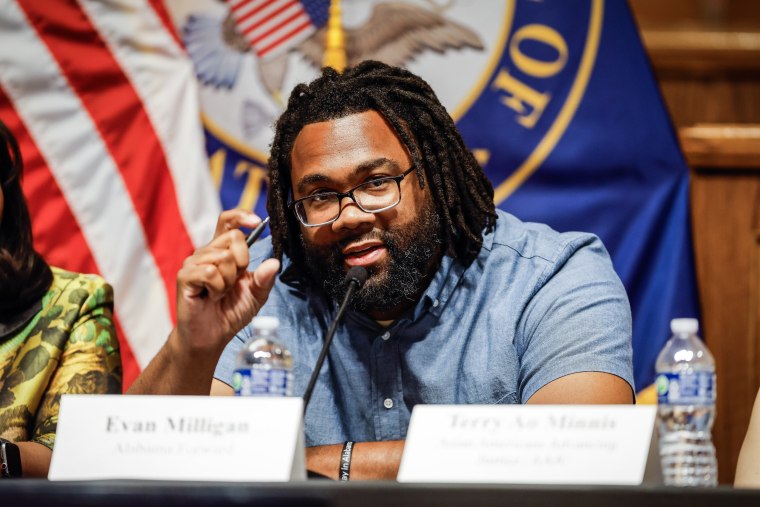 The map drawing process has been closely watched by many in Washington, where redistricting battles playing out in the courts in Alabama, New York, North Carolina, Georgia, Texas and other states could decide control of Congress.
House Speaker Kevin McCarthy, R-Calif., Sen. Tommy Tuberville, R-Ala., and much of the rest of Alabama's congressional delegation had reached out to Republican legislators, according to Republican state House Speaker Nathan Ledbetter.
Alluding to Tuberville's past as the football coach at Auburn University, spokesman Steven Stafford said in an email before the final vote: "Coach just wants the maps to be fair and for all Alabamians to be represented well. He trusts Alabama's state legislators to get this right."
McCarthy reached out to plan sponsors and is concerned about maintaining his House majority, Ledbetter said, while Tuberville called Thursday morning and said he was surprised the Supreme Court had ruled against the state, given the court's conservative tilt.
"He was kind of surprised that we were in the situation," Ledbetter said. "There are a lot of eyes on Alabama."
McCarthy confirmed to NBC News that he talked to "a few" Alabama legislators.
"I'd like to know where they're going to go and whether they're in the process of happening," he said. "I know the Democrats are trying very hard to redraw New York. ... I think people should be very fair in this process to be able to see what's happening. I like to know what's going to happen out there."
How the map performs
Republicans have insisted the maps would give Black voters an opportunity to elect the representatives of their choice as required by the courts, but Democrats, voting rights experts and the groups that sued the original maps disagree.
Kareem Crayton, an Alabama native who is a redistricting expert at the Brennan Center for Justice at New York University School of Law, said his team looked at 15 recent elections to see how the final map would perform.
They found that a candidate preferred by Black voters would win just once in every 15 contests. The election data underpinning that win was derived from a remarkable upset: former Sen. Doug Jones' victory over Roy Moore, a Republican accused of sexual misconduct with teenagers.
Opponents of the previous map are vowing to challenge the new one, said Deuel Ross, an attorney for NAACP Legal Defense Fund who argued the case before the Supreme Court.
"The map fails to provide Black voters with any new opportunity to elect the candidates of their choice. And this clearly violates not just the order of the District Court, but the order of the United States Supreme Court," Ross said in an interview Friday.
The plaintiffs plan to submit objections in the coming weeks under the current court order, and federal judges will consider them at the Aug. 14 hearing. The court can chose to implement maps drawn by outside experts if it agrees that the map is another racial gerrymander.
"This is exactly why the Voting Rights Act was first created — this sort of stubbornness of states," Ross said in an interview earlier this week. "Even when a court says that they're violating federal law or the Constitution, they continue to fail to do the right thing. It's troubling, but it's part of a troubling history that has existed in America and Alabama for a long time."
CORRECTION (July 21, 2023 7:35 p.m. ET): A headline and a previous version of this article misstated McCarthy's title. He is the House speaker, not its majority leader. A previous version also misspelled the last name of a redistricting expert at the Brennan Center. He is Kareem Crayton, not Clayton.