COLUMBUS, Ohio — Former California Gov. Arnold Schwarzenegger officially endorsed Ohio Gov. John Kasich Sunday — first on Snapchat and then at an outdoor rally on the Republican presidential candidate's home turf.
"When he went to Washington, he kicked some serious butt," Schwarzenegger told the audience of several hundred. "He was an action hero when he went to Washington."
"We need John Kasich to now take charge and be at the White House," Schwarzenegger added. "And this is why I endorse John Kasich, our great governor, to be our Republican nominee and to be the next president of the United States of America — the greatest country in the world."
Schwarzenegger had all but endorsed Kasich already — supporting him from afar, speaking admiringly of him through the race and holding a "tele-town hall," in early February, when he heavily lauded Kasich's accomplishments days before the New Hampshire primary.
Kasich regularly mentions Schwarzenegger on the campaign trail, telling crowds and reporters that when he complained to Schwarzenegger about negative attacks, the former California governor told him: "John, love the beatings. Love them."
Kasich is currently campaigning in his home state, which he maintains he needs to win to move on. Ohio's primary is on March 15, and the winner will get all of the state's 66 delegates. Kasich has said that if he does not win Ohio, he will exit the race.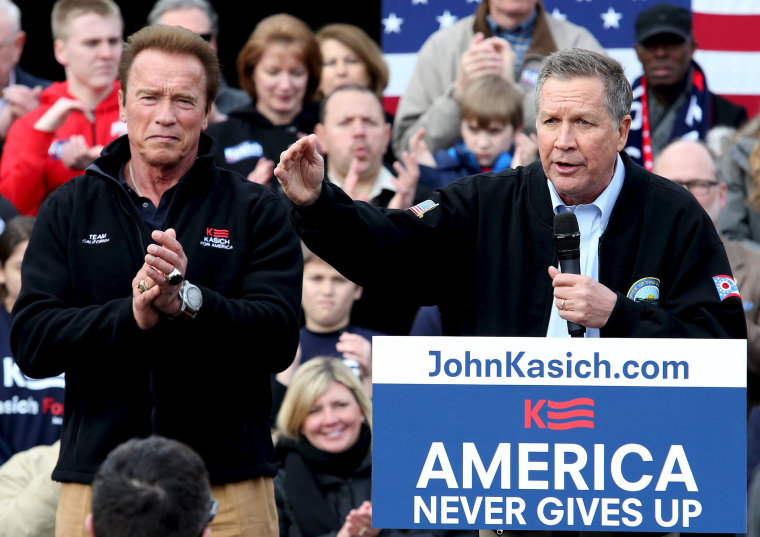 Schwarzenegger was governor of California from 2003 to 2011, and he is slated to be the new host of "Celebrity Apprentice" on NBC, which was formerly hosted by Kasich's rival and GOP front-runner, Donald Trump.
Schwarzenegger was not just in town to endorse Kasich. He was also in Columbus for his sports expo and bodybuilding competition, the "Arnold Sports Festival," which is held in the state annually.
At the rally, Kasich boasted of a jacket Schwarzenegger gave him years ago, showing it off to the crowd. "I am officially the Terminator 2, the Governator 2," Kasich said. "For the first month I slept in the jacket, you know."