Two weeks after Election Day, Ben McAdams, the Democratic mayor of Salt Lake County, has defeated Republican Rep. Mia Love in Utah's 4th Congressional District, The Associated Press projected Tuesday.
Love's defeat was predicted by President Donald Trump, who slammed her by name the day after the elections for having criticized him.
"Mia Love gave me no love, but then she lost," Trump said Nov. 7. "Too bad.
NBC News hasn't called the race yet, but if the result is confirmed, Democrats will have picked up 38 House seats in this month's midterm elections, with three other House races yet to be called.
The AP said McAdams beat Love by fewer than 700 votes, just barely above the margin needed to trigger a recount.
"The results have come in. We pulled out a win," McAdams told NBC affiliate KSL of Salt Lake City on Tuesday. "It's a close race, and I look forward to now getting to work representing the people of Utah."
Love, who was born to Haitian parents in New York City, ran afoul of the president when she criticized Trump's vulgar remarks about immigrants from Africa and Haiti, calling them "indefensible" and "racist."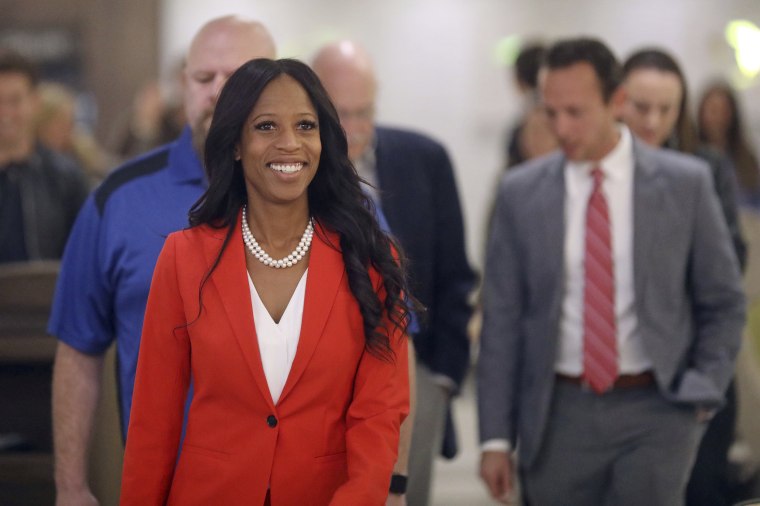 McAdams, meanwhile, was one of 16 Democrats on Monday who signed a letter opposing the election of Rep. Nancy Pelosi, D-Calif., as speaker of the House, a position he had announced as early as May.
The letter praised Pelosi as a "historic figure" but argued that Democrats won the House majority "on the backs of candidates who said they would support new leadership."