MISSOULA, Mont. — Bernie Sanders is set to jump into a highly competitive House special election here that could serve as a referendum on Donald Trump's presidency and policies, particularly health care.
Sanders will join Democratic candidate Rob Quist, a folk singer and political novice, on four campaign stops on Saturday and Sunday, just days before polls close here May 25. Absentee voting has been underway since late April.
The Montana contest is shaping up to be a test of whether Trump's scandal-plagued early months and the largely unpopular new GOP-backed health care plan can put a seat into play in this rural, rugged and largely Republican state thousands of miles from Washington.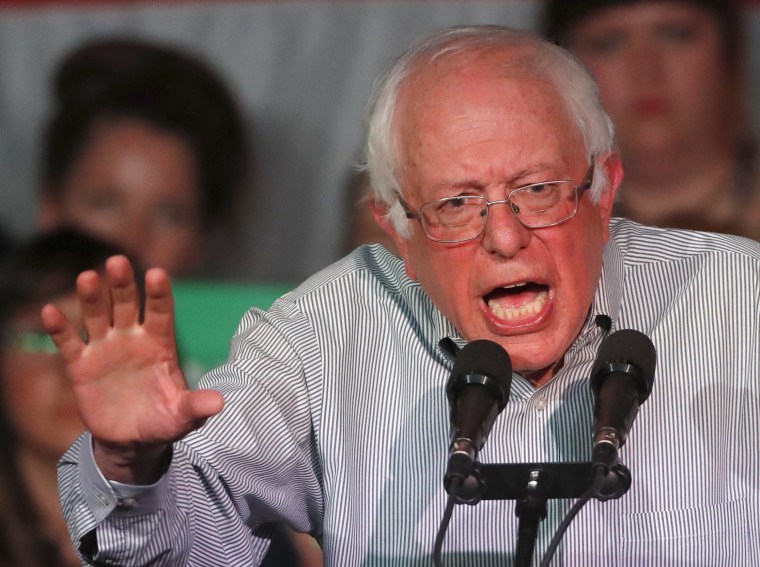 With progressives highly mobilized across the country to help Democratic candidates, so far there is evidence the anti-Trump effect here is real: Quist stunned the political world this week with his announcement that he had raised more than $5 million for the race, through a vast network of small campaign contributions across the country.
Montana's single at-large House seat has been in Republican hands since 1996, and the state voted in a landslide for Trump over Hillary Clinton last November.
But Montanans have elected Democrats to other statewide office over the years — including current U.S. Senator Jon Tester and Gov. Steve Bullock, both of whom are supporting Quist.
Last week, Vice President Mike Pence campaigned with Republican hopeful Greg Gianforte. That was one of many indications that the race to replace former Rep. Ryan Zinke, whom President Trump tapped as Interior secretary, has become more competitive than initially expected. Donald Trump Jr., the president's eldest son, has also campaigned with Gianforte.
Gianforte, a multimillionaire former software executive, narrowly lost a challenge to Bullock in the governor's race last November. No public polling has been done in the House race, but strategists on both sides believe Gianforte holds a lead over Quist somewhere in the mid-single digits.
The Republican-backed plan to replace the Affordable Care Act, also known as Obamacare, has emerged as a central issue in the Montana race. Quist staunchly opposes the GOP plan, known as the American Health Care Act, while Gianforte has been caught saying different things to different audiences about the bill, which could analysts believe could result in a big price hike for people with a wide range of common pre-existing conditions like cancer and diabetes.
Publicly, Gianforte has expressed skepticism about the plan. But on a phone call with Republican-leaning lobbyists, leaked to The New York Times earlier this month, Gianforte said he was "thankful" for the plan.
Under Obamacare, insurance companies are legally barred from charging those with pre-existing conditions more for their health care coverage. The AHCA, which narrowly passed the GOP-controlled House and is being considered by the Senate, would allow states to waive that rule. Republicans insist states would be allowed to do so only if they devised an alternative plan that would protect those with pre-existing conditions. Nonetheless, polls show the AHCA is deeply unpopular with many voters.
The Congressional Budget Office is expected to announce its "score" of the AHCA — an estimate of the bill's cost and how many people it would leave uninsured — on Wednesday, the day before polls close in Montana. Earlier this year, the CBO projected that an initial version of the bill would leave 24 million people without coverage.
Quist, a native Montanan, has also cast Gianforte as a carpetbagger from New Jersey who wants to buy the state's lone House seat. Gianforte has made a personal loan of $1 million to his House race, after spending some $5 million in personal funds on the failed governor's contest.
Quist has had to contend with his own problems, including years of financial problems (particularly $15,000 in unpaid taxes) and a decades-old citation for marijuana use that he initially denied to a reporter.
Gianforte and his backers have dubbed Quist "Nancy Pelosi in a cowboy hat" and have suggested he would create a registry of the state's gun owners. Quist says he supports gun rights and calls himself a staunch defender of the Second Amendment.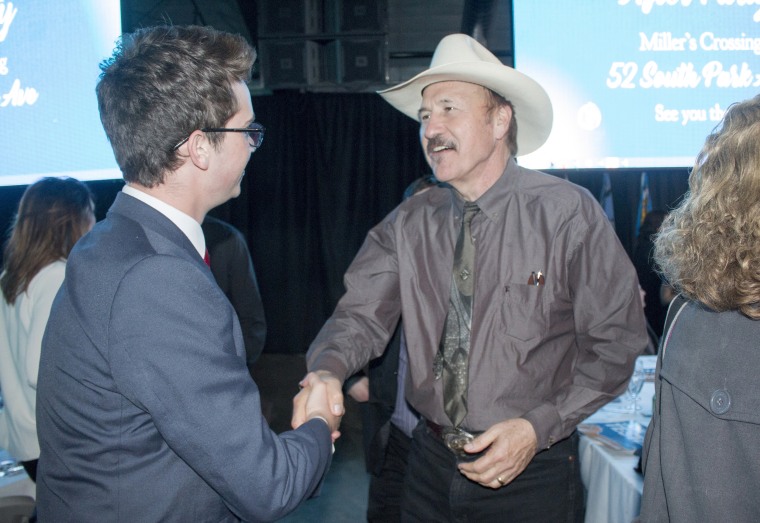 Gianforte has drawn considerable support from national Republicans and outside groups,including House Speaker Paul Ryan's super PAC and the conservative Koch brothers' political network. Democratic groups, initially wary of committing money to what was long considered an outside shot at best, have come into the race recently, mounting TV ads and get out the vote efforts.
The Sanders/Quist campaign swing will launch in Missoula, home to the University of Montana — part of the Quist campaign effort to rack up votes from college students, who tend to be more liberal than older voters but less likely to show up at the polls. Sanders and Quist will also campaign in Bozeman, home of Montana State University, on Sunday.
Sanders, as a 2016 Democratic presidential candidate, drew huge crowds and some of his staunchest support on campuses across the country.