LONDON — Former Vice President Joe Biden predicted on Wednesday that the Democrats would win 40 seats in the House and also take back the Senate in the November midterm elections.
"I predict to you the Democrats will win 40 seats in the House. And I predict to you there's a slightly better than even chance we win the Senate," Biden said in a speech in London.
He said a deep dissatisfaction with President Donald Trump and his administration would result in the Democratic wave.
"President Trump is the only president — and I've been there for nine now — who when things are going very well in terms of the economy, his numbers aren't going up," said Biden at Chatham House, an international relations think tank.
"What's holding him down is this battle for the soul. Who are we? You're seeing that played out."
Biden has spent much of his time over the last few months campaigning for Democratic candidates. He said that he had been involved in drumming up support for 109 candidates and visited every state where there's a Senate seat up for grabs.
Biden has not closed the door on a run for president in 2020. He has often said he will make a decision on a third run for the White House after the midterms and reiterated on Wednesday that he would decide before the end of the year.
He said there were many Democrats who could defeat the president in 2020, and singled out Sen. Kamala Harris of California.
"Not a single aspiring candidate that I can think of for the nomination, and I am not one of them at this point, does not have a better understanding and formulation of American foreign policy than President Trump," he said.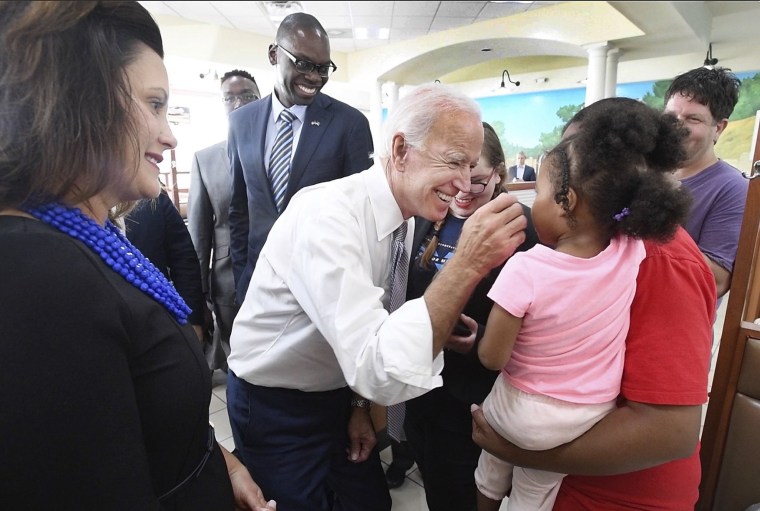 In a speech that laid out a contrasting world view to Trump's, and that stressed the need for a strong transatlantic partnership, Biden, a former chair of the Senate Foreign Relations Committee, said that the world is at an "inflection point."
"The transatlantic community needs to rally together to counter this world view defined by authoritarian control, naked expression of power, exclusion and intolerance. The fight for the future has already begun," he said, admitting that the government didn't pay enough attention to people's fears and concerns during the last election.
He emphasized the need to raise the quality of life for all people and to better explain the advantages of the democratic system.
Biden's comments about the need for a strong transatlantic relationship come at a time of tension between the U.S. and Europe.
Throughout his time in office, Trump has criticized traditional American allies, including Germany, and even described London's mayor as "pathetic" after a terror attack in June 2017. He's pushed NATO allies to not only meet but to exceed their spending commitments and questioned the need for the U.S. to protect Germany given its trade with Russia.
Though Biden had seriously considered a run for president during Obama's second term, he eventually decided against it. It came on the heels of his son Beau's death, and Biden said at the time that although his family had gotten through the grieving process, it was not in time to mount a campaign.
Biden is in London for a series of events, and appeared at a McCain Institute gathering Tuesday evening where British Prime Minister Theresa May received an award for her commitment to combating modern slavery.
He also spoke at Imperial College's cancer research center, where he emphasized the need to "break down silos" and "collaborate in ways that haven't existed before."