LOS ANGELES — California is moving up its election primaries to join the Super Tuesday pile in a bid to make the nation's biggest haul of presidential delegates relevant again.
With a handful of exceptions, California has traditionally held its primaries in June — at a time when the major-party presidential nominees have often already been chosen.
That's what happened last year, when Donald Trump and Hillary Clinton had already sewn up the Republican and Democratic nominations before California and its 19.4 million registered voters could allocate the country's biggest chunk of delegates to either party's convention.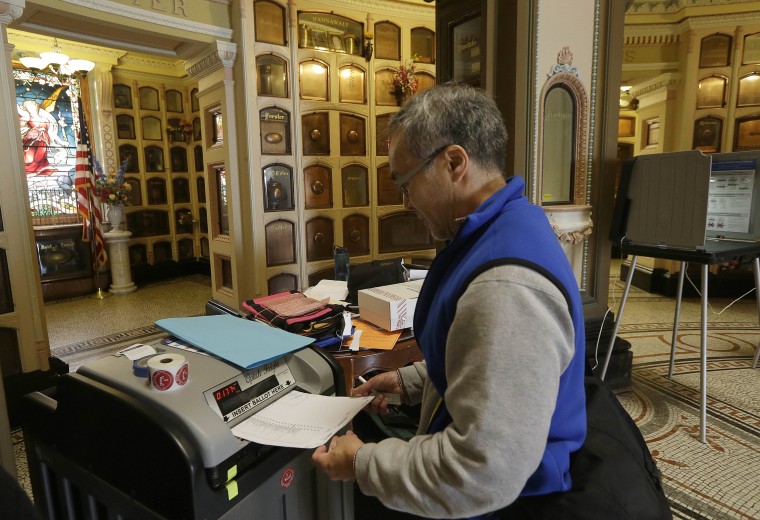 Gov. Jerry Brown signed the measure, called the Prime Time Primary Act, into law on Wednesday The law, which passed largely along party lines in the majority-Democratic Legislature, moves the state's primaries to the Tuesday after the first Monday in March (that's March 3 in 2020), when as many as a dozen states hold their nominating contests in an electoral jamboree that frequently determines the course of the presidential campaign.
"Candidates will not be able to ignore the largest, most diverse state in the nation as they seek our country's highest office," California Secretary of State Alex Padilla said. "The Prime Time Primary Act will help ensure that issues important to Californians are prioritized by presidential candidates from all political parties."
In past election cycles, the Democratic National Committee has awarded the California Democratic Party 70 extra delegates to keep its primary in June, away from Super Tuesday.
The DNC could choose to strip the state party of those delegates in 2020. That would leave California Democrats with about 400 delegates — still the most of any state by far, and coming into play at a critical point in the campaign.
That could be crucial for any California Democrats who join the 2020 race, a group of candidates that is widely believed could include U.S. Sen. Kamala Harris and Los Angeles Mayor Eric Garcetti.
Even if there is no California candidate to capitalize on the earlier primary, it's still a boon for Democrats, said Eric Bauman, chairman of the state Democratic Party, who called California "the beating heart of the national resistance to Trump."
"When it comes to deciding the Democratic nominee, our voices need to be heard early in the process," Bauman said.