New Jersey Gov. Chris Christie is facing growing skepticism from influential Republicans about his likely presidential run, with many in the party privately expressing doubts that he has any chance of winning the GOP nomination and some of Christie's former backers unwilling to say they will support his campaign.
The controversy over an improper 2013 bridge closing that implicated some of his former aides had already weakened Christie's reputation among party insiders. Now, a combination of new factors have added to the challenges for the New Jersey governor: the emergence of former Florida Gov. Jeb Bush and Wisconsin Gov. Scott Walker as candidates who also have executive experience and a record of winning in Democratic- leaning states, controversial comments Christie made on a recent trip to London and a New York Times piece that depicted Christie taking lavish trips funded by wealthy supporters.
The signs of Christie's decline are subtle but telling as Republican strategists, operatives and donors are trying to determine which candidates to back early in the 2016 process. New Jersey State Sen. Joe Kyrillos, who chaired Christie's 2009 gubernatorial campaign, attended a small dinner with Jeb Bush and some of Bush's supporters last month and refused to commit to Christie in an interview with the Newark Star-Ledger after the dinner.
Appearing on Fox News, influential conservative columnist Charles Krauthhammer recently predicted Bush, Walker or Florida Sen. Marco Rubio would win the nomination, leaving out Christie, who is courting many of the same moderate Republicans as those three.
Gary Kirke, who was part of a group of Iowa Republicans unsatisfied with Mitt Romney and who flew from the state to Trenton to implore Christie to run four years ago, says he is now open to supporting other candidates. Former Secretary of State Henry Kissinger, who had also unsuccessfully pushed Christie to run in 2012, attended a luncheon in support of Bush this week, according to the New York Observer.
"He's done a good job," Kirke said of Christie. "He's had some clouds over his head with Bridgegate and things like that, but it looks like that's behind him. He's still a viable person. I don't know if he will catch fire. It's a whole different ballgame than it was four years ago."
Andrew Ferguson of the influential conservative magazine The Weekly Standard wrote in a piece published this week that Christie, as well as Arkansas Gov. Mike Huckabee and Kentucky Sen. Rand Paul, were already struggling so badly in the 2016 race that they should "pack it in right now and save months of time and tons of money."
"A thin skin has been a feature of Chris Christie's public life as well and over the last several weeks it has been much in evidence," wrote Ferguson. He added, "In London he didn't appear a hardworking public servant losing patience with bleating reporters, he had the air of a plutocrat irked that the little people weren't doing what they were told."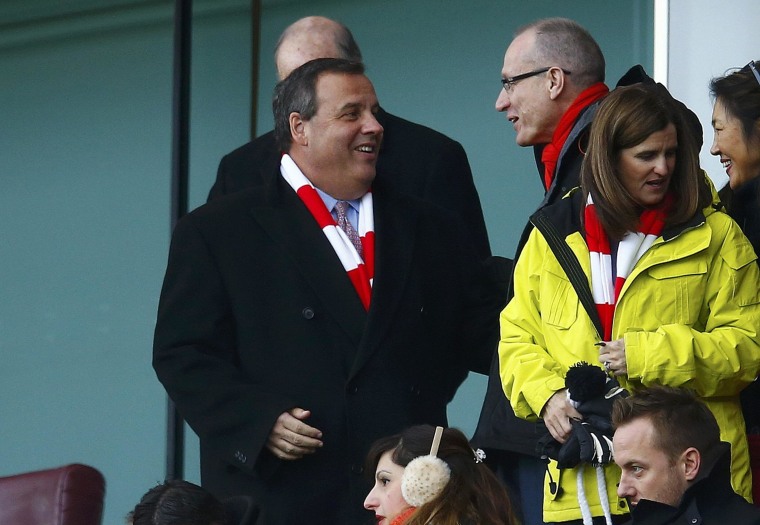 All three of those candidates are likely to stay in the race. But while Huckabee has a base of support among evangelicals and Paul among his father's former supporters and more libertarian Republicans, Christie increasingly looks like a man without a party.
Wall Street and blue-state donors, even in nearby Connecticut and New York, have lined up to back Bush, the party's policy wonks are more excited about Rubio and party donors who don't want a third Bush presidency are looking closely at Walker.
"A lot of these guys that begged him [Christie] to run in that race in '12, they are not necessarily with him," said Craig Robinson, the former political director of the Iowa Republican Party. "This is a hard lesson that every cycle is different. There were a lot of people saying 'you need to do this' four years ago. Now there are a lot of different faces on the scene and maybe they won't feel so compelled to get you in this race."
Publicly, most Republican heavyweights are wary of criticizing Christie, who just finished a successful tour of running the Republican Governors Association, helping to elect GOP candidates across the country.
Christie has spoken at well-attended events in Iowa and Chicago this week. He retains the support of at least one major GOP donor, Home Depot founder Ken Lagone.
And Robinson noted that some of the top operatives in Iowa have already joined Christie's campaign and that the race there is wide open.
"My overriding standard is who can win the general election. I also happen to like Jeb Bush and Scott Walker a lot but on balance Chris has the best chance of winning. That's what my gut instincts tell me," said Bobbie Kilberg, a longtime GOP fundraiser.