While a broad, deep coalition of Democrats is urging Hillary Clinton to run for president, Republicans so far aren't rallying behind the politician in their party from a famous political family: Jeb Bush.
In the spring, at the height of the controversy over lane closures in New Jersey that implicated the staff of Gov. Chris Christie, GOP donors talked publicly about drafting the former Florida governor and the son and brother of ex-presidents into the race to be the Republican establishment candidate they had expected Christie to be.
But the informal talk never galvanized into the kind of political movement that has made Clinton a heavy favorite to win the Democratic nomination even before the presidential race has formally started. Bush, if he opts to run, would have a much more difficult path to the GOP nomination than his brother George W. Bush, who entered the 2000 campaign with much of the party establishment behind him.
"Republicans are not familiar with this Bush. Jeb Bush hasn't been in office in years," said Shawn Steel, a former California Republican Party chair and an early supporter of George W. Bush.
"Most folks haven't seen him up close," Steel added. "And there's so much competition. You have at least half a dozen governors who have current-day records."
Bush maintains a much lower profile than competitors on both sides of the aisle, but he's not shying away from helping his party. On Tuesday, he hosted a fundraiser in Tampa that raised more than $500,000 for five of the top GOP U.S. Senate candidates.
He is expected to appear in Kansas next week to campaign for embattled incumbent Sen. Pat Roberts.
Bush has now done more than two dozen party fundraisers this year, many more than Clinton, along with speeches at major party events like the Republican Jewish Coalition's annual meeting.
The former governor has said he will decide whether or not to run by year's end. His spokesman declined to comment on a potential candidacy, instead referring to remarks Bush has made throughout the year in which he has said he is seriously considering a run.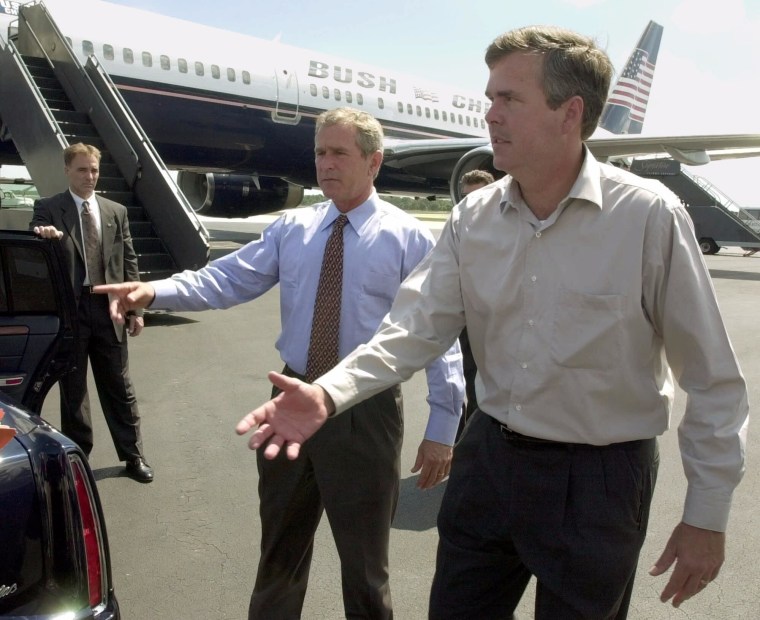 The Bush dynamic is important as both he and other key Republicans are spending the last few months of 2014 determining if they should start running for president next year. Allies of Bush, the Wall Street Journal reported earlier this month, have told GOP donors to hold off committing to other candidates until the ex-governor has made a final decision.
The specter of a Bush candidacy complicates potential runs by Christie and Florida Sen. Marco Rubio, who would compete for the same donors, strategists and -ultimately-voters in a 2016 contest. Republican strategists expect the 2016 race to include at least one candidate, likely either Kentucky's Rand Paul or Texas Ted Cruz, who is popular with the Tea Party wing of the GOP, and one who is popular among the kinds of voters who backed Romney during the 2012 primaries.
Bush, who served as Florida's governor from 1999 to 2007, is considered by many ex-Romney backers as a strong candidate because he holds conservative views like opposing abortion rights and cutting taxes but also has shown the political skill to win two elections in a key swing state with a large Latino population.
"He's one of a small handful who would be leading candidates," said Fred Malek, who was the national finance chairman for John McCain's 2008 campaign. "Jeb Bush is the kind of person who can unite our party because he's a governor with a proven record of accomplishment."
Back in April, in an interview with Fox News, Bush said he would only run if he could do so with a "hopeful, optimistic message" and "joyfully without being tied to all the convention of the here and now."
That may not be possible. Conservatives roundly criticized Bush for suggesting in the same interview that it is an "act of love" when undocumented immigrants come to the U.S. Bush is also a strong supporter of the Common Core, a set of national education standards that many conservatives oppose.
Conservative activists could make winning the nomination difficult for Bush, whose supporters say he is unlikely to woo the Tea Party by running to the right on immigration, as Romney did in 2012.
"It's not on the table to mold his beliefs. He is a guy that stays true to his core principles," said Brian Ballard, a Florida lobbyist who was on the national finance committee for Romney's 2012 campaign and said he would back Bush if he ran.
And Bush's challenge is not just from the Tea Party.
Major fundraisers in the party establishment are carefully assessing the field, with their eye on governors like Wisconsin's Scott Walker and Ohio's John Kasich. Some of them are skeptical that American voters will vote for another Bush after George W. Bush's difficult tenure.
And polls of Republican voters suggest Bush would enter the race in essentially the same place as Christie and Paul, not with a huge lead like Clinton.
"I don't think he's the equivalent of Hillary on the other side. She's been a national figure for decades," said Ballard. "Jeb's family has been in politics, but Jeb is new to most of us."