Democrat Stacey Abrams on Friday ended her candidacy for governor more than a week after polls closed in Georgia and accused her opponent of "appalling" intentional efforts to suppress votes, which largely affected African-Americans.
Abrams, who was running to become the nation's first black female governor, said it is clear that Republican Brian Kemp will be the state's next governor. However, she refused to concede and used her speech to rebuke the "rotten and rigged" election process, alleging "systemic disenfranchisement" at the hands of Kemp, who was also the state's chief elections administrator.
"I acknowledge that former of Secretary of State Brian Kemp will be certified the victor in the 2018 gubernatorial election," she said. "But to watch an elected official, who claims to represent the people in the state, baldly pin his hopes for election on the suppression of the people's democratic right to vote has been truly appalling."
She added, "So let's be clear, this is not a speech of concession because concession means to acknowledge an action is right, true or proper. As a woman of conscience and faith, I cannot concede that."
Abrams' speech came moments after the state's chief elections official certified the results following a protracted 10-day legal battle. Kemp led Abrams 50.2 percent to 48.8 percent — or by about 55,000 votes — with 99 percent of the vote counted.
Abrams' admission of defeat brought to a close one of the most closely watched contests of the 2018 midterm cycle.
In her Friday speech, she said Kemp "was deliberate and intentional in his actions" of suppression while overseeing the state's election system.
"Democracy failed in Georgia," Abrams said of the contest, which was marred by allegations of voter roll purging and suppression largely affecting African Americans. "This time, the mistakes clearly altered the outcome."
An Associated Press investigation last month revealed that Kemp's office had 53,000 voter registration applicants still pending, 70 percent of whom were African-American. Many of those prospective voters may not have even known their registrations were on hold, the report said.
Civil rights groups, including one founded by Abrams, sued Kemp alleging that the practice was discriminatory because African-Americans make up 32 percent of Georgia's population.
Voters in largely minority areas also faced malfunctioning machines and long lines at polls on Election Day.
Abrams on Friday said, "I will pray for the success of Brian Kemp, that he will indeed be a leader for all Georgians."
She implored voters not to be dismayed by a "rotten and rigged" system, but to continue organizing and holding public officials accountable.
Abrams also said that despite ending her candidacy, her campaign will still pursue "a major federal lawsuit" aimed at the "gross mismanagement" of the election system.
During the campaign, Kemp embraced President Donald Trump and highlighted his positions on gun rights and illegal immigration. And the president visited Georgia to stump for Kemp.
After Election Day, Abrams had been fighting to buy time to have more ballots counted in hopes of triggering a mandatory recount or a runoff election. Under Georgia law, if neither candidate were to have topped 50 percent, they would have faced off in a runoff on Dec. 4.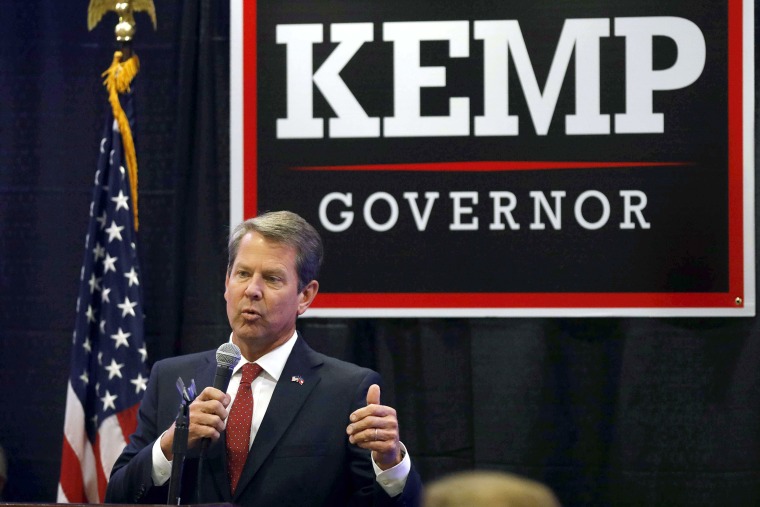 Kemp had declared victory last Wednesday, the day after the election, and resigned as Georgia's secretary of state to focus on the transition process.
But following the election, Abrams' campaign accused the secretary of state's office of providing inaccurate and incomplete information about how many votes were still to be counted.
Then, on Tuesday, as counties continued tallying uncounted ballots, a federal judge ordered Georgia to guard against any improper rejection of provisional ballots and to wait until Friday to certify the results.
And on Wednesday, another federal judge ruled that the secretary of state must not certify the state election results without confirming that each county's vote tally includes absentee ballots on which the voter's date of birth might be missing or incorrect.
Earlier Friday, it emerged that Abrams' camp was also considering an unusual long-shot legal challenge, based on a never-before-used statute in such circumstances, to seek an election do over, although they ultimately decided not to go that route.