WASHINGTON ― After being rocked by a string of insurgent upsets, establishment Democrats in New Hampshire saw their favored candidate beat 10 challengers, including Bernie Sanders' son, in one of the swingiest congressional districts in the country Tuesday.
Executive Councilor Chris Pappas, who had the support of nearly every elected Democrat in the state, trounced Maura Sullivan, a former Marine and Obama administration official who couldn't shake allegations of carpetbagging after moving to the state last year, according to an Associated Press projection.
Molly Kelly, a former state senator, also cruised to victory in the Democratic gubernatorial primary over Steve Marchand, a supporter of Sen. Bernie Sanders, I-Vt., who called on New Hampshire Democrats to abandon their moderation on taxes, the AP projected.
Kelly faces Republican Gov. Chris Sununu, whom analysts heavily favor for re-election, despite the national political wind at Democrats' backs and the blue tint of the state.
The 1st Congressional District is one of the most closely divided in the nation, having ping-ponged between Democrats and Republicans for years, so it's likely to be fiercely contested in November.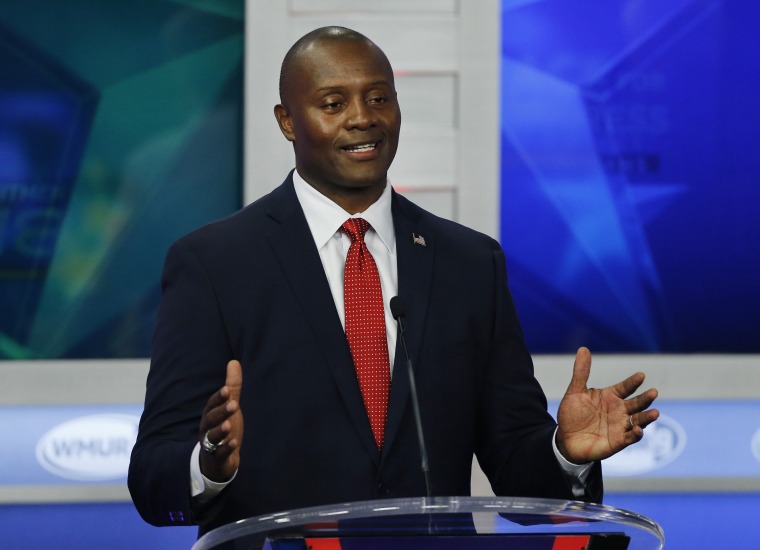 On the Republican side, Eddie Edwards, a former police chief and Navy veteran, defeated Sen. Andy Sanborn, who has faced sexual harassment allegations and reportedly conceded the race, according to the AP. Edwards would be New Hampshire's first black representative in Congress.
Both candidates aligned themselves closely with President Donald Trump. But Edwards has said he couldn't support Sanborn in the general election given the harassment allegations, which stem from inappropriate comments made to staff and colleagues. The top-ranking GOP woman in the state legislature warned fellow Republicans nominating Sanborn would "hurt the entire ticket."
At just 38 years old, Pappas has already long been a favorite son of the New Hampshire Democratic Party, having served as a state representative, county treasurer, and on the state's Executive Council.
If elected, Pappas would be New Hampshire's first openly LGBT member of Congress.
He's also a co-owner of the Puritan Backroom, a Manchester restaurant known for being a favorite haunt of presidential candidates and political operatives ahead of the state's first-in-the-nation presidential primary.
Sullivan has an impressive resume and was the most-funded candidate in the crowded field. But most of her money came from out-of-state and Pappas allies made sure to contrast that with his deep local roots.
Meanwhile, Sanders' son, Levi, had a disappointing showing and will likely not even finish in the top four. With about two-thirds of precincts reporting, he had less than 2 percent of the vote and was in seventh place, despite his famous name.
The elder Sanders won in a landslide over Hillary Clinton in New Hampshire during their 2016 presidential contest, but he declined to his endorse son. Further impeding Levi Sanders was the fact that he lives outside the district on the other side of the state.
While New Hampshire comes first in the presidential primary pecking, it's one of the last in this year midterm primaries. The only states left in the primary calendar are Rhode Island, which holds its contest Wednesday, and New York, which votes on Thursday.