WASHINGTON — Former Vice President Joe Biden is going to look a lot like a presidential candidate this year.
He plans to raise money for Senate Democratic incumbents, campaign for Democratic challengers in Republican-held House districts that Hillary Clinton won in 2016, and engage in state-level races where the pickup of a couple of seats could flip control of a legislative chamber.
"You're going to see him all over the place," said Greg Schultz, executive director of Biden's American Possibilities PAC.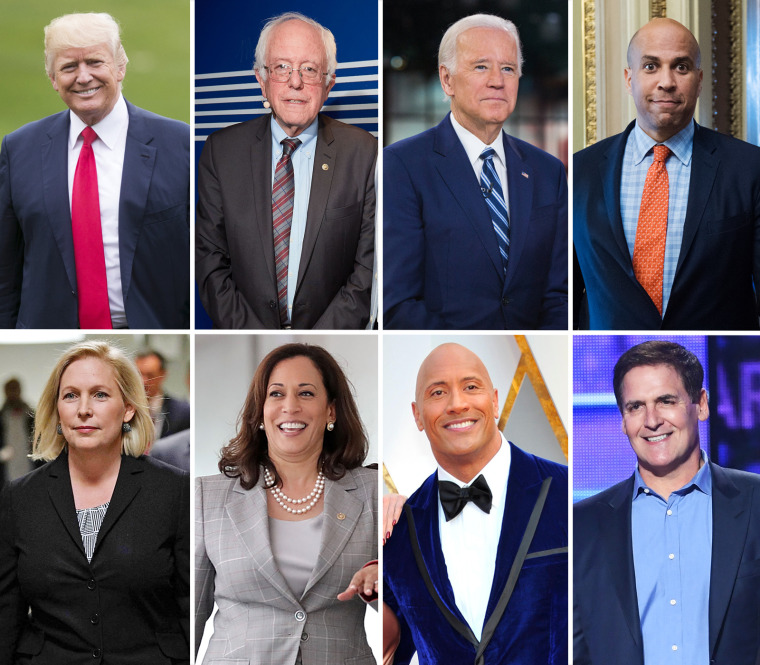 Biden won't be alone. Nearly one year into Donald Trump's presidency — with the president's approval rating hovering around 40 percent — Biden is one of roughly two dozen Democrats who are considering a bid for the White House in 2020. The list includes governors, senators, House members, mayors and even celebrities such as former professional wrestler Dwayne "The Rock" Johnson.
The invisible primary is already under way, and the jockeying is about to get intense.
Many of the would-be contenders, like the 75-year-old Biden, will spend this year traveling the country on behalf of other candidates, a time-tested way for presidential hopefuls to introduce — or, as in Biden's case, reintroduce — themselves to voters, hone their message on the stump, build goodwill within the party and enhance their donor networks.
A handful of hopefuls have already visited Iowa and New Hampshire, the first-in-the-nation caucus and primary states, and those trips will increase in frequency as the year unfolds. And some have long since hired presidential campaign veterans onto their staffs.
The activity on the Democratic side is notable because each of the last three presidents — Barack Obama, George W. Bush and Bill Clinton — won re-election to a second term, and Trump, defying convention, is already openly campaigning for re-election.
All of it is aimed at being ready to strike after November's midterm elections when the presidential contest gets going for real.
The Bernie-volution
One possible Democratic candidate — Bernie Sanders — won't have to create a national political operation if he seeks the presidency. Our Revolution, a political organization that rose from the ashes of Sanders' 2016 bid, is still humming.
It's "a permanent campaign" just waiting for Sanders to return to the battlefield, one of his confidants told NBC News.
In the interim, Our Revolution is helping elect like-minded Democrats. The OR scoreboard shows more than 100 candidates for public or party office who won with the organization's support in 2016 and 2017, from Rep. Jimmy Gomez in Los Angeles and Mayor Randall Woodfin in Birmingham to a town auditor in Pennsylvania and state legislators across the country.
Even the losses, which slightly outnumber the wins at this point, have kept Sanders' ground troops mobilized.
"Everyone I know who has been part of this Bernie movement never stopped," said Nomiki Konst, a Sanders supporter and member of the Democratic Party's Unity Reform Commission. "We got so close, so why would you give up and go home?"
Konst helped convince Christine Pellegrino, a Long Island teacher, that she could win a Republican-held New York Assembly seat in a district that Trump won handily. Pellegrino had been involved in local labor activism and went to the Democratic National Convention as a Sanders delegate in 2016.
As she weighed whether to run, Pellegrino considered an admonition Sanders had given to his supporters. "I took very seriously what Bernie said about the need for people to be involved in every aspect of the revolution," Pellegrino told NBC News.
Once she decided to jump in, she secured an endorsement from Our Revolution and the army of volunteer callers and door-knockers that came with it. Using Our Revolution's phone-banking system, some of the volunteers made calls from as far away as Cambridge — in England. Pellegrino won with 57.2 percent of the vote.
Our Revolution's endorsement "unlocks attention and exposure," she said. "For me, it was an acknowledgment that I belonged to the movement."
If Sanders doesn't run — and he'll be 79 on Election Day in 2020 — his growing political movement may position him to play gatekeeper, or even kingmaker, in the Democratic primary.
Finding a niche
New York Sen. Kirsten Gillibrand, who is up for re-election this year, may have the inside track for the support of women's rights activists.
The national reckoning on sexual misconduct has brought more attention to Gillibrand's long-running campaign to force the military and private-sector employers to better address claims of harassment. Gillibrand also has been at the forefront of congressional efforts for paid family leave and to ensure women earn salaries commensurate with those of their male counterparts.
One of her two political action committees, Off The Sidelines, is focused on recruiting and supporting women candidates for office, and has poured nearly $1.4 million into the campaign coffers of dozens of House and Senate incumbents and challengers since 2011 — money that connects Gillibrand to a national network of activists and officeholders.
Last month, she denounced Trump for a "sexist smear" when he called her a "lightweight" who came to him "begging" for campaign contributions and who "would do anything" for them. Gillibrand also was in the lead when Senate Democrats pushed a popular colleague, Sen. Al Franken, D-Minn., to resign amid allegations that he behaved inappropriately with multiple women.
That was a political gamble: While many Democrats credited her with taking a zero-tolerance approach, others were discomfited by the quick ouster of a senator who had been an articulate champion of progressive causes.
But Gillibrand's advocacy for women is an important indicator of how Democratic candidates are creating lanes for themselves before the 2020 competition gets fully under way.
Several of her colleagues, including Sens. Kamala Harris of California, Cory Booker of New Jersey and Elizabeth Warren of Massachusetts, are among the crowded field of Democrats trying to assess whether and how they could win the Democratic nomination. Sen. Sherrod Brown of Ohio, who some Clinton advisers liked for her vice presidential pick before it went to Sen. Tim Kaine of Virginia, remains favored among party populists.
Booker, meanwhile, recently campaigned for Doug Jones, who became the first Democrat to win an Alabama Senate race since 1992, benefiting heavily from the near-unanimous support of black women and men. In 2008 and 2016, respectively, Obama and Clinton racked up massive delegate leads in the Democratic presidential primaries in deep south states by winning the unified support of African-American voters — particularly black women, who generally vote at higher rates than black men.
Booker, Harris and former Massachusetts Gov. Deval Patrick, all of whom are black, could have an edge over other candidates in trying to build support within the African-American community. But as one senior member of the Congressional Black Caucus noted, African-American voters will want to back a candidate who can win support in Iowa and New Hampshire and who is perceived to be the strongest against Trump — regardless of his or her color.
Several mayors, including Eric Garcetti of Los Angeles, Mitch Landrieu of Louisiana and Pete Buttigieg of South Bend, Indiana, are weighing whether voters will want someone with executive experience at the community level, and New York Mayor Bill De Blasio recently invited national political reporters to join him on a visit to Des Moines, Iowa. Former Virginia Gov. Terry McAuliffe, fresh off helping elect a Democrat to succeed him, New York Gov. Andrew Cuomo and Montana Gov. Steve Bullock are also in the mix.
And even though James Garfield is the only sitting House member to have won the presidency more than a century ago, Rep. John Delaney of Maryland already has announced his candidacy and Reps. Tim Ryan, D-Ohio, and Seth Moulton, D-Mass., are frequently mentioned as potential candidates.
The incumbent
On the surface, Trump looks vulnerable. His approval rating has been mired below 40 percent in most polls, and Democrats demonstrated in elections across the country last year that they are more motivated than Republicans to get out and vote.
Many Democrats and some Republicans predict there's a chance Trump may not be on the ballot in 2020 for any number of reasons: He resigns; gets removed from office; chooses not to seek re-election; or loses in a GOP primary. Steve Bannon, the former White House chief strategist, placed Trump's odds of completing his first term at 30 percent.
But Trump, who filed the paperwork for re-election the day he took office, is already testing out campaign themes on the trail. Speaking at a rally in Pensacola, Florida, last month, Trump said the next election will boil down to the performance of the stock market.
"I think it's going to be very hard for somebody to beat us in a few years, can you imagine?" Trump said. "All you have to say is, with us it goes up, with them it goes down — and that's the end of the election, right?"
And, he's using his just-passed tax cut as a contrast with Democrats, who griped about its tilt of benefits to the wealthy but offered no alternative.
"Unfortunately, the Democrats don't like to see tax cutting," Trump said. "They like to see tax increases."
There's been a lot of chatter in political circles about Trump facing a primary challenger — perhaps Ohio Gov. John Kasich, former Massachusetts Gov. Mitt Romney, Sen. Ben Sasse of Nebraska or retiring Sen. Jeff Flake of Arizona, a vocal critic of the president. Dallas Mavericks owner Mark Cuban, who campaigned for Clinton in 2016, has said that if he runs for president, he will probably do so as a Republican.
Rep. Tom Cole, R-Okla., a former Republican National Committee chief of staff, said there's no reason to think Trump won't be on the ballot again — and every reason to believe he would defeat a primary challenger.
"Like most presidents, he's inclined to run for re-election. His record this year merits that," Cole told NBC News. "Beating Republican presidents in Republican primaries is a pretty tough thing to do. I think if he wants to be the nominee, he clearly will be the nominee. And anyone who runs against him is on a fool's errand."