WASHINGTON — Anticipating an unusually crowded Democratic presidential primary in 2020, the party's biggest super PAC is vowing to stay out of the race and focus on taking on President Donald Trump, beginning preparations now for an election more than two and half years away.
Priorities USA, which has spent hundreds of millions of dollars backing Democrats since forming in 2011 to promote Barack Obama's reelection, wants to be ready to assist whomever emerges from the fray as the party's nominee.
"We will not be involved in a primary," Guy Cecil, the group's chairman of Priorities USA, pledged in an interview. Instead, he described the group's 2020 mission as "having the resources so that once the primary is over, we'll be ready to go."
Democratic heavyweights will have to tread lightly in a primary field that could include as many as 20 or more candidates, since many Democrats remain sensitive to even the appearance of meddling after the 2016 primary.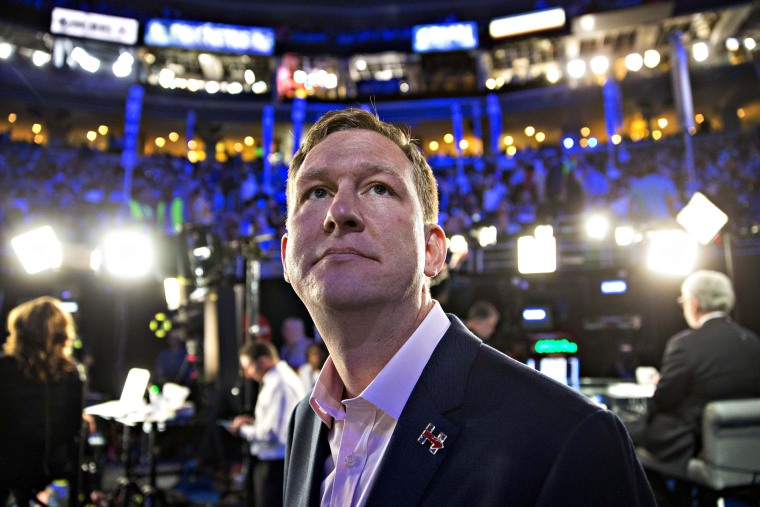 The issue still roils the party and its activist wing in particular, after it was alleged that the Democratic National Committee put its finger on the scale for Hillary Clinton over Bernie Sanders in 2016. Sanders told NBC News last week he was disturbed to see the Democratic Congressional Campaign Committee getting involved in a contested Democratic primary in Texas and he warned that it's got to stop.
But Cecil said the anticipated fractious primary will only make it more important for someone to bridge that gap for Democrats.
"I'm actually a person that believes that a robust Democratic primary is a good thing," Cecil said. "But one of the challenges of a long and late primary, is that we know the other side will be building the entire time for for the general election."
Trump has already announced his reelection campaign, appointed a campaign manager, and begun raising money.
"We have to run against this president as if we are behind," Cecil said.
At the moment, Priorities main focus — and almost all of its budget — remains on this year's midterm elections, in which it plans to spend $75 million.
It's targeting races in Florida, Pennsylvania, Ohio, Wisconsin, Michigan, Nevada and Arizona, which were chosen for their density of important contests up and down the ballot (they also happen to be 2020 battlegrounds). The group will also get involved later in the year in key House contests, too.
But Priorities is beginning to ramp up for 2020 now, so it can transition as seamlessly as possible to the presidential contest after the midterms without winding down.
That could mean spending as much as $15 to 20 million in 2019, and much more in 2020, though Cecil said it's too early to estimate precisely.
The 2020 preparations include adding staff to its opposition research department who will focus solely on Trump and his administration; honing new methods of distributing content online; and training operatives in digital campaign tactics.
While Democrats were seen as the experts in digital politics in the early years of the Obama era, Cecil now sees "a pretty significant digital divide" in Republicans' favor, and Priorities reorganized itself last year to focus on closing that gap.
This year, the group is running only digital ads — at least $50 million worth, which it expects will make it the single biggest spender online. But it will return to the TV airwaves in 2019 or 2020 to take on Trump.
Cecil pledged that Priorities will have no involvement for or against any candidate in the 2020 Democratic primary.
And he urged Democrats to take seriously the prospect of Trump's reelection, regardless of what his approval ratings may be or what special counsel Robert Mueller may do.
"We just went through an election cycle where the expectation was we were going to win and we didn't," Cecil said.