BURTON, OHIO — Abortion rights activists shocked themselves and the Ohio political world when they resoundingly defeated an August proposal that would have made it more difficult to enshrine abortion protections in the state's constitution.
The next test comes on Nov. 7, when voters will decide whether to adopt a constitutional amendment to preserve access to abortion in a state that has veered increasingly to the right since 2016. 
But despite their high-profile victory in August, abortion rights activists know it doesn't mean November will be a cakewalk — and Democrats still face hurdles when it comes to the 2024 political cycle.
NBC News spoke with more than a dozen state and local party officials, volunteers and voting activists, along with more than 20 Ohio voters, about how abortion shaped their perspectives on upcoming elections.
"I think if we start early enough, and we talk to voters about the issues that are important to them, and we bring everything down to the local level, I think it bodes well, especially for Senator Brown," said Janet Carson, chairwoman of the Geauga County Democratic Party as well as the Ohio Democratic County Chairs Association.
'Blown away'
It was an all-hands-on-deck effort in the lead-up to the Aug. 8 vote.
Volunteers knocked on hundreds of thousands of doors. Local party leaders ordered 120,000 "Vote No" postcards. One million calls spread the word, according to an Ohio Democratic Party spokesperson.
But in the aftermath of the special election, advocates weren't expecting such a wide margin of victory — especially a victory that rested in part on their ability to turn out independent and Republican voters.
"I was blown away," said Katie Paris, founder of Red Wine & Blue. 
That margin — 14 points — marked a resounding win for reproductive rights advocates and the latest boost for Democrats in a string of abortion-related votes in red-leaning states across the country.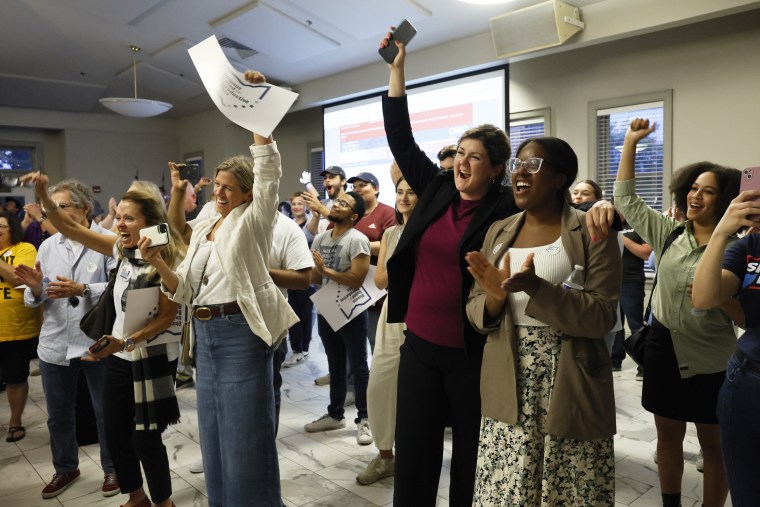 Particularly notable was the pro-abortion rights turnout garnered in certain deep red regions like Geauga County, in Ohio's northeast. The county went to former President Donald Trump by 23 points in 2020, but voted against the August initiative by about four points. It also saw the highest voter turnout of any Ohio county, at just over 53%.
"We had many, many Republicans and independents come into our headquarters, not only to sign the petitions, but to buy yard signs and buttons and volunteer to go door to door," said Carson. "Very, very surprising how many people outside of the Democratic base were motivated to make sure Issue 1 did not pass."
Geauga County is part of a trend particularly prominent in the state's northeast, where Democrats used to be able to rely on the previously deep-blue Mahoning and Trumbull counties, and somewhat on the blue-leaning Ashtabula and Portage counties. In 2020, all four of the counties went to Trump. In August, all four of the counties voted "No" on Issue 1 — the stance promoted by pro-abortion rights advocates. 
Fifteen Ohio counties that supported Trump in 2020 voted against the August ballot initiative touted by state Republicans.
Mary Miller, an independent voter in Geauga County, voted Republican most of her life, up until the 2016 election, when she supported Hillary Clinton. A supporter of reproductive freedom, she canvassed outside the polls on election day in August. 
"Unfortunately, I feel like I was asleep at the wheel," Miller said of her view on abortion protections before the end of Roe v. Wade. She did not realize "how strong and engaged the anti-abortion group was," and said she was "absolutely shocked" when Roe was overturned.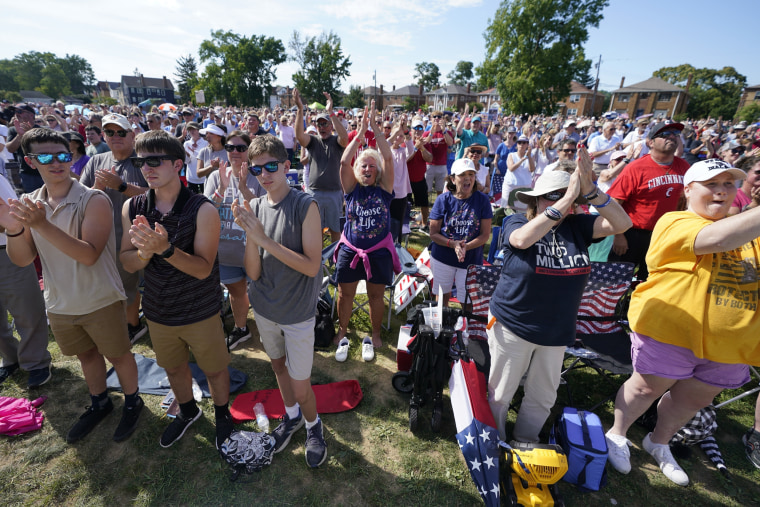 Kathy DiCristofaro, the former women's caucus chair for the Ohio Democratic Party, was part of the mobilization effort ahead of the August election, including the initial signature collection movement to get abortion protections on the ballot. It wasn't just Democrats looking to contribute signatures, she said, estimating that about 25 to 30 Republican women called her asking how to sign.
"It's women's safety. They would talk about that," said DiCristofaro, a resident of Trumbull County in the state's northeast. "And they don't believe the Legislature has any idea of how hard, you know, some of these situations are that families have to make." 
But activists don't expect everyone who voted against the August initiative to support November's amendment. Some voters in August were influenced by not wanting to raise the threshold for amendments, rather than abortion. 
The August initiative, if passed, would have raised the threshold for future state constitution amendments from a majority to 60%.
"You're going to lose some voters who voted for that out of a sense of democracy being under attack that may not support the language in November," said David Pepper, former chairman of the Ohio Democratic Party. But voters might also be more motivated to go to the polls in the first place, he added.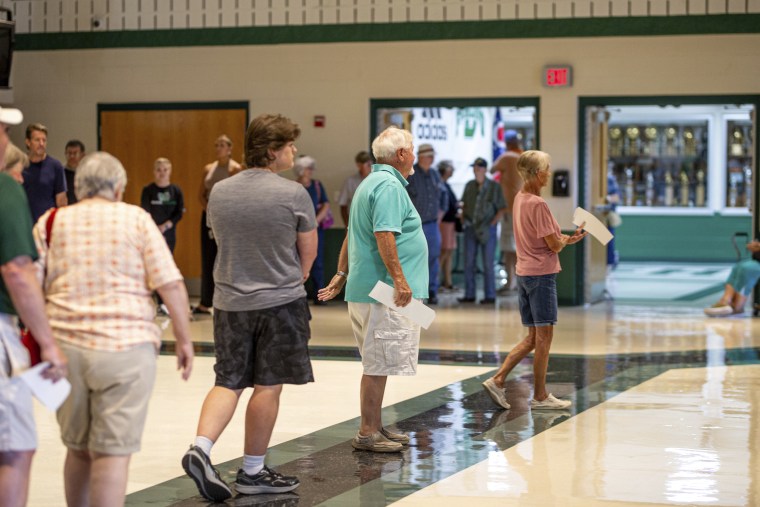 John Lateulere, a moderate Republican in Geauga County, voted against August's initiative because he thought it gave outsized power to the secretary of state and smaller counties.
"We took Ohio from a state that was truly very democratic and proposed to put it in a state that is very autocratic," he said of the August initiative, later adding that he feels conflicted over whether to vote for the amendment in November. 
Some Republicans are confident that GOP voters who voted against the August initiative will "come home" in November.
"They're not all of a sudden saying, 'Hey, I'm going to get rid of my values, my faith, my pro-life position,'" said Mike Gonidakis, president of Ohio Right to Life.
Organizers noted that in order to win in November, they needed to continue to garner votes from across the political spectrum. Ohioans needed to vote on the "initiative language rather than simply their party affiliation," said Dr. David Hackney, one of the five members of the committee representing petitioners in the initial amendment petition. 
"Swimming upstream"
Ohio Democrats aren't under the impression that the state is suddenly flipping blue in 2024, though they are optimistic that the state will be competitive — especially when it comes to Sen. Sherrod Brown's re-election bid.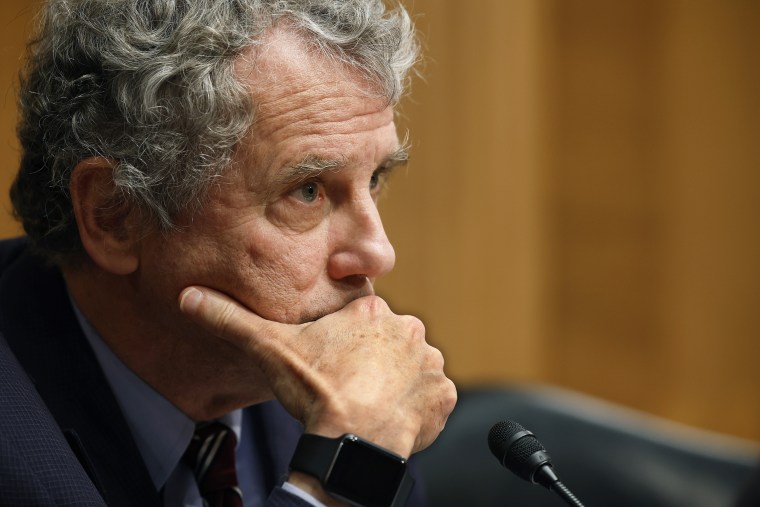 "When we have the resources and investments we need, we're able to win close races, and when we don't, we aren't," said Matt Keyes, a spokesperson for the Ohio Democratic Party. "It once again shows the value in investing in Ohio and taking Ohio seriously as a battleground state."
Brown, a longtime fixture in Ohio politics, first sealed his spot in the Senate seat by defeating then-Republican incumbent and now-Gov. Mike DeWine in 2006. Brown also spent more than a decade in the House after serving in state politics.
One of his 2024 competitors is Ohio's Republican Secretary of State Frank LaRose, who has been vocal in his opposition to the abortion protection amendment. LaRose also leads the state ballot board that is facing a lawsuit over changing November's ballot language by inserting the term "unborn child."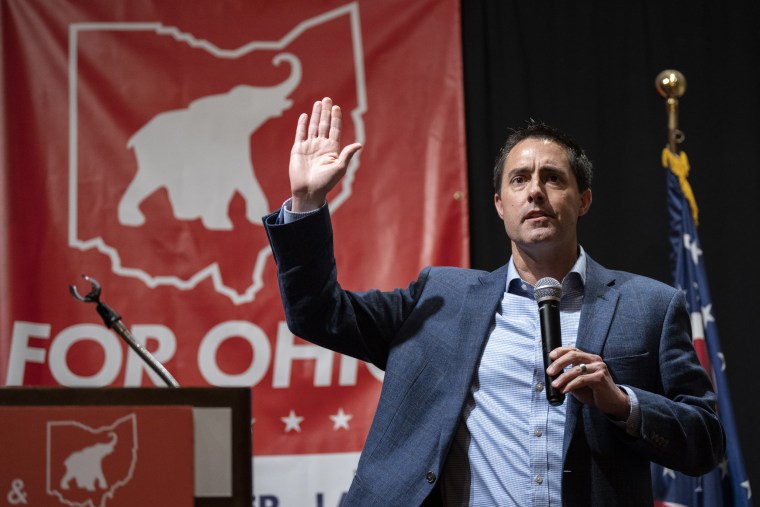 In the aftermath of the November election, Brown "will be inheriting a major league infrastructure that's been in place for a year," Pepper said. 
But Democrats face a branding issue in Ohio, explained former Congressman Tim Ryan, who lost his race for a 2022 Senate seat to conservative Trump-ally JD Vance.
Ryan said the perception in Ohio is that Democrats want to focus on divisive social issues, rather than issues like the economy. The challenge for Democrats in Ohio is communicating that they are "not a Washington, D.C. Democrat, you're an Ohio Democrat, like a Sherrod Brown," he explained.
"Until there's like a complete overhaul of the Democratic brand nationally in places like Ohio, you're, you're swimming upstream," he said. To fix the branding issue, Ryan says Democrats should talk about issues — including abortion — in terms of freedom.
On the national scale, the Biden campaign is working to seize on Republicans' abortion stances in the lead-up to the presidential election. A campaign email to surrogates after the first Republican debate laid out messaging points, including that "the MAGA candidates spent two hours shouting over each other on … who has the best plan to ban abortion nationwide."
Within the White House, Vice President Kamala Harris is taking a leading public role in touting the administration's views on reproductive rights. Harris is "an obvious spokesperson," but "the president has been really quite clear about where he is" on wanting to restore Roe protections through federal legislation, said Jennifer Klein, director of the White House Gender Policy Council.
But with a razor-thin Senate majority, a Republican-controlled House and a hyperpolarized Hill, the White House faces an uphill battle. 
"We need the right people in Congress to be able to work with," Klein said.
Yet anti-abortion ballot initiatives aren't resonating in deep-red states like Kansas and Kentucky. In August 2022, Kansas voters rejected a proposed constitutional amendment that would have removed language enshrining abortion access. In November 2022, Kentucky voters struck down a proposal that would have added language to the state constitution explicitly saying it does not protect the right to abortion. 
"After all the dust settles, everyone will probably be going through the Ohio process of the prior year with a fine tooth comb, as we then turn towards a larger map in '24," Hackney said.