WASHINGTON — The House Democratic majority continued to grow Thursday as Rep. Karen Handel, the Republican who won a high-profile Georgia special election last year, conceded to challenger Lucy McBath, bringing the party's net gain of seats in Tuesday's midterm elections to 30.
That number could grow again in coming days as more outstanding races are called. Many analysts have estimated that the number will climb closer to 38 seats by the time all votes are counted, and a dozen competitive House contests remained too close to call by midday Thursday.
For comparison, Democrats won 31 House seats in their 2006 wave election, which then-Republican President George W. Bush deemed a "thumping," while Republicans won 63 in 2010. In both cases, however, the out-of-power party also made gains in the Senate, while this year, Democrats lost ground there even while flipping the House.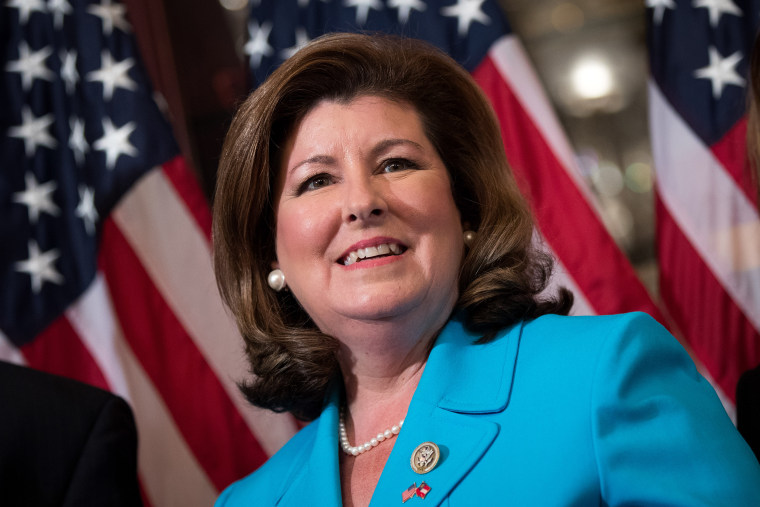 NBC News projected Thursday that McBath is the apparent winner in the race, while Handel told supporters in an email that she had reviewed the data and concluded, "It is clear that I came up a bit short on Tuesday."
Handel congratulated McBath, an African-American Democrat who got involved in political activism after her 17-year-old son, Jordan Davis, was fatally shot by a white man in an incident that drew national attention.
Handel occupied the seat for barely more than a year after winning the most expensive House race in history, the 2017 special election against Democrat Jon Ossoff, who was dissuaded from running again this year.
McBath will be the first Democrat to represent the district, which includes parts of the North Atlanta suburbs, since the Jimmy Carter administration. Former occupants of the seat include former GOP House Speaker Newt Gingrich and Tom Price, President Donald Trump's first Health and Human Services secretary, who resigned from that job amid controversy last year.
The neighboring district, Georgia's 7th, remains surprisingly close, with Republican Rep. Rob Woodall holding a narrow lead over Democrat Carolyn Bourdeaux as the final outcome remains unclear.
Meanwhile, Rep. Steve Knight, R-Calif., conceded a Los Angeles-area congressional district that includes the Ronald Reagan Presidential Library to 31-year-old Democratic challenger Katie Hill. She is the apparent winner in that race, NBC News projected Thursday.
In Orange County, California, Democrat Harley Rouda leads Republican Rep. Dana Rohrabacher, while Democrat Mike Levin is ahead in the neighboring district formerly occupied by retiring Republican Rep. Darrell Issa, though NBC News deems both races too close to call.
Republicans look likely to hang on to two other contested Southern California districts. It may take days for final results in the Golden State, since voters are allowed to mail their absentee ballots as late as Election Day.
Meanwhile, Republican congressional candidate Dino Rossi conceded to Democrat Kim Schrier in a contest for a Washington state House district that includes both wealthy suburbs and rural farmland.
Democrats also lead in too-close-to-call races in New Jersey, Maine, New Mexico and Utah, where former Salt Lake County Mayor Ben McAdams is outpacing Rep. Mia Love, the Republican incumbent. Trump trashed her during a news conference Wednesday, saying, "Love gave me no love."
Republicans picked up two Democratic-held seats in traditionally blue parts of rural Minnesota, even as Democrats flipped two GOP-held suburb seats there and won big statewide, reflecting the large political realignment evident in Tuesday's election.
This story has been updated to reflect the latest race calls.