There's an important election Saturday — a hard-fought contest that features two leading contenders from different camps, as well as a slew of other candidates hoping to find a way in. Balloting could go multiple rounds before a victor emerges and back-room deal making for endorsements is expected.
The Democratic National Committee is electing its new leader at a party meeting in Atlanta, where Minnesota Rep. Keith Ellison and former Labor Secretary Tom Perez will compete against each other and six other candidates for the chairmanship.
Candidates have been campaigning aggressively for months in both public forums and private meetings across the country, raising hundreds of thousands of dollars and hiring professional campaign teams.
Front-runners Ellison and Perez have presented largely similar prescriptions when it comes to the nuts-and-bolts of running the partisan machinery. But they represent different constituencies inside a fractured party still reeling from its loss in the November election and the ouster of controversial former chairwoman Debbie Wasserman Schultz last summer.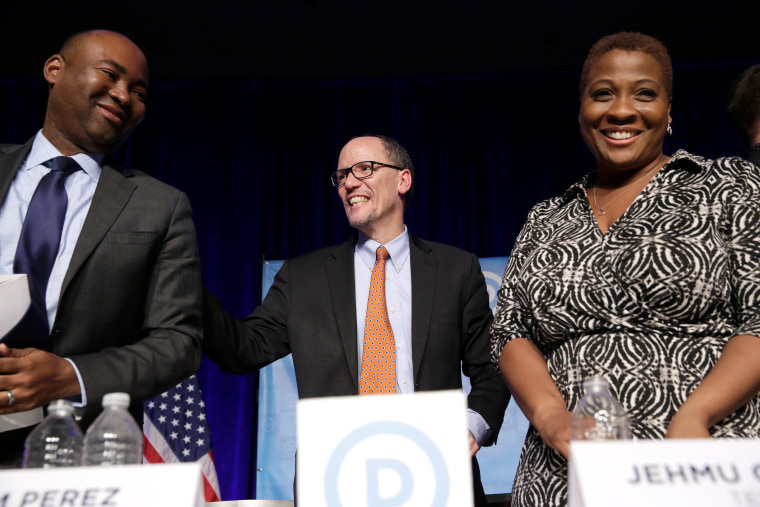 Perez is the favorite of the party's so-called establishment, while Ellison hails from the Bernie Sanders wing, and the remaining candidates are hoping to find an opening through the middle.
It's a race with national stakes, but the winner will be determined by a process that at least one candidate has compared to a student council election.
The party hasn't held a contest like this for decades, so the rules are murky to most. They were explained to candidates in a PowerPoint presentation, which was obtained by NBC News.
Here's how it works.
Who's running?
The filing deadline for candidates closed Tuesday night and the DNC announced who made the ballot on Wednesday.
In addition to Ellison and Perez, other hopefuls are South Bend, Indiana, Mayor Pete Buttigeig, South Carolina Democratic Party Chair Jaime Harrison, Idaho Democratic Party Executive Director Sally Boynton Brown, TV commentator Jehmu Greene, activist Sam Ronan and election lawyer Peter Peckarsky.
To qualify for the ballot, candidates needed only 20 signatures from DNC members.
Who gets to vote?
Only the 447 members of the DNC get to cast a ballot.
Members include state party officers, local activists, donors and some elected officials. Few members are well-known outside local party circles. Some are elected to the DNC, while others are appointed to represent certain groups, such as labor unions.
How do you win?
To win, a candidate needs simple majority of the total number of votes.
If all 447 DNC members cast ballots, that makes 224 the magic number. If some members can't make it to Atlanta and don't end up voting by proxy, the win number will be smaller.
What if no one gets a majority?
With a big field and two roughly evenly matched front-runners, it's very likely no candidate will be get a majority on the first ballot.
That means DNC members will have to vote a second, third or fourth time — possibly more. They'll keep casting new rounds of ballots until one candidate emerges with a majority.
After two rounds of voting, the party will start eliminating the lowest-voting getting candidate for each new round.
Candidates can also drop out on their own accord, and deals between candidates are common, like the one struck this weekend between Ellison and former candidate Ray Buckley.
Insiders guess Saturday's vote will go no more than three rounds, but anything's possible. For instance, it took seven rounds of balloting for the Republican National Committee to elect Reince Priebus as its chairman in 2011 (he's now the White House chief of staff).
How does voting work?
DNC members will gather in a hotel ballroom, seated by region, and punch in their vote on an electronic machine that looks a bit like a TV remote. The meeting is open to the press and public.
Between each round of voting, surviving candidates get at least 10 minutes to try to wrangle more votes. If a candidate withdraws, they are allotted 30 seconds to address the room, when they could offer an endorsement of a remaining rival.
After a 2-minute window for voting, DNC staff and officials will quickly count the votes and announce the results.
The candidates will watch all of this happen while sitting at a long table facing DNC members.
Do DNC members have to vote in person?
No. Proxy voting is allowed under DNC rules, and it's especially common in delegations from faraway territories like Guam and the Northern Mariana Islands (there are 57 "state" parties represented in the DNC, including U.S. territories).
Each DNC member can proxy vote for only one other member. DNC members who can't make it to Atlanta can either instruct their proxies how to vote or leave it up to their proxy to vote however they please.
How common is this kind of election?
The party has not been in this position for years. When Democrats control the White House, the president appoints the chairman of their party. When they lose the presidential election, they hold an election.
But the last few time Democrats lost presidential elections, the outcome of the chairmanship race was decided before voting even began.
In 2005, all the other candidates had dropped out and Howard Dean was elected by a voice vote. In 2001, Terry Mcauliffe cut a deal with the only other candidate left in the race. And in 1988, Ron Brown was unopposed.