JACKSON, Miss. — One Senate seat here may not be enough for Steve Bannon.
If the former White House strategist gets his way, Mississippi's two long-serving establishment Republican senators won't be in office by the start of the next Congress.
In regular phone calls over the past several months, Bannon has urged state Sen. Chris McDaniel to challenge Sen. Roger Wicker in a primary next year, and he also wants Gov. Phil Bryant to send himself to Washington if Sen. Thad Cochran, who is 79 and in poor health, retires before his term ends in 2020, according to people familiar with Bannon's plans.
"We conservatives in the state, we're going to go after both of those seats — one way or the other," McDaniel told NBC News.
The prospect of both Senate seats changing hands — and moving from establishment side of the GOP to the Tea Party column — makes Mississippi a key battlefield in the intensifying Republican civil war.
For Bannon, who is recruiting a small army of "populist nationalist" congressional candidates, it's a chance to strike one or two blows against Senate Majority Leader Mitch McConnell, R-Ky., and the Republican elites in Washington, whom he sees as an impediment to President Donald Trump's agenda.
It will also be a crucial test of Bannon's strength, along with that of allied conservative groups, in the shadow of the Alabama Senate race. Roy Moore, Bannon's preferred candidate in Alabama, defeated appointed Sen. Luther Strange in a primary, only to find himself in a surprisingly competitive general election next month against Democrat Doug Jones because of allegations of sexual misconduct with teenage girls several decades ago.
In the short run, Bannon, the Breitbart News chief and CEO of Trump's 2016 campaign, is focused on defeating incumbent Republicans as part of an effort to oust McConnell. The idea is that new senators will vote against McConnell for leader and then incumbent senators, fearful of primary challenges, will follow suit.
"Mitch McConnell is a literal anchor tied to the hips of folks like Roger Wicker and Thad Cochran," said Andy Surabian, a top adviser to Bannon. "We expect the anti-establishment wave we are seeing across the country today to hit Mississippi like a tsunami in 2018 and beyond."
Over the longer haul, Bannon is hoping to take over the GOP with conservative candidates who can carry the torch of Trumpism long after the president is out of office.
Trump, however, has promised Wicker that he'll be with the incumbent in Mississippi, according to a person familiar with their conversation, just as Trump has given similar assurances to GOP Sens. Deb Fischer of Nebraska and John Barrasso of Wyoming, who also are on Bannon's target list.
A Republican rift
Mississippi has shown that it's ripe for the kind of warfare Bannon likes to wage.
In 2014, McDaniel, a hero of the Tea Party movement, outran Cochran, the godfather of the state GOP, in a three-way primary before losing to him in a run-off election. The race grew so ugly — establishment Republicans accused McDaniel of race-baiting, and McDaniel claimed the election had been "stolen" by the establishment — that it left both sides scarred and looking for retribution.
Two lawsuits filed since that election underscore the degree to which there's still bad blood in Mississippi's political circles.
In 2014, McDaniel filed suit in an unsuccessful effort to overturn the election result, and conservative activists developed a hashtag — #RememberMississippi — as a shorthand for their frustrations with the party establishment in Jackson and Washington. In June, three years after McDaniel supporter Mark Mayfield committed suicide amid charges stemming from the publication of images of Cochran's wife in a nursing home, Mayfield's wife and sons filed a wrongful death suit against several Mississippi officials described as part of the Cochran "political machine."
Mayfield had been charged with conspiracy to exploit a vulnerable adult after a blogger captured video of Rose Cochran, who suffered from dementia, as part of an effort to cast the senator, who later married a longtime aide, as disloyal to his ailing wife. Mayfield was accused of helping the blogger locate Rose Cochran; Thad Cochran denied having an affair with the aide who became his wife in 2015 after Rose Cochran died.
The Wicker Seat
McDaniel said he's made a decision about whether to run against Wicker but probably won't announce it until after the Alabama race on Dec. 12.
The core of McDaniel's argument would be that Wicker, who has represented Mississippi in Congress since 1995, is one of the institutional insiders who aligns with McConnell and a Washington "swamp" culture that maintains the status quo.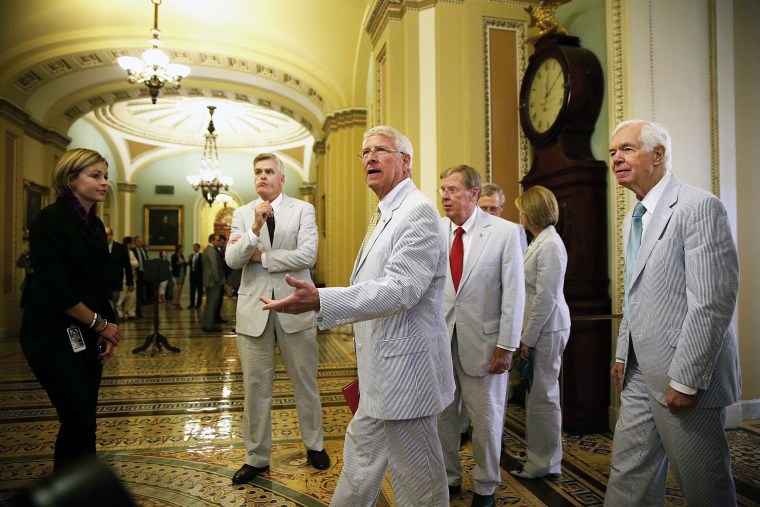 A Republican electorate that was upset with the establishment in 2014 has only grown more disenchanted as Trump's agenda has stalled in Congress, McDaniel said. McConnell has taken the brunt of that frustration.
"We sensed a lot of anger (in 2014) but it pales in comparison to what we're seeing now," McDaniel said. "Mitch McConnell hasn't led in a conservative fashion. … He is a part of the problem. He's not standing and being articulate in defense of our principles."
Tea Party candidates like McDaniel have become adept at harnessing the increasing lack of trust among Republicans toward Washington, which in part fueled Trump's election.
"To the extent that trust is eroding, it creates this notion that people want the outsider," said Julie Wronski, a political science professor at the University of Mississippi.
Wicker, who ran the Senate Republican campaign committee in the 2016 election cycle, has a lot of friends in national politics. But McDaniel has some big guns, too. In addition to Bannon, he has support from Robert Mercer, a hedge-fund titan and investor in Bannon's Breitbart News, who put $50,000 into a super PAC called Remember Mississippi earlier this year.
And while Wicker has almost always supported Trump's agenda — deviating only to vote for sanctions on Iran, North Korea and Russia that the White House opposed, according to FiveThirtyEight.com — McDaniel's allies point out that his six-year voting score from the Conservative Review is just 30 percent. That figure reflects Wicker's support for spending bills and debt-limit increases that kept the government operating and prevented it from defaulting, positions that were at odds with hard-line conservatives.
Regardless of Wicker's record in Washington, McDaniel is ready to make the case that he's lost touch with Mississippi Republicans' values.
In 2015, after a race-fueled mass shooting in a Charleston, S.C., church, Wicker said the Mississippi state flag should be put in a museum because it features a Confederate emblem in its upper left-hand corner that is offensive to the state's African-American population.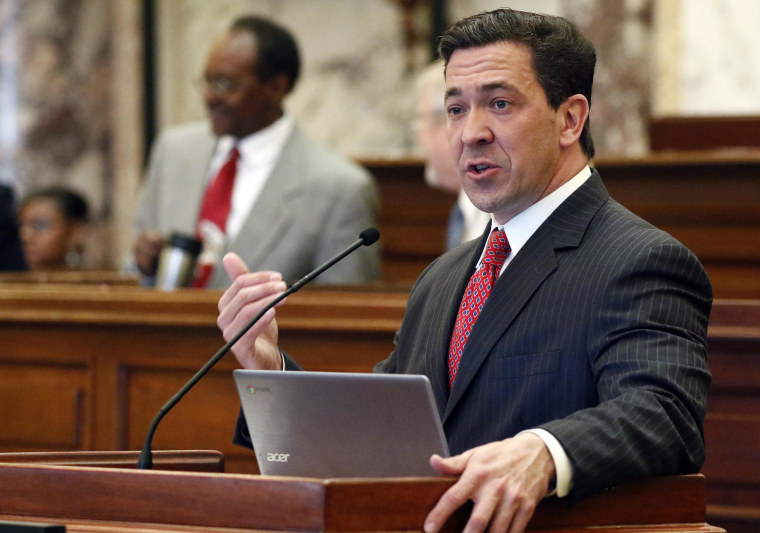 Attitudes toward the flag have been slowly changing over the years, with support for it dipping below 50 percent for the first time in an October poll that had 49 percent of Mississippians in favor of keeping it and 41 percent supporting a change. But most whites, most Republicans and most Trump supporters in the state want to preserve the flag.
McDaniel said it will "absolutely" be a big issue if he runs against Wicker. "The people of the state believe in the protection of history, and that includes the flag and it includes statues," he said.
Justin Brasell, Wicker's campaign manager, said his candidate isn't going to get caught flat-footed. He's got $3.5 million in the bank, and he's ready to match his record against McDaniel's in the state Senate, Brasell said.
For Wicker, that means touting his senior positions on the Armed Services Committee and the Commerce, Science and Transportation Committee in the Senate, his efforts to build the Navy — important to shipbuilders on Mississippi's Gulf Coast — and his support for farm and highway bills that help the state economy, Brasell said.
He played down the importance of the flag debate, noting that Wicker offered a "personal opinion" without trying to overturn the will of Mississippians. "I don't think that's what primary voters are ultimately going to make their decision about in a U.S. Senate race," he said.
McDaniel hasn't been able to move legislation in the Mississippi Senate since his race against Cochran, which one person familiar with the dynamics of the state Capitol attributes to the power wielded by Lt. Gov. Tate Reeves, a Cochran ally who presides over the state Senate.
The Cochran Seat
Cochran's seat isn't up until 2020. If he resigned before then, Bryant would appoint a successor to the Senate and the state would hold a special election for the remainder of Cochran's term.
Cochran's health problems have led to serious maneuvering around the state capital of Jackson. McDaniel, who said Cochran ought to be allowed to "retire in dignity," would like an appointment. His supporters have pushed Bryant to pick him, but Bannon wants Bryant himself to take the seat.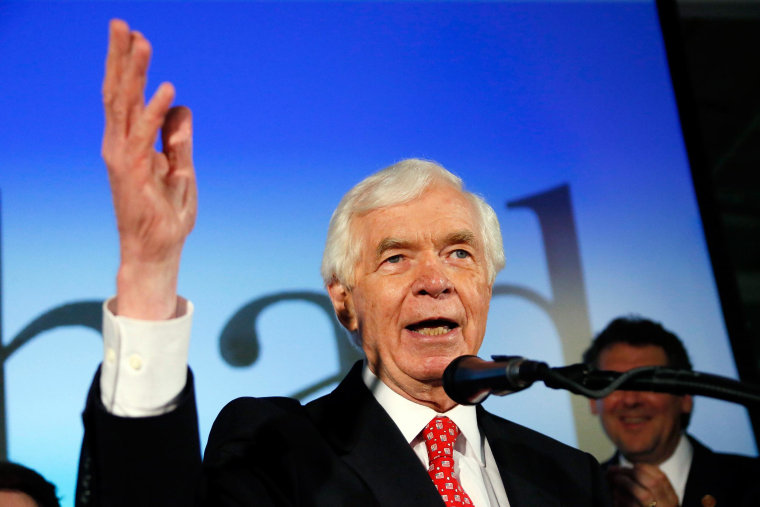 The governor, however, doesn't want to name either McDaniel or himself, according to a person close to him.
His short list would likely include Reeves, the lieutenant governor, a political rival whose appeal is in his ability to defend the seat in a special election, and Rep. Gregg Harper, who is well-liked but untested at the statewide level. Either would surely face a challenge from the Tea Party ranks. But Bryant could also tap state Sen. Michael Watson, a Tea Party favorite and close McDaniel ally, who might scare off establishment challengers.
From Bryant's perspective, it's not clear whether he's better off choosing from the ranks of the establishment or the Tea Party because both appear to be at nearly equal strength in the state and he doesn't want to pick someone who would go on to lose in a special election.
McDaniel, who said he's also looking at a possible race for lieutenant governor as well as potentially running against Bryant's pick to fill the seat if Cochran resigns, casts himself as the vehicle for what he calls a "great awakening" among conservatives.
"I'm very much an advocate of this whole drain-the-swamp idea," he said. "Washington has to be cleansed."
For Bannon, Mississippi may offer a rare opportunity to do that, two seats at a time.